There's no denying the festive season isn't seen as being hugely beneficial for your health. For many, it's a time of overindulgence: lots of rich food, booze, late nights and skipping the gym.
However, does it really need to be all doom and gloom? Of course not. Sure, you might have a few too many mince pies or glasses of mulled wine, but there are also a whole host of surprising health benefits to the holidays.
We spoke to the experts to find out why Christmas can be good for you – both mentally and physically. 'Tis definitely not the season to be feeling guilty.
1. Giving feels good
The whole present-giving aspect of Christmas might be a bit stressful, particularly for those who tend to leave things to the last minute. However, the act of giving is actually really good for your mental health and overall wellbeing. Lululemon yoga and meditation ambassador and holistic health coach Kyle Gray is a huge advocate of the power of giving.
"To make someone else feel special brings a special energy over us," Kyle explains. "When you give to another with thought and tenderness you will also be getting the gift of feeling good."
Not to get too cheesy, but even though your loved ones are receiving gifts, you're also getting something in return. It might not be a Toblerone, but it'll still be pretty great for your mental health.
2. You switch off and take a break
For many of us (unless you're unfortunately working over the holidays), Christmas is a time to take a break from the business of your day-to-day life.
Medical director at Bupa Tim Woodman, says: "Regardless of the occasion, it's important to give your body and brain time to recuperate. Getting regular rest and sleep can help reduce the risk of heart disease, diabetes and obesity, so make the most of office closures and reduced Christmas hours."
So the luxurious lie-ins you have when you're at home? There's no need to feel guilty about them after all, they're the opportunity to recharge you definitely need.
3. Christmas trees are mood boosting
Bear with us on this one: you know the Christmas tree in your front room? It does so much more than just add twinkle to your day.
Woodman says: "Not only is a real tree better for the environment, it can also be good for your mental health. Being surrounded by natural plants can help to boost wellbeing and reduce stress levels."
Particularly in December, it seems like there's barely any sunlight during daylight hours. Dark winter days increases the risk of Seasonal Affective Disorder, and Woodman says a Christmas tree can do much to prevent feelings of anxiety and sadness.
4. Not all the food is that bad
Cheese, chocolates and mince pies aren't the healthiest. However, there are certain foods you tend to have more of this time of year that are actually quite good for you.
Woodman says: "Turkey itself contains tryptophan, which produces serotonin and plays an important role in strengthening the immune system, and can also boost our metabolism.
"Brussels sprouts are packed with vital vitamins C and K, and drinking a small glass of red wine with dinner can give you a boost in antioxidants and promote a healthy heart."
So there you go. As if we needed any more excuse for a glass of red with dinner.
5. You laugh more
For many of us, Christmas is a pretty happy time of year. What with all the presents, festive games and catching up with friends and family, a lot of laughter is on the cards during the holidays – more so than the rest of the year, we'd say.
Elaine Farquharson, physiotherapist at BMI The Winterbourne Hospital in Dorset, says Christmas cheer is hugely positive for your mental health. It has the power to reduce mental tension and increase your energy, which as an added bonus can help you focus and achieve more.
"The funnier the situation, the more you will laugh and the more blood flows to the pleasure part of the brain," Farquharson says. "So crack out those Christmas comedies, spend time playing games – 'tis the season to be jolly, and laugh your way through to 2018."
6. You spend time with your loved ones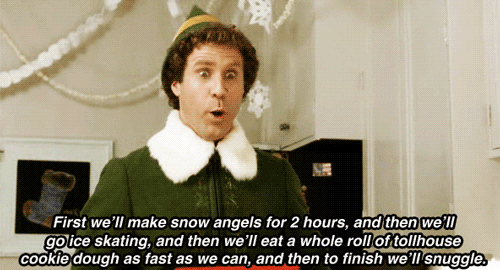 The festive period is traditionally when you get together and spend some quality time with your loved ones, whether it's friends, family or all of the above.
Sure, you might have the odd argument with your sister over the best way to carve the turkey, but these tiffs tend to be miniscule in the grand scheme of things.
Woodman says: "Catching up with family and friends over Christmas can be good for your mental health. This is because being surrounded by people you care about helps boost your resilience and wellbeing."
Not only this, but time spent with those you love can really set you up for the year ahead. Woodman explains: "Making time for your nearest and dearest could mean you get that support you need to enter the new year and stick to your New Year's resolutions."