Potatoes shouldn't be morbid right? It's pretty hard to feel mournful with a bowl of chips and a pot of mayonnaise in front of you. While a baked potato topped with a cloud of grated cheddar is basically a carby antidote to solemnity. And mash – who can feel sad faced with a plate of buttery mash?!
So, you can understand why the concept of 'funeral potatoes' might be a little bit of a strange one – but apparently they are a thing.
The dish has been up for discussion after a tweet from NPR (National Public Radio) in America said the potato dish is "a combination of cubed potatoes, cream, chicken soup, cheese, and – the coup de grâce – a topping of butter-crisp cornflakes."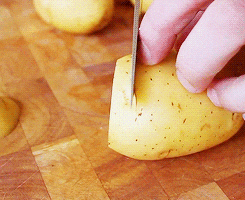 So what are funeral potatoes?
Essentially it's a potato casserole most commonly made by Mormons in Utah, and it's the kind of one pot batch cooking that lends itself to big family gatherings, from birthdays and Thanksgiving to yes, you guessed it, funerals, hence the name.
What's their history?
There appear to be three main contributing factors to the popularity and evolution of funeral potatoes in Mormon cuisine (although it's worth noting that some argue it's not a Mormon dish at all, just a Southern one).
Firstly, Mormons are prohibited from drinking and smoking, but they are allowed to indulge in fatty, salty, carby foods – making funeral potatoes particularly appealing.
Secondly, during the 1950s, Mormons began to assimilate more fully with middle-class America, which was already beginning to rely on ready-made foods, and followed suit. NPR point out: "They became a people who put ready-made foods into other ready-made food." And thirdly, family values are crucial to the Mormon religion, which means lots of big family gatherings, and a batch of funeral potatoes is cheap, quick to make, and will feed a lot of people.
What's in them?
For a basic recipe: combine around 700g of diced/grated potatoes (most online recipes are American, and you can buy already-diced potatoes frozen there) with a can cream of chicken soup, 180g melted butter, 680g of grated cheddar cheese, salt and pepper to season, then enough crumbled corn flakes to top the lot. Bake at 180C for 40-50 minutes, until golden and bubbling.
There is some argument over the ingredients though. Most people agree that the bulk of the dish is made up of potatoes layered with cream of chicken soup, cheese and a crunchy topping (arguably corn flakes), but should you also add spring onions? Bacon? Sour cream? Even hash browns?
Some people do not agree with a cornflake topping though…
While others have taken issue with how the potatoes are sliced and diced…
And even more are debating the name of the potatoes…
What can be agreed on is, if you're in need of a whole baking dish of cheesy, potatoey comfort food – Mormon or not – funeral potatoes are sure to hit the spot.