There's a lot to take in after US President Donald Trump met with the leader of North Korea, Kim Jong Un.
It was a historic moment in foreign affairs, and raises a lot of rash-inducing questions. Will it really lead to full denuclearisation of the Korean Peninsula? Will the North Korean statesman go back on his promises, as he has done before? Has it just served to legitimise Kim on the world stage?
Sometimes, thinking about the big issues can get a bit overwhelming and you need some light relief. That's why we're taking a break from the life-or-death questions to consider a completely different aspect of the summit. Namely, what was on the menu?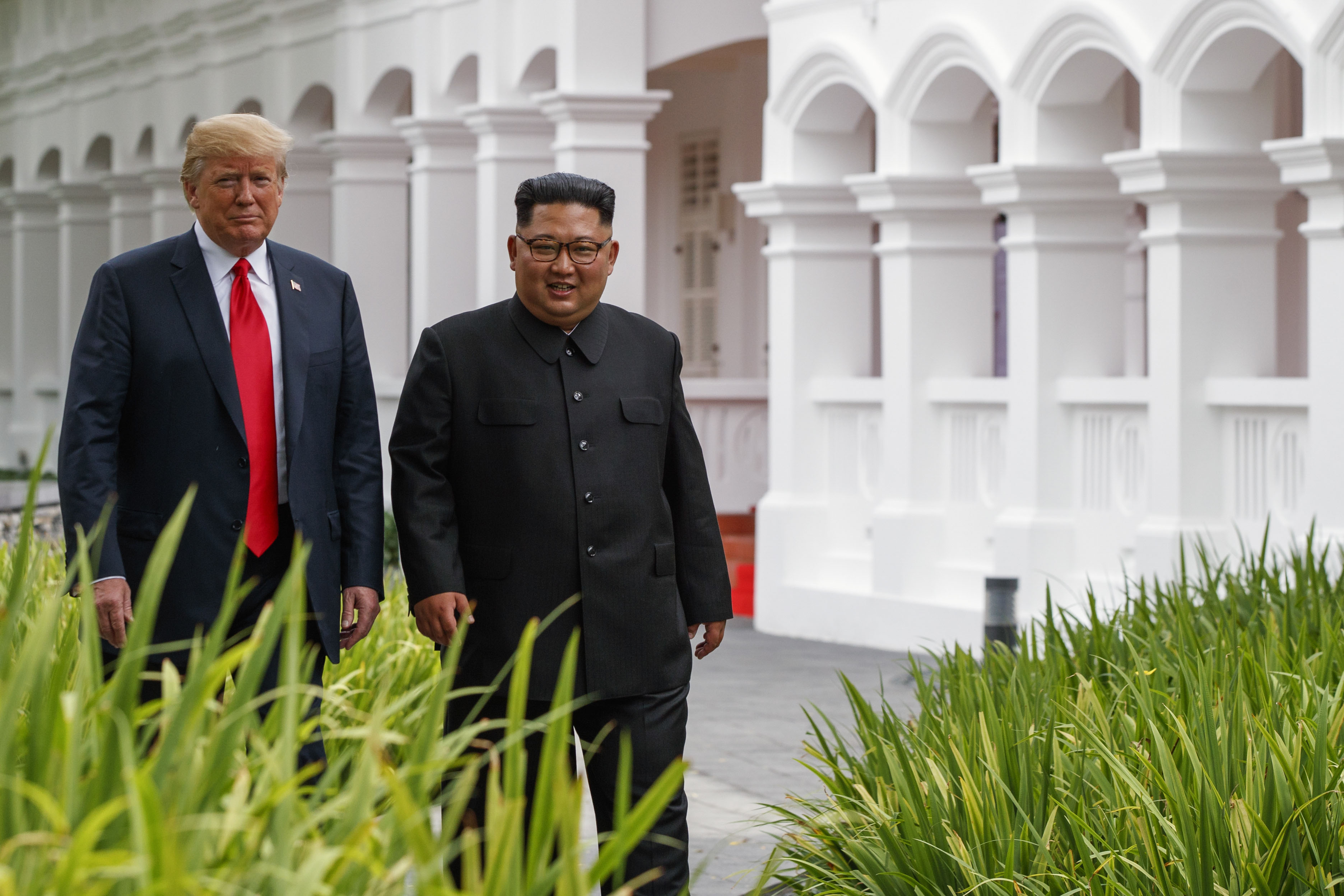 To reflect this meeting on a Singapore island, the delegation was served up a varied menu with dishes from America, France and across Asia.
The dishes included prawn cocktail, beef rib and Haagen-Dazs ice cream, but there were some that you might not have heard of:
Green mango kerabu
A Malay dish, Kerabu is a type of salad with a citrus dressing.
This salad at the summit featured green mango, fresh octopus and a honey-lime dressing. Green mango is a less sweet, less juicy version of the fruit you might be used to eating. There are many different variations of the Kerabu and it's also often made with cucumber, beansprouts and prawns – it's the balance in the sharp, sweet and spicy dressing that really makes this signature Malay dish.
Trump is known for being a lover of fast food and not a particularly adventurous eater, so pundits aren't so sure how well he would have fared with the fresh octopus. He probably opted for the prawn cocktail.
Oiseon
Oiseon is Korean stuffed cucumber. It is a simple dish – the cucumber is cut up, salted and squeezed of water, and then stuffed with ingredients like beef, mushroom and onion.
To finish off the dish, the stuffed cucumber is then boiled or steamed in a pot until tender, and dressed in sweet vinegar.
Yangzhou fried rice
The menu didn't just feature Korean and American dishes, it was painstakingly curated with references to all the countries that helped made the summit happen.
The sweet and sour crispy pork and Yangzhou fried rice is evidently a nod to China, and dish most of us with have tried. Yangzhou is better known in the UK as special fried rice. Recipes can vary, but it tends to be rice fried in a wok with shrimp, spring onions, fresh veg, egg and some kind of meat like pork or ham.
Daegu jorim
Daegu jorim is braised cod fish with radish from Korea, where braised fish is particularly popular and widely eaten. Cod is often used because it's a tender white fish, and can take on a lot of flavours in the braising process – in this instance, it was cooked in soy sauce.
Tropezienne
Oddly enough, there weren't any Korean or other Asian desserts on the menu. And it wasn't exactly haute cuisine – Haagen-Dazs vanilla ice cream with a cherry coulis.
However, the one pudding option that you might not have heard of before is tropezienne – a very rich French dessert that's essentially a brioche filled with cream.
The full menu
Starters
Traditional prawn cocktail served with avocado salad
Green mango kerabu with honey lime dressing and fresh octopus
"Oiseon" – Korean stuffed cucumber
Main courses
Beef short rib confit, served with potato dauphinoise and steamed broccolini, red wine sauce on the side
Combination of sweet and sour crispy pork and Yangzhou fried rice with homemade XO chilli sauce
"Daegu jorim" – soy-braised cod fish with radish, asian vegetables
Desserts
Dark chocolate tartlet ganache Haagen-Dazs vanilla ice-cream with cherry coulis
Tropezienne