Many types of Italian pesto sold by UK supermarkets contains substitute, and often cheaper, ingredients, an investigation has found.
[Read more: How to make your own healthy crisps at home]
Which? tested 12 own-brand standard and premium pestos, all made in Italy, and found a range of additions to the sauce's traditional four key ingredients: basil, pine nuts, parmesan and olive oil.
Many pestos tested contained sunflower oil, carrot and even bamboo fibres. Scary stuff. The good news is, making your own at home is easy, much more delicious and means you'll know exactly what's going into it.
You'll need a food processor or a pestle and mortar – either work just as well – and it's a case of chucking everything in and wizzing together. Here's how it's done…
1. Peel and chop (or bash) half a clove of garlic.
2. Roughly chop a big bunch of basil leaves.
3. Lightly toast a handful of pine nuts in a frying pan (no oil necessary).
4. Grate enough parmesan for a heaped handful.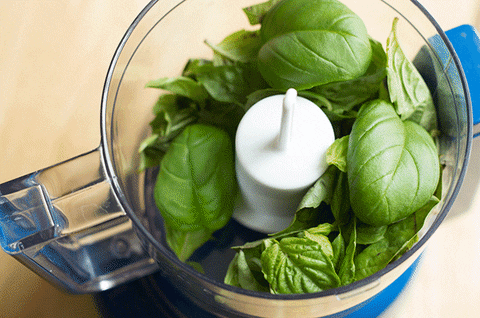 5. Add the garlic, basil, half the cheese and nuts to a food processor or mortar, with a pinch of sea salt, and wizz up or bash with a pestle until it looks like a paste.
6. Drizzle in enough extra virgin olive oil to bind the mixture to make a nice runny consistency.
7. Checking the consistency as you go, add the rest of the cheese and more oil until you're happy with the texture. Remember to keep tasting as you go. Everyone likes their pesto different – more basil? more garlic? – so it's all about experimenting.
8. Add salt, pepper and a squeeze of lemon to taste. This will make enough to add to pasta for four people, or it will keep in the fridge in a sealed jar for around two weeks.