When you think of the brand Rude Health, what comes to mind? Probably a whole range of plant-based milk alternatives, using the likes of tiger nuts, almonds and hazelnuts as its base.
[Read more: 6 of the best nut butters you should be eating]
But Rude Health has obviously had enough of the plant-based only life, as they've started promoting full-fat milk.
The brand writes in an Instagram post: "We may be dairy alternative producers but that doesn't mean we are against dairy. Quite the opposite."
They add: "Nature has provided us with an ingredient that is the perfect balance of protein, good fats and natural sugars (lactose)."
For a brand that has been favoured by vegans thanks to their dairy alternatives, it does seem like an odd stance to take. The comments on the post are particularly heated – here is a snapshot of the backlash Rude Health is getting: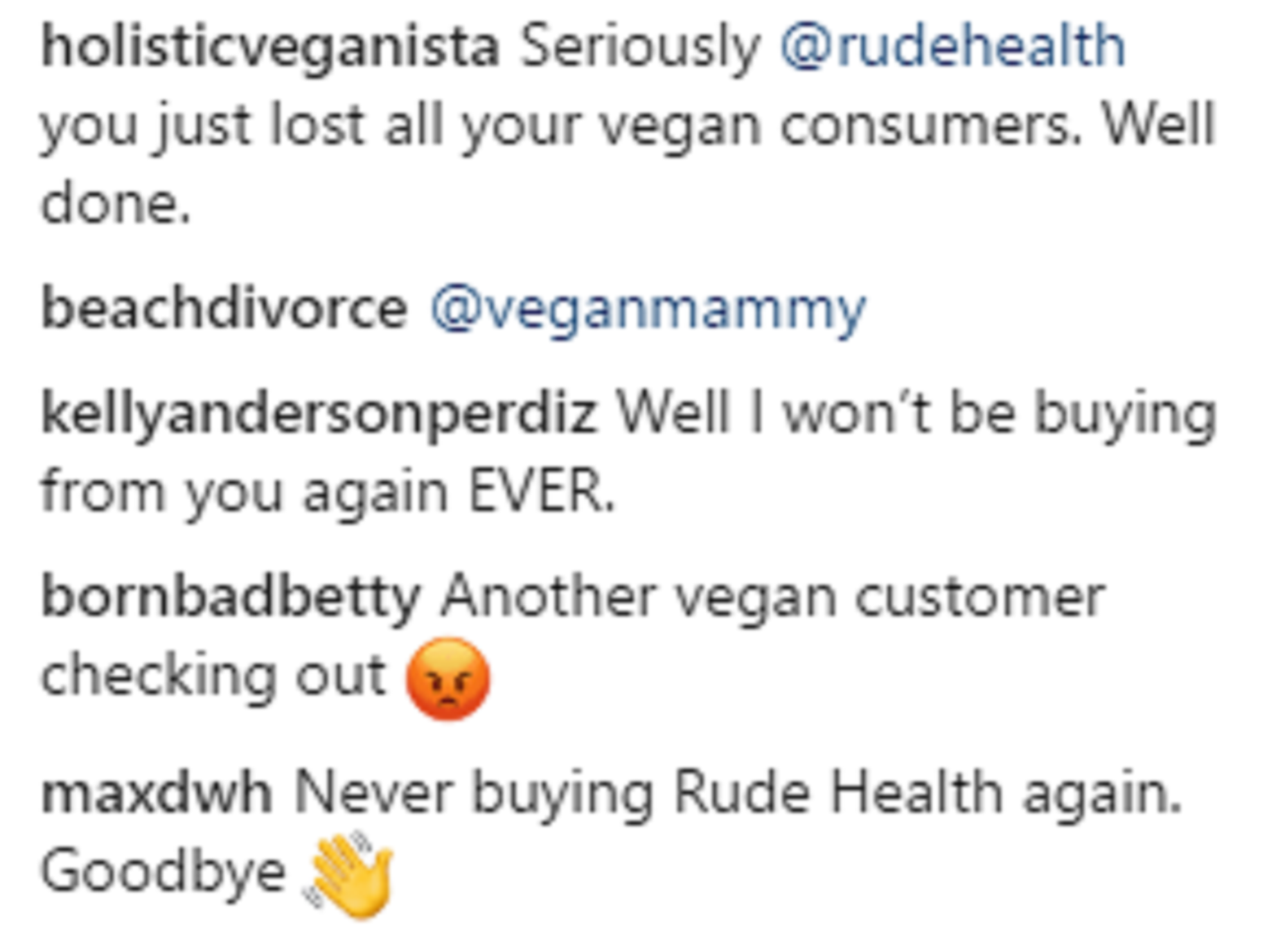 Many are surprised by the brand's opinions, as most people assume Rude Health's core customer base were vegans, or those who don't consume dairy.
However, this response doesn't really seem to have fazed the company. Last night they posted a follow-up explaining themselves:
The company writes: "We realise this might seem strange for those who know us only for our dairy-free drinks, which happen to be vegan as well as dairy-free, but Rude Health does not promote itself as a vegan company. Our range is about quality and choice."
It also adds: "We don't support industrial scale or monoculture farming, whether it's for dairy, almonds, meat, avocados or soya. We see a clear distinction between the destructive effects of industrial-scale farming and the sustainable practices of small-scale farms."
While vegan subscription box service TheVeganKind, has posted an excerpt from an interview Rude Health co-founder and brand director Camilla Barnard gave to The Grocer last month:
In it she seems to disparage vegetarian and vegan lifestyles, saying: "All these regimes are defined by cutting out types of food, which is odd in itself if you aren't forced to by an allergy, but to follow these diets is also to claim the health and moral high-ground."
This doesn't seem to resonate particularly well with the vegan community, with increasing calls for the brand to be boycotted.
Emily Churchill from Rude Health says: "We have a range of seven dairy free drinks and nut milks. We use milk, as well as our drinks, in our Cafe, but do not sell milk."