These morsels are spicy, crispy and have a "lovely sour flavour within", says former Bake Off contestant Chetna Makan.
"I first had them in London, at the house of my friend Sudhakar, who is very keen on street food and remembers them from his hometown. They make a lovely party canapé, or snack served with a cup of tea."
We don't need anymore encouragement than that.
Makes 15
Ingredients:
15 small fat green chillies
70g tamarind paste
1tsp carom seeds (available online or from Holland & Barrett)
100g gram (chickpea) flour
1/2tsp salt
Up to 120ml water
Sunflower oil, for deep-frying
Sea salt flakes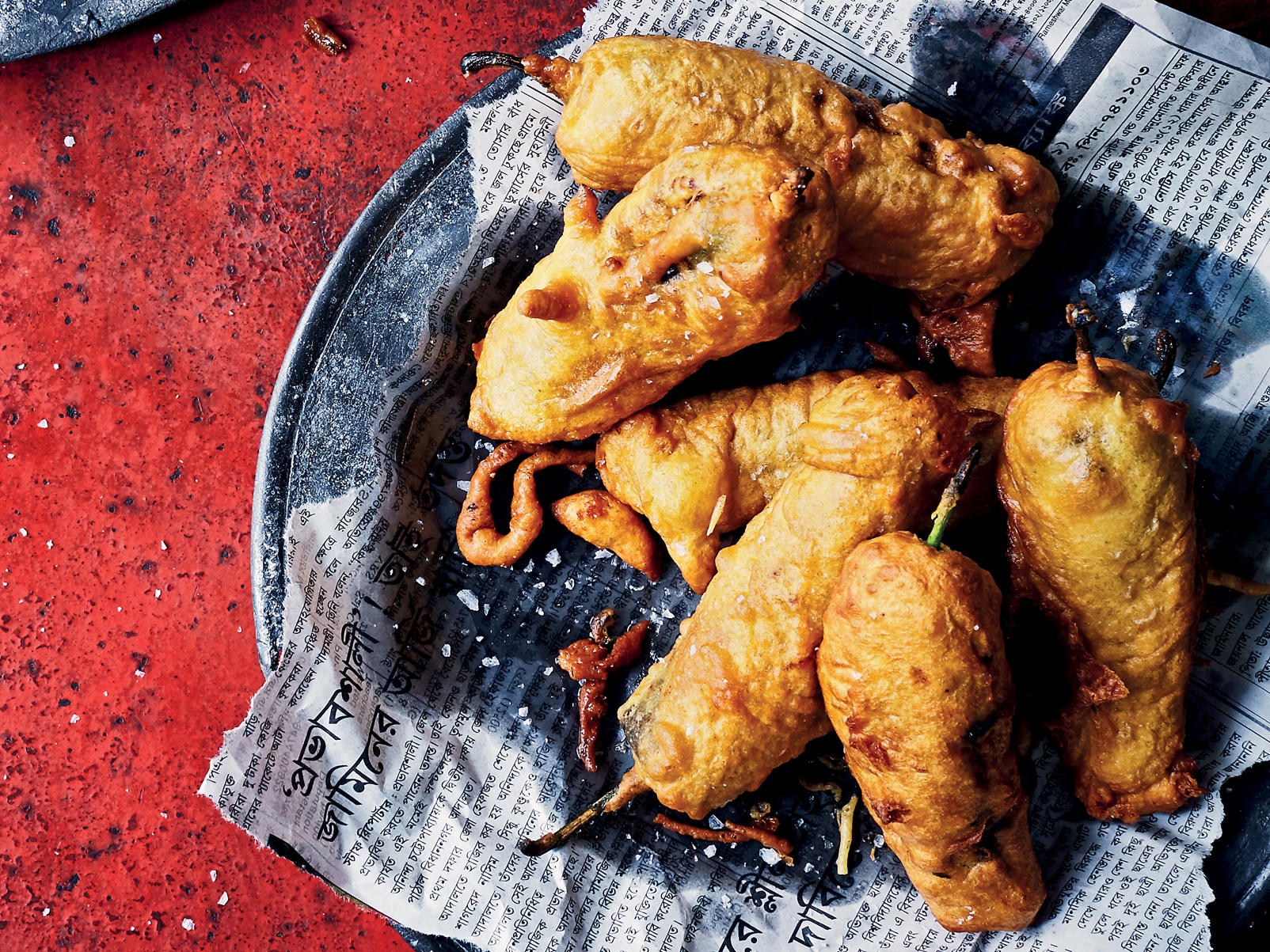 Method:
1. With a sharp, pointed knife, slit the chillies lengthways along one side and remove the seeds and membranes.
2. Combine the tamarind paste and carom seeds in a small bowl and use this mixture to stuff each chilli. Set aside.
3. In another bowl, mix the gram flour and salt, then slowly add just enough of the measured water to make a runny batter.
4. Heat enough oil for deep-frying chillies in a deep-fat fryer or large saucepan (ensuring the pan is no more than one-third full) to 180°C. Line a couple of plates with some kitchen paper. Working in batches, dip each chilli in the batter, then carefully drop it into the hot oil and fry for about two minutes, until lightly coloured. Remove with a slotted spoon and transfer the chillies to a paper-lined plate to drain excess oil.
5. Once all the chillies have been fried, dip them once again into the batter and (again, working in batches), fry them a second time for two minutes, until golden brown and crispy. Transfer to a paper-lined plate to drain excess oil.
6. Season with sea salt flakes and serve hot.
Chai, Chaat & Chutney by Chetna Makan is published in hardback by Mitchell Beazley, priced £25. Photography Nahima Rothacker & Keith James. Available now