While the rest of the country jumps for joy at the news of the impending heatwave this week, there's one group of people who are likely to be less than thrilled – those running the Virgin Money London Marathon 2018.
The weather this week is set to be well above average for April, with meteorologist Alex Burkill noting temperatures could reach 25C on Thursday, although it could be a little cooler than that for the marathon on April 22.
[Read more: 8 ways Nordic walking is good for your health]

[Read more: 5 great stretches for tight hips]
More than 40,000 runners have been preparing all winter to take to the start line this Sunday, but with a sudden spike in temperature (why does it feel like it was still snowing only yesterday?) attempting 26.2 miles in very different conditions to those you got used to training in can be difficult, and even dangerous.
"The conditions this Sunday are going to be unlike anything a lot of us have been training in," says celebrity personal trainer Georgie Okell, "which is what happens a lot of the time with road races; we can control lots of things about our performance, but not the weather. But when the temperature rises by such a huge jump, we really have to take that change seriously."
So, what should you do differently in the lead up, and on race day itself, to cope with the heat?
Get used to the temperatures a few days before
"Acclimatise to the heat if you can," says Dr Andrew Murray, consultant in sport and exercise at the University of Edinburgh, athlete and Merrell brand ambassador. "In the days leading up to the race, try and be outside in the heat of the day, and spend some time in a hot bath if you're not used to running in hot conditions."
He knows what he's talking about too, having won long distance races in the Sahara Desert and Gobi Desert (although let's hope it's not that hot on Sunday).
Don't adjust your kit too much
Nick Anderson of Running with Us, and Cancer Research UK coach for the London Marathon, says: "Wear the kit you have trained in and adjust the layers depending on the weather. If warm, think lightweight wicking and breathable vest and shorts. Consider using a cap that enables you to pour water over your head to keep the body and core cool. All kit and shoes being used should be familiar and have been worn already in training."
Make sure you're extra hydrated in the lead up
"This week make sure you're hydrating loads, taking on three to three and a half litres of water each day and especially on Friday and Saturday," says Okell.
Alcohol and caffeine can dehyrate you before a race, so Anderson says to avoid it in the lead up (although some find caffiene helpful during the marathon). "There is evidence to suggest some people won't sleep and recover as well prior to the race within the taper if these levels are high. And of course, maybe save your alcohol for the celebration afterwards," he says.
Drink little and often during the race
"Be hydrated prior to starting (aiming for clear or straw-coloured urine)," says Murray, "and drink cold fluid at aid stations if you're thirsty."
"Hydrate, hydrate, hydrate," says Okell. "Little and often during the race – at least at every one to three miles, minimum."
It's a big mistake to only drink water though, you need to replace the salts you'll lose during the race (even more so if it's a hot day) so make sure you also take on sports gels and sports drinks to keep electrolyte levels balanced. "Fluid that has electrolytes and carbohydrates are ideal," says Murray. This will help to stop your muscles cramping and hitting the dreaded 'wall'.
Wear sun cream
You're likely to be out in the sun, with little shade, for anything from three to six hours, depending on how fast you are. "On race day, a hat and sun cream will be your saviours. Don't turn up without them," says Okell. Use waterproof sun cream so it's less affected by sweating.
Lower your expectations
Like any professional marathon runner would do, you need to adapt to the conditions. "You might have a time in mind for the marathon, but if this is your first race and that pace goal is a stretch, then honestly forget about it, just aim to get round happily and healthily," says Okell.
Murray suggests thinking of the challenge differently. "If it's super hot, don't think about personal bests, but embrace the challenge of completing a marathon on a hot day," he says.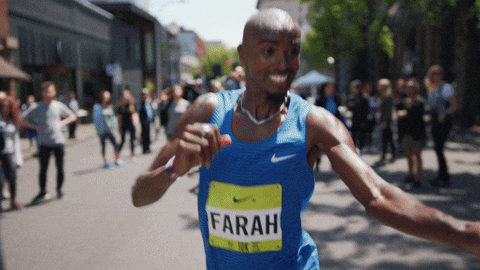 Listen to your body
If you feel like you're becoming too hot, stop, find some shade, have a break, and carry on if and when you feel OK. Heat-induced illness can be serious, so if you're experiencing headaches, confusion, loss of muscle control or an upset stomach, don't force yourself to continue.
Make your main priority to enjoy it
"Enjoy race day, finish what you started, enjoy the crowds and get to the end safely by hydrating and pulling back a little bit if you haven't raced or trained in the heat before," says Okell.
Hugh Brasher, Virgin Money London Marathon event director, says: "We monitor the weather forecast for race day very closely. We have a number of contingency plans in place in case of hot weather, and we will be sending advice to runners and spectators later in the week that will be proportionate to race day."
Lauren is running the London Marathon with Audible and raising money for Refuge.