She may have two Olympic gold medals under her belt, but that doesn't mean Rebecca Adlington was immune to the physical challenges and changes pregnancy can bring.
[Read more: 5 reasons why you should exercise your pelvic floor]
"As many women do, I suffered from a bit of bladder weakness after giving birth to Summer," says the 28-year-old. "So I know all too well the impact pregnancy and childbirth can have on your body, even as an athlete."
Of course, with a background as a pro athlete (this is a woman who "fell in love with swimming" aged 3, and went on to scoop gold in the 2011 World Championships, as well as medals at the Beijing and London Olympics in 2008 and 2012), Rebecca recognises she was "possibly more prepared than many women" in this regard.
"As an athlete, you know you need to keep your pelvic floor strong. Exercises and high-impact sport can put lots of pressure on the muscles, and track athletes in particular can suffer from leaks unless they exercise their pelvic floor. It's something I've always been fairly aware of – although, as most women would probably admit, I didn't do as many exercise as I should have during pregnancy or after I had Summer!"
She's talking about pelvic floor exercises, which can be key for preventing and managing bladder weakness, whether that's stress incontinence (leaking when running, jumping or laughing, for instance), or urge incontinence (trouble holding it in when you need to pee). Around one in three women in the UK experience bladder weakness at some point, and while pregnancy's not the only cause, it is a known risk factor.
When she started experiencing the issue herself, after Summer was born in 2015, Rebecca says talking to friends and personal trainers for advice really helped, and she's passionate about spreading the message to other women that "solutions are out there".
[Read more: Bladder problems: Why talking about incontinence can make you feel better]
"As a new mum, you already have a huge amount to deal with," she says, acknowledging that having to worry about leaks can "impact your confidence".
INNOVO recently surveyed 2,000 women, and found 37% said they felt forced to change holiday plans due to embarrassment and anxiety around bladder weakness, and 36% said they avoid activities like swimming because of the problem.
This is something Rebecca hopes to help change. "I'm really passionate about encouraging people to be active – particularly women – which is why I'm also an ambassador for Women in Sport," she says. It's also why she was "keen" to take part in INNOVO's recent incontinence awareness campaign, setting a new Guinness World Record for the most people on trampolines (they succeeded, with 343 people simultaneously bouncing for five minutes non-stop).
Rebecca retired from competitive swimming in 2013, but, reflecting on the changes she's experienced since becoming a mum, says: "Swimming and fitness are a big part of my life. I work out three to four times a week and one of those is a swim.
"I want to live a healthy lifestyle so I am able to do the things I want to do, and be a good role model to my daughter. Swimming is more about time for me than exercise. I love being away from my phone and having an hour for me!"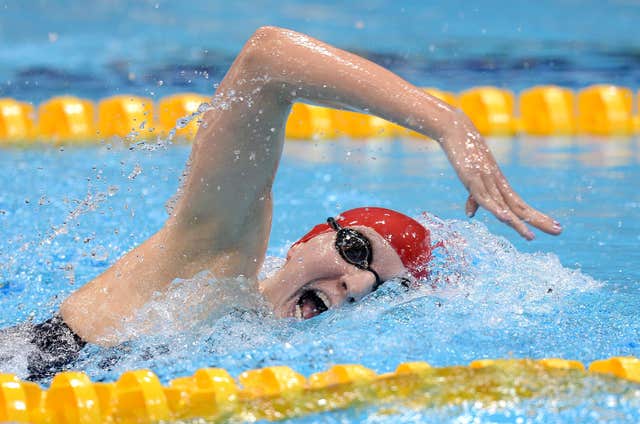 She didn't put any pressure on herself to 'snap back' after having Summer, but keeping active's still important – though her approach to fitness has evolved.
"I found the changes that happened to my body during pregnancy the hardest to deal with, as it was out of my control. In the first few months as a mum, my body wasn't something I really thought about, as my life had just completely changed," she reflects. "Once I'd settled into things, I wanted to get my body back and be in better shape again. My body isn't the same as pre-baby at all, but I have a gorgeous healthy daughter, so it's totally worth it.
"Now that Summer is in nursery two days a week, I've found it a bit easier to get back into exercise. I started with a personal trainer this year, so it's kept the routine and schedule going too. I really enjoy doing a little 20-minute HIIT session when Summer is around as she tries to join in, and I want her to see her mum being healthy."
[Read more: Adult incontinence: 6 ways to take care of a sensitive bladder]
Rebecca and her husband Harry Needs split after 18 months of marriage, when Summer was 10 months old. They've kept on good terms, with Rebecca saying shortly after that their "total focus is on our daughter".
It's a balancing act, of course, and Rebecca says she's "in the middle of finding my feet again". But she's determined to make space for her own career (catch her on TV this summer taking part in the new Celebrity MasterChef, and she resumed commentary duties for the BBC last month at the Swimming World Championships), as well as prioritising quality downtime with her daughter.
She credits her parents for their support. "My parents are just the best, so I'm very lucky I have them as examples, and to turn to if I need anything."
And whatever happens, swimming and her PT sessions will always be there as a way to keep grounded and hit refresh.
"Getting your heart rate up is really good for you, and it's so important to try and keep healthy as a new mum," says Rebecca. "Group exercise can also really help you to socialise and not feel so isolated."
Rebecca Adlington is a brand ambassador for INNOVO. For more information about bladder weakness and strengthening your pelvic floor, see restorethefloor.com.