How many times have you run around the house looking for a USB adaptor plug? Do you have to unplug other chargers or bedside lamps to charge your phone at night? Are you sick of arguing with offspring/partners over where your chargers have gone? Well, today I have the solution – it's cheap, simple, and you'll wonder what on earth you did without it…
[Read more: The reason everyone should own a water butt and how to build one at home]
Double sockets with USB chargers have become very popular over the past few years, mainly because they're so easy to fit and can replace existing double sockets without any trouble. They're exactly the same size and can be bought from most DIY and electrical outlets. A degree of confidence is required, but if you follow these four steps, you'll be charging away in no time.
1. Turn off the juice
Electricity is dangerous. Never attempt to do work on your electrics unless you are sure they've been turned off. If you do decide to replace sockets in your house, I'd recommend you get a socket tester – they cost around £15 and are straightforward to use, just make sure you test them on your old plug socket prior to turning the electricity off, so you know they work.
In your house, you will have a consumer unit (usually under the stairs, or high up near the front door). Open this and have a look inside – you will see a row of fuses or MCBs (Micro Circuit Breakers). If your electrics are properly installed and maintained, each fuse should be labelled with the area it covers – for example, upstairs lights, downstairs power. Select the correct fuse and flip it into the 'off' position. You can flip the master switch and turn everything off to be sure, but you'll be resetting all your clocks if you do. Check your socket tester is showing no power, and you're ready to go.
2. Out with the old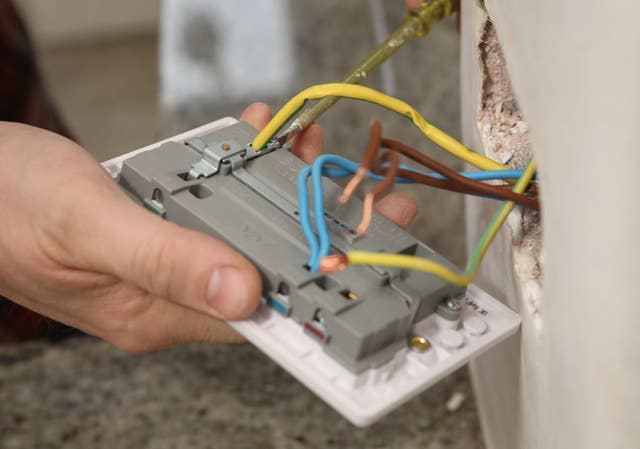 You'll need a small, flat-headed screwdriver for this. On the front of your existing socket, you'll see two screws – one at each side. These attach your socket to the box inside the wall. Carefully unscrew both of these and gently pull the socket forward. You'll need enough slack in the wires behind to be able to completely flip the socket down so that the back surface is accessible (if you can't, stop here, screw everything back and get a professional to do the job).
[Read more: 5 tips for making interior walls look better]
If your wiring is pre-2004, the wires you'll find inside will be red, black, and a green and yellow striped one. If your wiring is after 2004, they will be brown, blue, and a green and yellow striped one. Red and brown are live, indicated by an 'L' on your socket, black and blue are neutral, indicated by an 'N', and the green and yellow wires are earth, indicated either by an 'E' or by three vertical lines. Using your small screwdriver undo the connections for these wires and take off the old socket.
3. In with the new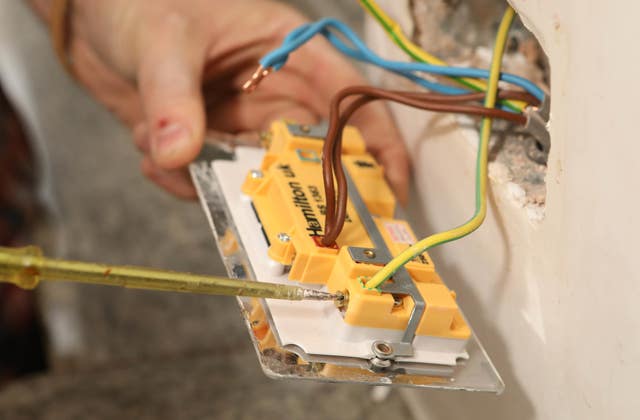 Unpack your brand new double socket. The back will most likely be different to your old socket, but even if it's similar, be sure to note which are the live, earth and neutral connectors – it is vitally important that you wire the new socket correctly.
The exposed copper ends of your wiring need to be cut off, as they will have been weakened by tightening into the old socket. Use a side cutter to do this – available on Amazon for around £6, if you don't already have one. Expose about 5mm of copper on each wire by stripping the coloured casing using your side cutters. Be careful here – you only want to cut through the plastic sheathing – NOT the wire inside.
Before you make the final connection, use your small screwdriver to make sure the terminal screws are fully open. Push the wire(s) into the corresponding terminal until none of the copper wire is exposed, and tighten up with your screwdriver. These need to be firmly fixed but be careful – if you tighten too much, you can shear through your copper wire. Once all your wires are connected, have one last check – remember brown or red are live, blue or black are neutral and green and yellow stripes are earth.
Next, push the new socket into place, being careful not to trap any of the wires between the socket and the socket box. Either use the old screws that you took out initially, or the screws provided with your new socket (they are usually found on the back surface of the socket, to screw the socket front back in place). If you have a small spirit level, you can use that to check everything is straight, but once again, be careful not to over tighten your screws – you don't want to crack the plastic casing of your new socket at the final hurdle.
4. Turn it back on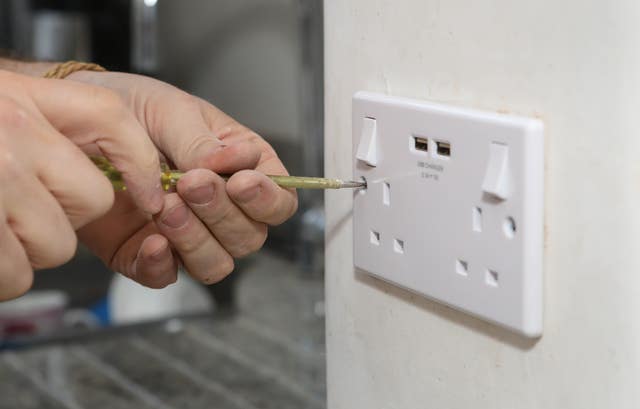 Go back to your consumer unit and flick your fuse or fuses back on. It should stay on – if it flicks back off immediately, go back and check your connections into the socket.
Once the power is back on, go and check the socket works properly with your socket tester (if you try to test by plugging in a lamp, you may miss some faults, even if the lamp turns on). And that's it! Charge up devices whenever you like, without looking for plug adaptors, and then get all evangelical with your mates about how useful they are!