How on Earth can you make churros somehow look even more appetising?
Make them rainbow-coloured, of course.
Following in the footsteps of those rainbow bagels everyone went crazy for on Instagram, The Loop in California, has put these psychedelic churros on its menu for a limited time only.
What's making us salivate even more (don't judge us, OK?) is that you can add ice cream with various toppings – look how well a fresh warm churro goes together with cold vanilla soft serve.
All of the rainbow loop churros are covered with a choice of plain or cinnamon sugar, before being glazed with white chocolate and topped with the crystal coloured sugar in different rainbow colours.
Jed Cartojani, marketing manager at The Loop, said: "We're huge on social media and know that rainbow foods are really trending. We initially developed the product for St Patrick's Day and didn't want to go the traditional green food route. So we came up with a rainbow that was a great way to tie in the holiday AND spring time."
And the rainbow effect doesn't change the taste at all. Cartojani adds: "The churros taste as any churro should, golden fried fresh for a crunchy on the outside and soft on the inside texture and a sweet coating."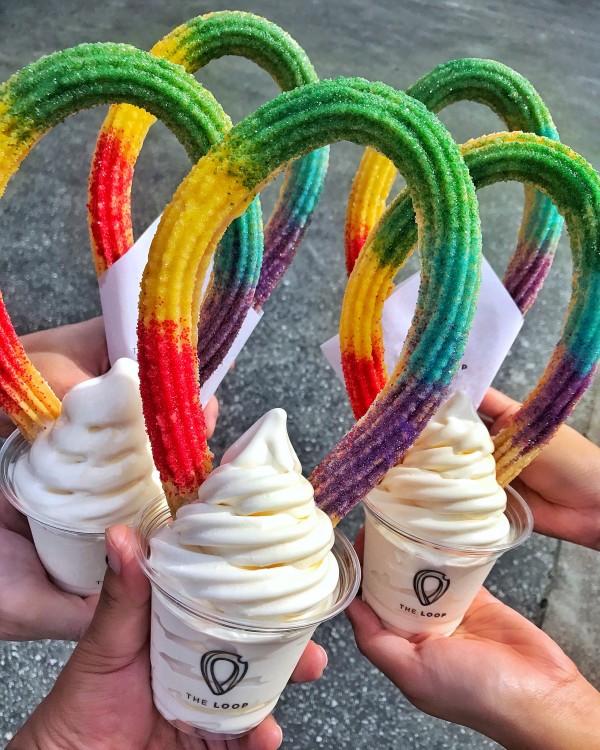 The churros were initially launched temporarily but there has been such a huge response to them that Cartojani says they may now be on sale for longer.
This isn't the first time The Loop has reimagined the humble churro … it previously went viral after it made Pikachu-rros. Yes, that's churros inspired by Pokemon.
Delving deep into its website, we also saw it sells churros dipped in things like tiramisu, or cookie butter. And then there are glazed versions such as Matcha Crunch or the Speculoop – churro with a white chocolate glaze, biscoff cookie crumble and cookie butter drizzle.
Discover & Share this Reactions GIF with everyone you know. GIPHY is how you search, share, discover, and create GIFs.
But it's still the Crystal Rainbow Loop that is blowing our mind the most.
We now officially want all deep-fried goods to be multi-coloured; is that too much to ask?