1. Keep your rainy day fund in a savings account
Back in the day, you kept your savings in a traditional savings account. You probably had a little savings book that you had to take to the bank or building society when you wanted to withdraw or deposit money. Those days are gone.
Now, if you want the best possible return on your cash savings you may well be better off choosing a current account.
Banks love their current account customers as they can cross-sell them mortgages, loans and other profitable products. So, they offer tempting interest rates on their current accounts in order to lure in new customers.
This means you can earn up to 5% interest on current accounts compared to a measly 1.3% on an instant access savings account.
As we pointed out in an earlier article, these accounts do tend to come with fairly low savings limits, so you might need to spread your emergency funds across a couple of them.
2. Package bank accounts are a rip-off
A few years ago package bank accounts were widely derided as a rip-off, after all why pay when you can bank for free? Well, nowadays there are several current accounts out there that could be worth the monthly fee.
Choose the right packaged account and you could get travel insurance, roadside assistance and a bumper interest rate, all for a modest monthly fee.
Or, you could pay a small fee in return for a cashback rate that means you earn far more than you pay.
You can read a first-hand account of how packaged accounts can work in your favour here.
3. Withdraw 4% a year from your pension
In the early 1990s, a US study concluded that if you wanted to draw an income from your pension, and still have enough invested to see you right through your golden years you could withdraw 4% a year.
The '4% rule' has become a central element of many people's pension planning, but it is out-dated advice.
Increased life expectancy and low interest rates mean that if you withdraw 4% a year from your pension you stand a 20% chance of running out of cash if you live to 95, according to research by Aegon.
4. Cash is king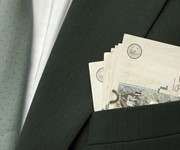 We all know this one. The best way to pay for things is with cash because you can haggle a better price. Unfortunately, that simply isn't the case anymore. Pay tradesman cash in hand and you could find yourself in trouble with the taxman.
Plus, you are missing out on valuable consumer protection and, potentially, a tasty bit of cashback.
Paying with a credit card, and in some cases a debit card, means you get the benefit of extra consumer protection. This means if there is a problem with the purchase you could be able to reclaim your money from your credit card provider, if you can't get it from the retailer.
There are also a number of cashback credit cards that mean you can earn money back every time you put a purchase on plastic.
[Read more: What a rate hike might mean for your mortgage, credit cards and savings]
5. Don't borrow and you'll have a great credit rating
I can see the logic behind this one. If you never borrow money you can never fall behind on payments and tarnish your credit rating. The problem is this idea works on the principle we are all born with a perfect credit rating and it just diminishes if we behave badly.
If you never borrow money then future lenders can't see how you behave as a borrower. They want to see that you have borrowed responsibly in the past.
So, having a credit card and paying the balance off in full each month will give you a better credit rating than not borrowing at all as it is evidence that you will be a good borrower.