Here's your round up of this week's best deals from all the big supermarkets.
Note that offers are subject to availability and all stores are listed alphabetically, so you can scroll straight to your favourite.
Enjoy money back on your everyday spending: compare cashback credit cards
All stores are listed alphabetically.
Aldi
Aldi regulars will know all about the weekly Super 6 fruit and veg offerings.
This week you can get two sweetcorn for 49p, a mango for 59p, four peaches for 45p, four nectarines for 45p, five kiwis for 49p and a beef tomato for 45p.
Aldi has relaunched its 16oz 'Big Daddy' rump steak for £4.99 deal. The 21-day matured steak is available now in-stores.
This week's other six top meat and fish offerings include:
Picanha burger with rump chunks for £2.69 (£7.91 per kg);
Outdoor bred smoked pancetta for £1.49 (£8.28 per kg);
British BBQ pork burgers for £2.49 (£5.48 per kg);
Mussels in cider & bacon sauce for £1.79 (£3.98 per kg);
Blackstrap BBQ British pork fillet for £6.49 (£6.49 per kg);
Tomato coconut & tamarind chicken for £2.99 (£7.26 per kg).
You can also pick up Ainsley Harriott dinner kits for £1.99 (£1.10/£1.12 per 100g).
Bilash lime pickle or raita sauces are just 89p per jar (45.6p/44.5p per 100g)
Tilda steamed firecracker rice (250g) is a steal at 79p (£3.16 per kg)
Save 10p on Mature Cheddar, now £3.59 (£4.33 per kg).
Spanish Manchego cheese is £1.79 (£9.94 per kg)
Pick up a dozen large free-range eggs for just £1.75.
Smoked Mackerel fillets (200g) are £1.35.
Cod (2pk) and haddock fishcakes (2pk) are £1.25.
Treat yourself to a pack of gluten-free Belgian brownies (4pk) for just £1.59.
San Miguel (600ml) is £1.59 a bottle.
Find more deals on the Aldi website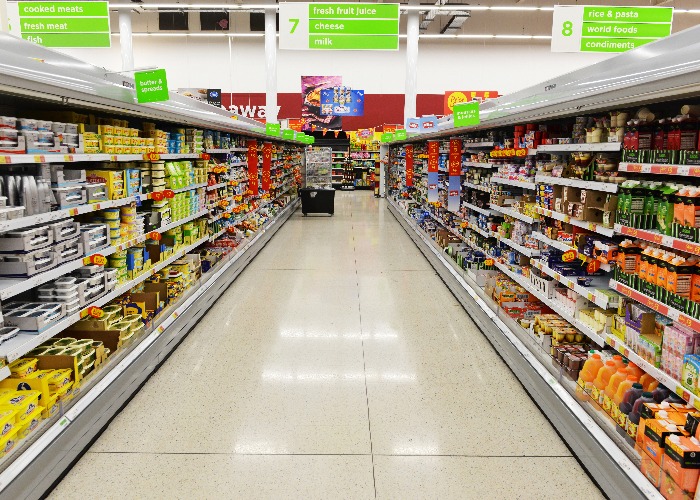 Asda
Asda vegetable feast thin stonebaked 10" pizza (364g) is now £1.87 instead of £2.30.
Tasty Pies roast chicken pie (235g) is now £1, down from £1.50.
Asda Extra Special cod loin (280g) is £4, down from £4.60.
You can get two-for-£5 on Asda Extra Special fishcakes (normally £2.75 each). Mix and match between smoked haddock vintage cheddar & leek (300g), red Thai cod & prawn (300g), haddock with cheddar & mustard (290g) and more.
Save 18p on Asda wafer thin sweet chilli chicken slices (180g), now £1.
Vimto no added sugar mixed fruit squash (2l) is £1.70 cheaper at £2.
Kingsmill medium 50/50 bread is down from 75p to 50p this week.
There's 69p knocked off Heinz Baked Beanz (4x415g) now £2.
Stock up on multipacks of crisps. There's a three-for-£3 offer on packs including Walkers Sunbites cheddar & caramelised onion (6x25g), Jacob's smoked Applewood Mini Cheddars (7x25g), Hula Hoops BBQ beef flavour (6x24g) and McCoy's Nicely Spicy ridge cut potato crisps variety pack (6x27g).
Save 98p on a bottle of Blossom Hill white Zinfandel (75cl) now just £5.
Take advantage of the three for £21 on beer. Choose from Carling lager (12x440ml), Budweiser (12x300ml), Stella Artois Cidre (8x500ml) and Beck's lager (12x275ml).
Find more deals on the Asda website
Iceland
Iceland six garlic & chilli king prawn kebabs (192g) are half price at £1.50.
Ristorante mozzarella (335g) and pepperoni (320g) pizzas are now £1.50, normally £2.50.
Young's Gastro lemon & herb basa is now £2.25, saving you £1.75
There's 44p knocked off Dairylea cheese spread (180g) now £1.
Save yourself 20p on McCain Straight chips (1.5kg) now £1.80.
Pick up a pack of Mr Kipling cherry bakewells (6pk), normally £1.60, now £1.25.
Or why not try something different? McVitie's digestives thins milk chocolate (180g) is 69p cheaper at £1.
Warburtons white sandwich thins (6pk) are 25p cheaper at 75p.
Save £1 on Capri-Sun summer berries (10x220ml) now £2.
A box of Oreo ice cream sticks (3x110ml) is half price at £1.25.
Find more deals on the Iceland website
Lidl
Lidl's Pick of the Week features four assorted fruit and veg for 69p, all from Oaklands.
This week you could pick up 1kg of British baby potatoes (reduced from 95p/kg), lemons (500g), British Romaine lettuce hearts (2pk) and a mango.
Lidl's selection of meat and fish offers this week include:
Coopers two garlic & herb chicken Kievs (260g), now 30p cheaper at £1.19;
Birchwood Farm three Chinese-style pork shoulder steaks (500g), have 50p knocked off the price at £1.99;
Lighthouse Bay MSC Coldwater prawns (180g) are £1.79, down from £2.25;
Birchwood/Strathvale Farm four beef quarter pounders (454g) are 50p cheaper at £1.49.
Lidl's While Stocks Last offerings include:
Birchwood Farm four Teriyaki beef skewers (260g) are £2.99;
Birchwood Farm four smoky chorizo pork burgers (454g) are £2.49;
Birchwood Farm six salt & pepper beef sliders (360g) are £1.99;
Birchwood Farm four Tikka chicken breast skewers (260g) are now £2.99.
Don't miss out on Lidl's Super Weekend offers:
Côtes Du Rhône Villages red wine, now £2.99, instead of £4.29;
Warren & Sons 14 back bacon rashers are £1 cheaper at £1.59;
Formil laundry gel is now 99p, rather than £1.75;
Doussy fabric conditioner is 99p, down from £1.95.
There's also a Veggie Week on in-stores and you could pick up:
Vemondo organic vegetarian meatballs (200g) are £1.59;
Me Best Veggie organic tofu (2x200g) is £1.49;
Vemondo organic vegan soya protein (180g) is £1.59;
Vemondo quinoa chips (80g) are £1,49;
Vemondo organic vegetarian nuggets (200g) are £1.59;
Vemondo organic crispbread (200g) is £1.79;
Quorn fillets (312g) are £1.49;
Quorn Swedish-style balls (300g) are £1.49.
Find more deals on the Lidl website
Morrisons
You can pick up four Birds Eye products for £10 thanks to its Birds Eye Kids Bundle:
Birds Eye 18 potato waffles (1.02kg);

Birds Eye garden peas (800g);

Birds Eye 38 breaded chicken nuggets (792g);

Birds Eye 28 Omega 3 fish fingers (748g).
Morrisons 12 large free range eggs are down to £1.97 from £2.31.
There's £1 knocked off the price of Morrisons breaded mini chicken fillets (300g) at £2.
Save yourself 34p on Rachel's organic low-fat raspberry yoghurt (450g) at £1.50.
Fish finger sandwich anyone? Birds Eye 18 cod fish fingers (504g) were £3.97 but are now £3.
You could pick up some Diet Coke cans (30x330ml) for £7.75, reduced from £10 as part of an online exclusive.
Why not treat yourself to a spot of brunch over the weekend? Morrisons smoked salmon (120g) has 42p knocked off the price at £3.50.
Bottle Green elderflower cordial (500ml) was £3.20 but is now £2.56.
Make your Bolognese even better with a little extra tomato. Napolina chopped tomatoes (6x440g) are £1.36 cheaper at £3.
Enjoy a nightcap with Ardmore Legacy single malt (70cl) for £25 instead of £30.
There's £2 knocked off the price of Kenco Rich (200g) at £4.
Stock-up on fish and chips for the whole family with Kershaws classic fish & chips (400g) which are part of a four-for-£5 offer.
Buy all the chicken you need with Morrisons chicken breast fillets (1kg) at £5.94, reduced from £6.48.
Find more deals on the Morrisons website
Ocado
Tropicana smooth orange juice (1.6L) is £1 cheaper at £2.50.
Save yourself £3.50 on The Ned Sauvignon Blanc (75cl) at £7.49.
There's a £5 saving to be had on Bombay Sapphire gin (1L) at £22.50.
Tilda pure basmati rice (1kg) has £1.25 knocked off the price at £3.50.
Start your morning off with a little extra fibre with Nestlé Bitesize Shredded Wheat (750g) at £2, reduced from £3.20.
Do you love smoked salmon and eggs? Young's smoked salmon (300g) is £4 cheaper at £10.
Summer drink saver alert! Pimm's No.1 cup (1L) had £9 knocked off the price at £12.
Don't miss out on all the half price deals available at Ocado this week, including:
Albert Bartlett rooster potatoes (2kg) at £1.30;

Castillo La Paz Tempranillo, Tierra de Castilla (75cl) is £5.99;

Lye Cross Farm organic mature cheddar (350g) is £2.84;

Bioletti's Block Viognier (75cl) is £5.99;

Activia Intensely Greek-style strawberry yoghurts (4x110g) are £1.20;

Charles Lafitte Champagne Grande Cuvee Brut NV (75cl) is only £17.99.
There's a Summer Picnic Bundle offer available this week, where you can pick up one quiche, one snack rolls pack and one olive pack for £8; that's a saving of up to £2.48! You could get:
Quiche – Higgidy smoked English bacon & mature cheddar quiche (400g); Higgidy 6" spinach, feta & red pepper quiche (400g) or Higgidy balsamic onion & cheddar quiche (400g).

Snack rolls – Higgidy herby feta & red pepper snack rolls (160g); Higgidy pork & apple snack sausage rolls (160g); Higgidy pork & pancetta snack sausage rolls (160g) or Higgidy cheese & onion sausage rolls (160g).

Olives – Unearthed nocellara olives (215g).
Find more deals on the Ocado website
Sainsbury's
Celebrate the weekend with a bottle of Antoine De Clevecy Non-Vintage Brut Champagne 75cl at £14.50, saving you £3.50.
Or if whisky's more your thing, go for a one-litre bottle of Jack Daniel's which has had a fiver knocked off, now £25.
Packs of 100 Twinings English Breakfast teabags (250g) have been reduced to £3.50, £1.50 cheaper than they were before.
Pair it with some Taste the Difference tarte au Citron from Sainsbury's. It's £1 cheaper at £3.
Save 40p on a pack of two Sainsbury's unsmoked rindless gammon steaks, only £2.80.
Sainsbury's baby courgettes (200g) have had 50p sliced off the price – now they're £1.25.
Make it into a platter with Sainsbury's houmous (200g) for £1, down from £1.50. Choose from classic, piri piri and roasted red pepper.
Dr Oetker pizzas have had their prices sliced too, reduced from £1.50 to £1. You've got loads of options including chicken, mozzarella, mushroom and Hawaiian.
Heinz salad cream (665g) is half-price at £1.
Keep it simple with a box of Weetabix (48 biscuits) which have been reduced from £4.50 to £3.
Find more deals on the Sainsbury's website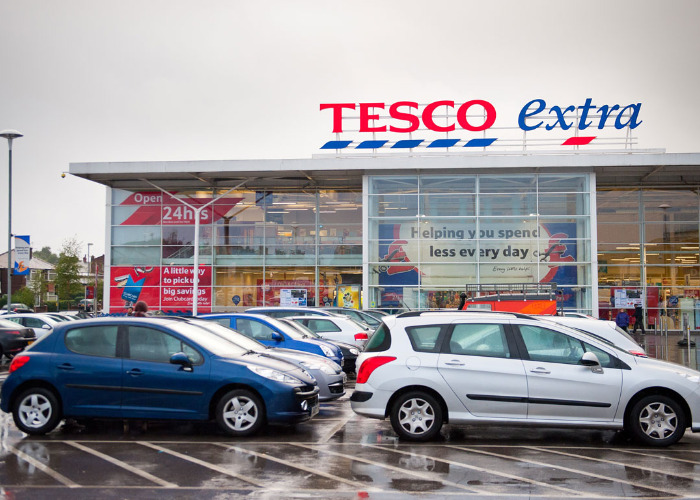 Tesco
Young's Gastro 2 basa fillets with salt and black pepper (320g) were £4, now they're £2.50.
Grab any two-for-£2.20 on Tesco 100% fruit juices (1L). You can mix and match orange, apple, pineapple, tropical, apple peach passion fruit and more. They're £1.29 normally.
Pop open a pack of Pringles original crisps (200g). They're half-price at £1.12.
Get ready for your morning workout with a bowl of Fuel 10K Granola (400g). It's down from £2.99 to £2.
Packs of 12 Birds Eye beef burgers (680g) have been reduced from £3.99 to £2.50, saving you £1.49.
Multipacks of Diet Coke (8x330ml) are on offer for £3, saving you 50p.
Get any two for £3 on punnets of fruit (varying weights) like grapes, strawberries, blueberries, raspberries and cherries.
It's everybody's favourite. Cathedral City mature cheddar cheese (350g) is £1 cheaper at £2.50.
A pack of 25 Tesco snack sausages (212g) is £1, down from £1.25.
Tesco Galia melons are 69p each, a saving of 51p.
Find more deals on the Tesco website
Waitrose
There's a three-for-£10 offer on a huge array of meat and fish at the minute. You can see the full list here, but some of the highlights include:
Hot & spicy chicken wings (700g);
Green Thai chicken kebabs (250g);
Creole-spiced sirloin steak (185g);
Pulled pork shoulder burgers (pack of four, 454g in total);
Essential whole British chicken, medium (1.5kg);
Essential British turkey thigh mince (500g);
Wholetail scampi (200g);
Sea bream fillets (180g);
Lemon sole goujons in breadcrumbs (220g).
A pack of 4 Essential Waitrose British beef burgers costs £3.30, but you can pick up two for £5. Much better!
There's a two-for-£6 offer on the Pizza Express brand. Choose from margherita, American, sloppy Giuseppe, pollo ad Astra and American hot.
We challenge you to find anything more Waitrose than "lapsang souchong tea smoked salmon". It's a hefty £5.49 for a pack of four slices, but the two-for-£7.50 offer is a much better deal.
Decent saving to be had on certain Kellogg's cereals. Corn Flakes (790g), Rice Krispies (510g), Fruit 'n Fibre (500g) and Bran Flakes (750g) are all £2.
Appletiser is delicious, but usually far too pricey. A six-pack of tiny 250ml cans will set you back £3.49, but you can now pick up two packs for £4, making it far more affordable.
Rachel's organic raspberry yoghurt (450g) is 85p cheaper at £1.
You can pick up two packs (4x45g pots) of Cadbury chocolate mousse for £2.
Clarence Court Old Cotsworld Legbar eggs are £2.40 for a box of six, or £4 for 12. The tastiest supermarket eggs, in our humble opinion. What do you think?
Cheese? Wensleydale Creamery Yorkshire Wensleydale (320g) is 20% cheaper at £2.48, Granaralo gorgonzola (150g) is reduced by 25% to £1.50 and a monster 750g block of Essential Waitrose medium cheddar is £1.50 cheaper at £4.
Have you ever tried Waitrose's own-brand Vintage Champagne (750ml)? It's £5 cheaper at £19.99 – although customers who bought it only gave it 3.5 stars out of five.
You may be better off going for the Bredon Cuvée Jean Louis Brut French Champagne. It's reduced from £23.99 to £15.99 and has a four-star rating.
Find more deals on the Waitrose website
Enjoy money back on your everyday spending: compare cashback credit cards