It's not uncommon to go to Los Angeles and bump into an A-lister or four. I once saw Johnny Depp about 15 minutes after I'd ogled his star on the Hollywood Walk of Fame. But, when celebrities need a quick escape from the glitz and paparazzi, they hop on a plane to Los Cabos.
[Read more: Summer holidays with a twist: Best places for a great escape]
The Mexican hideaway, located on the sun-baked tip of the southern Baja California peninsula, is just two and a half hours from LAX airport. Probably less if you're zooming over via private jet, like the Kardashian clan.
Los Cabos has two major towns connected by 'the Corridor' – San José del Cabo (more chilled) and Cabo San Lucas (more lively) – and a whole load of palm-fringed beach in between. Here are seven reasons why celebrities like Jennifer Aniston, George Clooney and Cameron Diaz are such big fans of the destination…
1. The Thunderbirds-style villas
Cindy Crawford and George Clooney built side-by-side 'Casamigos' Cabo villas, Sylvester Stallone spends his winters in Pedregal, and Jennifer Aniston practically has her own hideaway ($25,000-a-night Villa Cortez) on a luxury hotel complex. Mainly only visible by boat and nestled in cliffs – just like Thunderbirds' Tracy HQ – these Los Cabos pads are almost paparazzi-proof.
2. The whale watching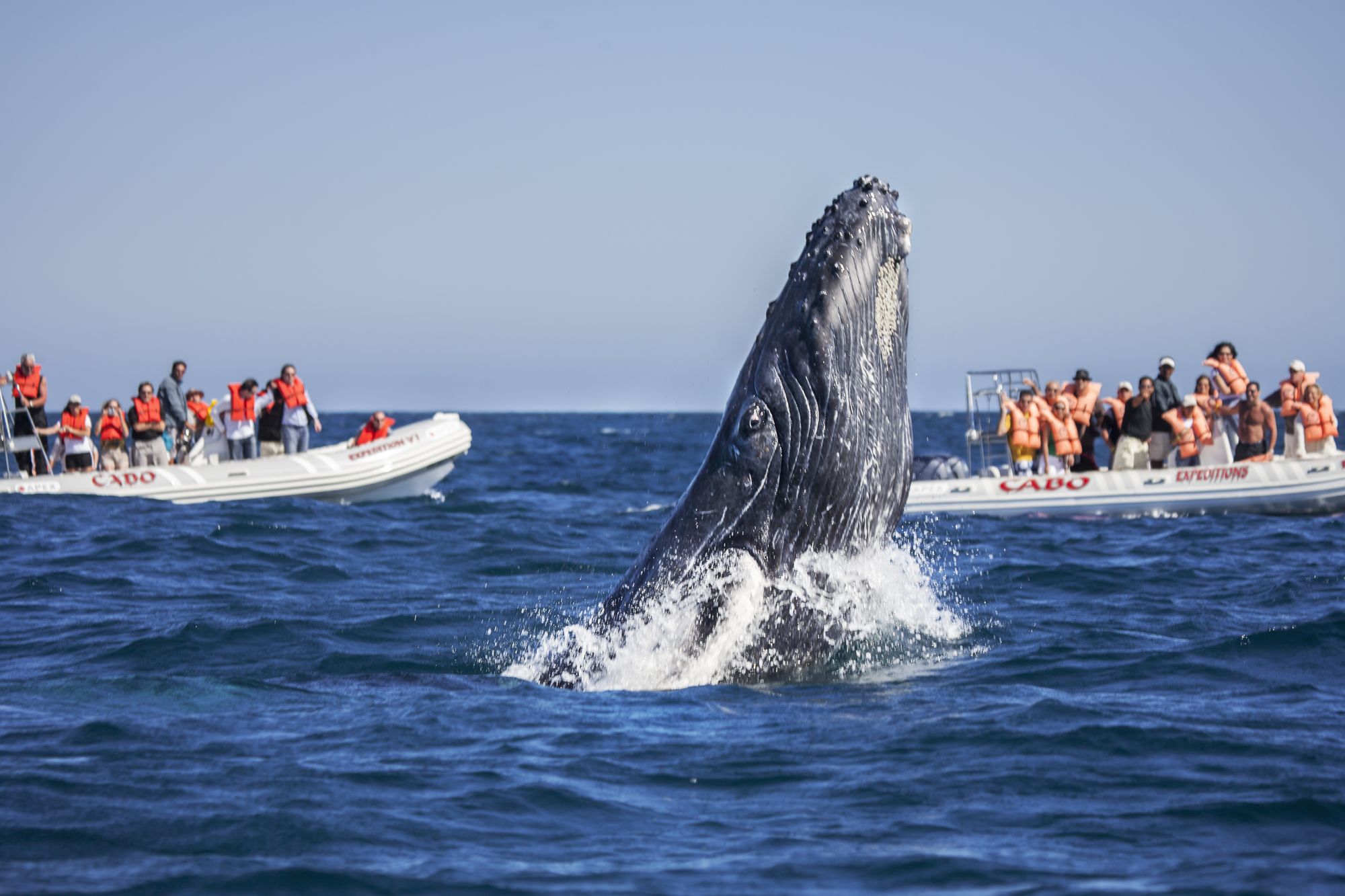 You may not even need to go on a boat trip to see the spectacle of gray, blue and humpback whales. If you're on the lookout from the end of November to March, chances are you'll be lucky enough to spot the sea giants all the way from your sunlounger, as hundreds migrate from Alaska to the warmer climes of Baja California peninsula waters, to breed and rear their calves.
[Read more: Where to see blue whales in the wild: 5 places around the world]
3. The super spas
Spas are anything but low-key in Los Cabos. Jennifer Lopez, Jessica Alba and Cameron Diaz are all said to be regulars at Las Ventanas al Paraiso's spa, which resembles a colonial Mexican hacienda. The newest mega-spa on the block is the double-level 35,000 square foot retreat at Grand Velas Los Cabos, which features a seven-step hydrotherapy ritual.
4. The Mexican cuisine
Nothing quite hits the spot like authentic creamy guac, tortillas and tacos. The foodie hotspots on celebrity radars include Toro (richardsandoval.com/torocabo), Acre (acrebaja.com), Frida (loscabos.grandvelas.com) and Flora Farm (flora-farms.com), which was also the starry wedding location for Maroon 5 frontman, Adam Levine.
5. The statement art
Where do the likes of George Clooney and Leonardo DiCaprio go to get one-off works of art? They've been known to browse San José Del Cabo's famous gallery district (artcabo.com); a downtown hive of creativity featuring original paintings, photography, sculpture, pottery and glasswork. Independent galleries are dotted around vibrant streets with rainbow bright buildings, painted walls and cacti aplenty. Coordinate your visit with the 'Art Walk' every Thursday night, which turns into one big Mexican party.
6. The Sea of Cortez cruises
You're unlikely to see celebs on guided excursions – although Cabo Adventures do offer an excellent Luxury Day Sailing trip for $109 per person for four hours (cabo-adventures.com). A-listers are more likely to charter their squad a super-luxe yacht to cruise past honking sea lions and the iconic Arch of Cabo San Lucas. Grand Velas Los Cabos resort has its very own 55-ft 'Bella Yacht' for hire, available for bespoke cruises at $3,000 for three hours.
[Read more: 5 fascinating holidays with a difference]
7. The celebrity standards
When your private butler shows you to your room and asks if you'd like the contents of your suitcase unpacked while you hit the beach, you know the resort's got major celebrity appeal. That's exactly the level of service offered at the new super-luxe Grand Velas Los Cabos. The 304-room (every one an ocean view) resort opened in late 2016 and Hollywood actress Juliette Lewis was one of the first stars to check-in. From sunloungers surrounding the triple-tier infinity pool, to serene beach cabanas positioned close to crashing waves, there are countless places to kick back and feast on insanely tasty tostadas, washed down with pisco sours.
How to get there: Rooms from US $548 (£434 approx) per person per night, all-inclusive. Visit loscabos.grandvelas.com.
Fly from London Heathrow to Cabo San Lucas SJD via Mexico City with Aeromexico, from £499.47 in November 2017 (aeromexico.com). For more information on Los Cabos, visit visitloscabos.travel.