US President Donald Trump told Russian diplomats that firing the "nut job" FBI director had relieved "great pressure" on him, according to The New York Times.
The newspaper cited the White House's official written account of the Oval Office meeting.
It said one official had read quotations to the Times and another had confirmed the broad outlines of the discussion.
Friday's report quotes Mr Trump calling ousted FBI director James Comey "crazy" and "a real nut job".
It says the president then told Russia's foreign minister and ambassador that he "faced great pressure because of Russia. That's taken off".
Mr Trump met with the Russians on May 10, the day after he fired Mr Comey.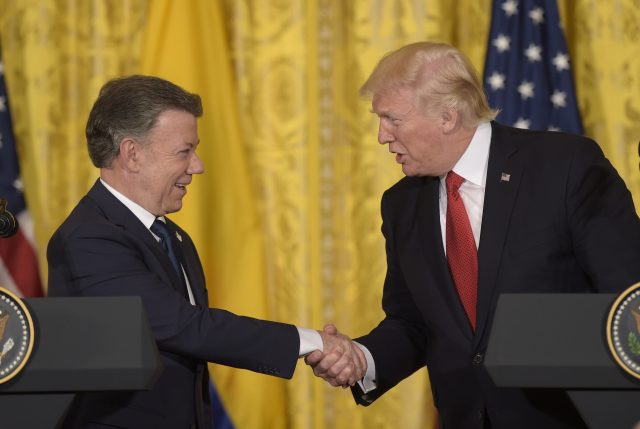 The reports emerged as Mr Trump departed for his first overseas trip as US president amid the controversy surrounding investigations into whether his campaign associates collaborated with Russia to sway the election.
Air Force One departed from Joint Base Andrews, Maryland, outside Washington, with the president, first lady Melania Trump, his daughter Ivanka and son-in-law Jared Kushner, as well as a group of senior advisers and journalists covering the trip.
The president's first stop is Saudi Arabia, where he will address a summit of Arab and Muslim leaders. He also plans to travel to Israel, the Vatican, Brussels and Sicily.
Mr Trump has tried to put investigations into his campaign and his first four months in office behind him.
Amid claims about his campaign's relations with Russia and whether he tried to stop an FBI probe into the issue, Mr Trump has claimed to be the most hounded president in history.
Mr Trump said he was about to name a replacement for Mr Comey, another effort to settle the waters, with former senator Joe Lieberman seen as the front-runner.
Mr Trump clearly knew what he wanted to say as he took a few questions at a news briefing with visiting Colombian President Juan Manuel Santos.
Asked if he urged Mr Comey at a February meeting to drop his probe of the Russia connections of Mr Trump's national security adviser, Michael Flynn, the president said: "No. No. Next question."
Did he collude with Russia in his campaign to defeat Democrat Hillary Clinton?
"Everybody, even my enemies, have said there is no collusion," he replied. He added: "The entire thing has been a witch hunt.
"This is the single greatest witch hunt of a politician in American history!"
Across town, deputy attorney general Rod Rosenstein was briefing the Senate about his decision to appoint former FBI director Robert Mueller to lead the independent Trump-Russia probe.
Senators said Mr Rosenstein steered clear of specifics while making clear Mr Mueller has wide latitude to pursue the investigation wherever it leads, potentially including criminal charges.
Despite the president's furious reaction, some fellow Republicans welcomed Mr Mueller's appointment and expressed hopes it would restore some composure to a capital plunged in chaos.