Thousands of nurses have gathered in London's Parliament Square to protest over a cap on pay.
Nurses carrying placards and banners convened outside the House of Commons as the first Prime Minister's Questions of the new parliamentary year got under way.
The Royal College of Nursing (RCN) "Scrap the Cap" rally is part of the union's campaign to remove a longstanding 1% cap on public sector pay.
The demonstration came as a survey revealed that almost seven out of 10 people believe nurses are underpaid.
Rachael Labourne, 46, who works as a nurse, midwife and social worker in Hereford and Powys, Mid Wales, said she wanted "fair pay" for nurses who have felt increasing financial pressure in recent years.
She said: "I'm here to ask for fair pay for nurses. Both my husband and I are nurses and we're finding it difficult now to support our family, but I'm passionate about what I do."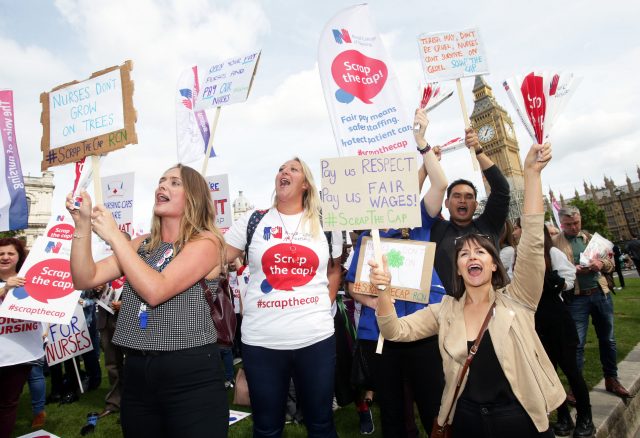 She added: "Without the RCN behind nursing, being the voice of nursing, we wouldn't get the support we need because we don't get it from the Government."
Actor and Labour activist Sir Tony Robinson was among the guest speakers addressing the crowds.
In a rousing speech, he said his parents both died with dementia after years of struggle, and nurses were instrumental in holding his family together.
He said: "You are the heart of our nation when we are suffering.
"When we are confronted with our darkest fears like my family was, when we're confronted with pain and disease, and madness, and death and loss, it is you who listens to us, it is you who cares for us, it is you who use your skills and experience to support us and let us lean on you.
"And yet it is you who the state has consistently slapped in the face for the last five years."
The former Blackadder actor added: "We don't want any more weasel words, we don't want any dodging, we don't want any lying. We all have a cunning plan: scrap the cap now."
Attendees applauded, brandished signs reading "scrap the cap" and chanted "enough is enough".
The RCN's new YouGov poll of 1,624 members of the public found 68% believe nurses are underpaid and 72% think there are too few nurses to provide safe care to patients.
The union said there has been a real-terms fall of 14% in nursing pay since 2010, and warned the Government its members could strike unless the limit is removed.
Earlier on Wednesday, the Institute for Fiscal Studies (IFS) said that lifting the cap would cost "a lot of money" but could not be kept in place forever.
American comedian Rob Delaney, who also took to the stage, praised the British healthcare system, saying nurses are the "glue that holds it together".
He said: "I'm kind of an expert on the differences between British healthcare and American healthcare – and British healthcare is so vastly superior."
He added: "This is extremely powerful what you're doing right now."