The Duke of Cambridge has admitted it is hard to find a present for his grandmother the Queen who has celebrated her 91st birthday with a day at the races.
William joked that gifts made by his children, Prince George and Princess Charlotte, were well received as they were handmade, during a BBC Radio 1 interview.
As a lifelong horse lover and passionate owner and breeder, the Queen – along with the Princess Royal – spent the day at Newbury Racecourse, where her thoroughbred Maths Prize was running.
The Queen, who is thought to be staying at Windsor Castle, was spotted sharing a joke in the royal box before her horse lined up with six other runners.
But Maths Prize finished behind the favourite and winner Shutter Speed in fifth place.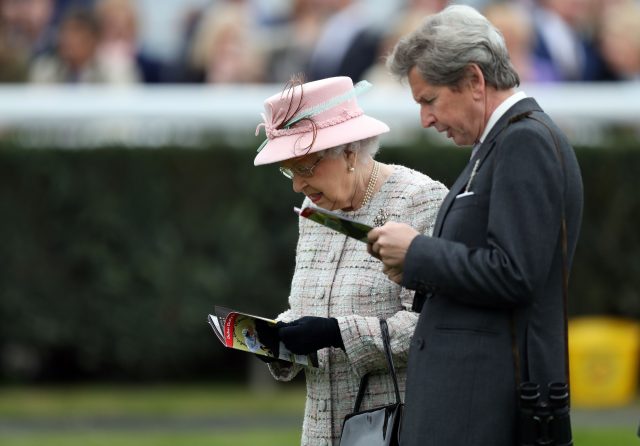 The Duke, with wife Kate, made a surprise visit to the afternoon show of Scott Mills to promote their Heads Together mental health campaign and he was asked by the Radio 1 DJ if he had got the Queen a birthday present.
William replied laughing: "It's quite hard to know what to give the Queen for her 91st birthday that she hasn't already got."
He added: "We've tried making a few things, now the great-grandchildren are around you see they can make stuff and of course that goes down really well – doesn't matter what it looks like, it just goes down really well."
A rendition of Happy Birthday in honour of the Queen's milestone was played during the Changing the Guard ceremony at Buckingham Palace.
The Band of the Irish Guards performed the famous tune which inspired some of the thousands of tourists watching the spectacle to join in.
In Hyde Park at midday, 41 volleys in honour of the monarch's birthday were fired by the King's Troop Royal Horse Artillery.
Then an hour later the Honourable Artillery Company fired a 62-gun salute at the Tower of London – an extra 21 for the City of London.
Princess Elizabeth Alexandra Mary was born at 2.40am on April 21 1926, the first child of the then Duke and Duchess of York, at 17 Bruton Street, the Mayfair home of her mother's parents, the Earl and Countess of Strathmore.
The Queen traditionally has two birthdays, her actual birthday and an official birthday marked every summer by the Trooping the Colour ceremony.
The curious decision to give monarchs two birthdays dates back to Edward VII, who was born on November 9 but celebrated the birthday in May and June as the weather was better during these months for outdoor events.
Subsequent monarchs helpfully had birthdays at more convenient times of the year, but the Queen's father, King George VI, reintroduced the tradition which she has continued.
Earlier this year on February 6, the date she became Queen in 1952, the monarch achieved another milestone, becoming the first British sovereign to reach their Sapphire Jubilee, a reign lasting 65 years.