A new national "infrastructure" police force would be created under Tory plans to improve protection of nuclear sites, railways and roads.
An organisation comprising the Civil Nuclear Constabulary (CNC), the Ministry of Defence Police (MDP) and the British Transport Police (BTP) would be established under the proposed shake-up. The three specialist services are currently separate bodies.
In their election manifesto, the Conservatives say the move will "improve the protection of critical infrastructure such as nuclear sites, railways and the strategic road network".
The Civil Nuclear Constabulary employs more than 1,500 officers and staff to police nuclear sites around the UK.
It is responsible for the armed protection of civil nuclear facilities and materials on site or in transit. Counter-terrorism makes up a major chunk of the force's work.
BTP has around 3,000 officers who are assigned to police Britain's railways. The force also covers the London Underground and other urban networks. The MDP has approximately 2,600 officers and provides a number of functions at sensitive defence sites around the country.
The plan to bring the three organisations under one umbrella is part of a Tory commitment to "help Britain's world-leading police forces and prosecutorial services to fight crime, protect the public and provide security for businesses".
Another proposal would see the Serious Fraud Office incorporated into the National Crime Agency.
This, along with improved intelligence sharing and bolstering of investigations, will strengthen Britain's response to white collar crime, the party says.
It also commits to extending "direct entry" into the police, including at chief officer level.
Elsewhere in the manifesto, the Tories outline their blueprint for defeating extremism, including leaving the door open to the introduction of new offences.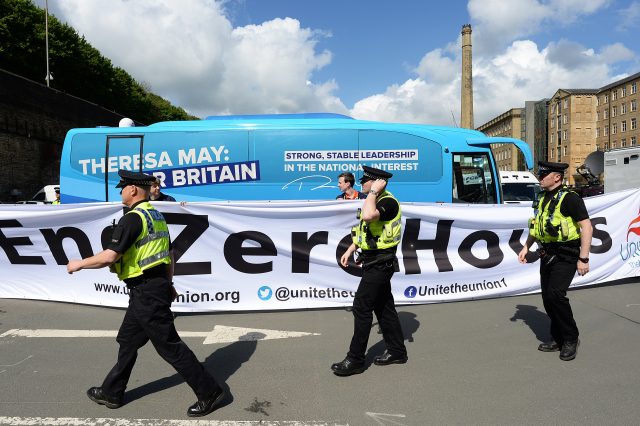 The manifesto says: "We will consider what new criminal offences might need to be created, and what new aggravated offences might need to be established, to defeat the extremists."
In the last parliament, ministers announced plans for a package of measures to restrict the activities of extremists, including a new civil orders regime, but the bill had yet to be unveiled when the election was called.
Under the new programme, the Conservatives are also planning to establish a Commission for Countering Extremism.
This will "identify examples of extremism and expose them, to support the public sector and civil society, and help the government to identify policies to defeat extremism and promote pluralistic values", the manifesto says.