10.08pm
Mr Trump's arrival at his resort in Turnberry was met with a protest from the air.
As he spoke with guests at his South Ayrshire property a microlight – apparently from Green Peace – flew overhead.
A no-fly zone is currently in force in the area.
It circled the grounds with a banner message saying "Trump Well Below Par" before flying away.
9.49pm
US president Donald Trump has arrived at his resort in Turnberry, South Ayrshire.
He arrived via motorcade.
Mr Trump is anticipated to be spending part of his weekend in Scotland playing golf on the course.
9.35pm
9.30pm
Mr Mundell said the president deserved a formal welcome to Scotland despite widespread protests planned across the country at Mr Trump's visit.
Speaking at Prestwick the Scottish Secretary said: "We have an open democracy here, people are entitled to say what they want and covey whatever message they want. That's a great thing about our country.
"But I believe that it's appropriate that we give a formal welcome to a head of state of the United States of America, the duly elected president, whoever that person is and whether we agree or not with their views of policies.
"I wanted to make it clear that he was being welcomed to Scotland as the president of the United States and that we value the strong relationship we have between Scotland and America. I also said, because I know it to be the case, that people in and around the Turnberry area do very much welcome the investment he has put in."
He added: "(Mr Trump) said he had been in Scotland many times and was very pleased to be here as president. He obviously feels very strongly about his mother's Scottish heritage and he's looking forward to playing golf at Turnberry and is hopeful that the weather will be conducive to that."
9.18pm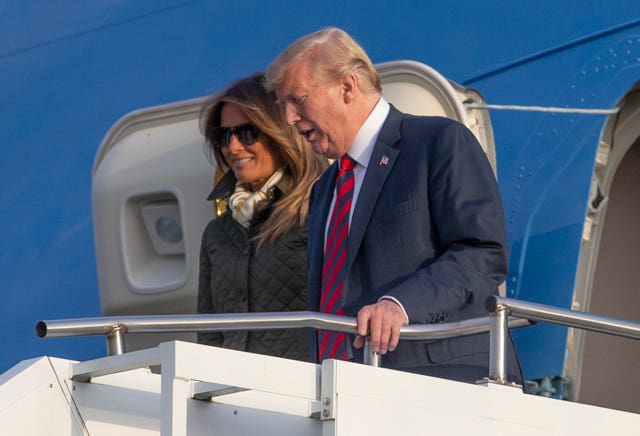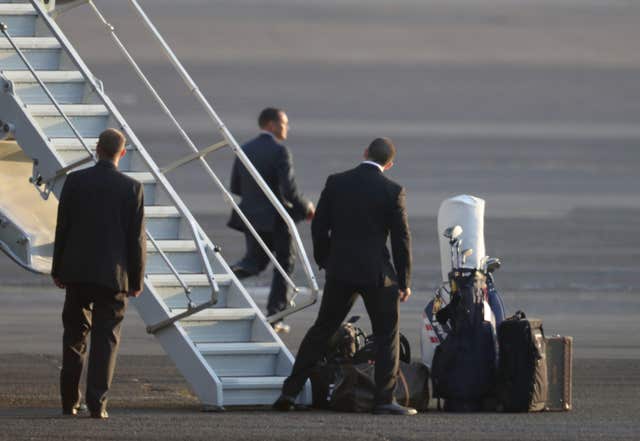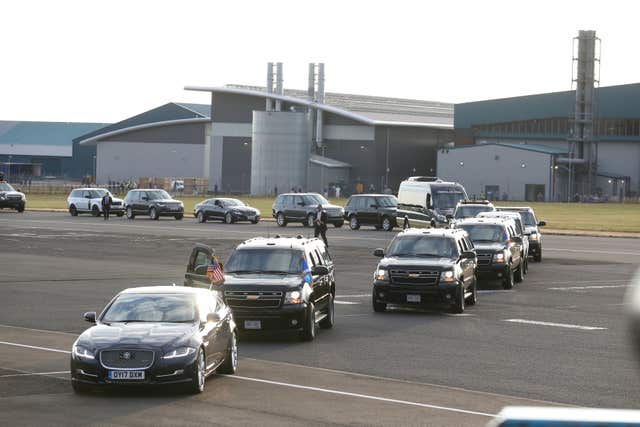 9.12pm
Hundreds of people watched the plane touch down at a nearby viewing area set up by the airport.
A Trump jet, used by the president's family, was already parked outside a hangar at Prestwick when Air Force One touched down.
Eric Trump had spent Thursday at the Trump golf course in Aberdeenshire and said he was looking forward to spending the weekend with his father.
Mr Mundell said Mr Trump told him he was "pleased to be here" and that the UK's relationship with the US was "very important".
8.55pm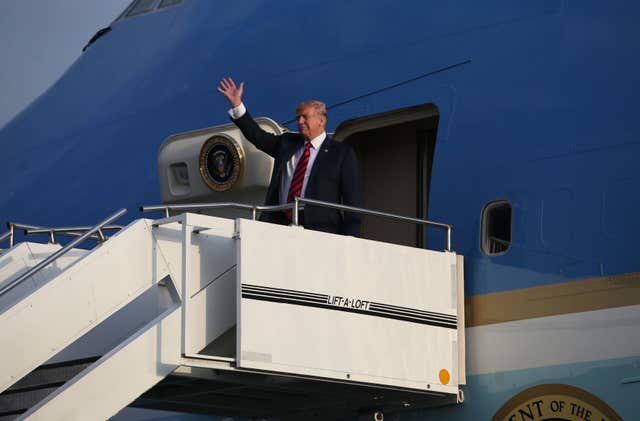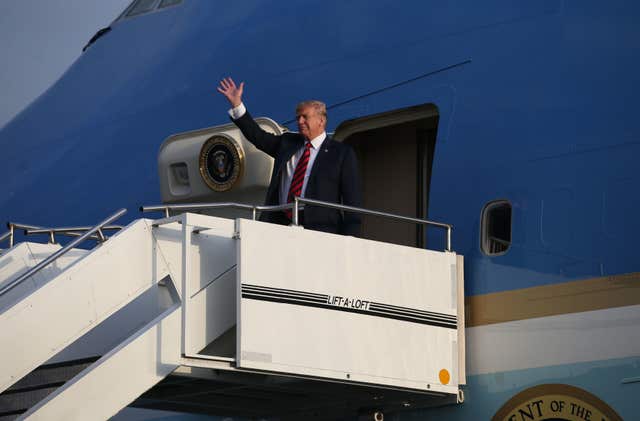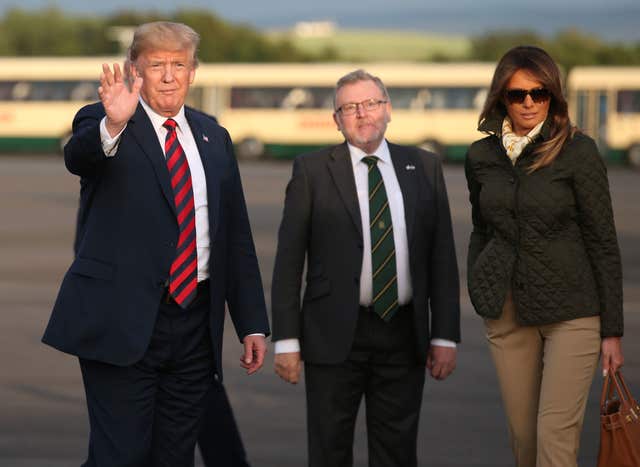 8.50pm
Donald Trump continued his UK visit with a trip to Scotland, where he owns two golf resorts.
Air Force One touched down at 8:22pm at Glasgow Prestwick Airport in South Ayrshire, where the presidential motorcade was waiting to take Mr Trump and wife Melania to his nearby Turnberry hotel.
The US president gave a wave before descending the steps with the first lady.
They were met briefly by Scottish Secretary David Mundell before driving off in a vehicle with the US and Scottish flags displayed on the bonnet.
8.35pm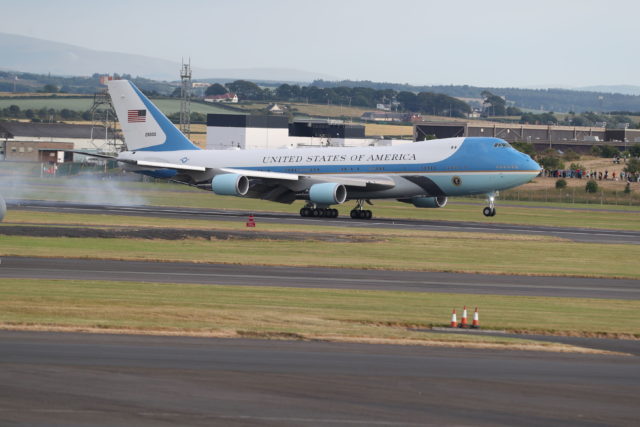 8.26pm
Donald Trump has touched down in Air Force One at Glasgow Prestwick Airport in Scotland, where he is expected to spend the weekend at his Turnberry golf resort.
8.16pm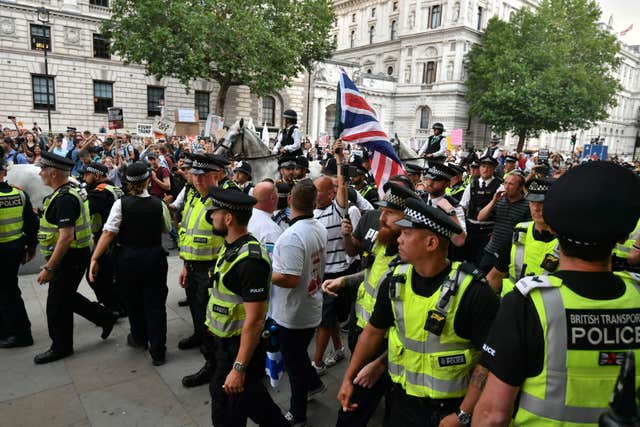 8.00pm
7.54pm
Hundreds of people have gathered at Belfast City Hall to protest against Donald Trump's visit to the UK.
Many waved banners featuring anti-Trump messages, including "Belfast says no to Trump".
One Trump supporter who briefly heckled the start of the event was drowned out by the crowd chanting: "Hey ho, what's the crack, Donald Trump don't come back".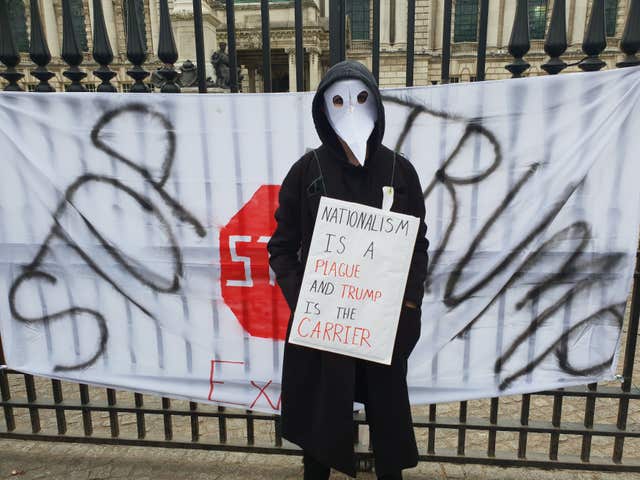 7.25pm
7.20pm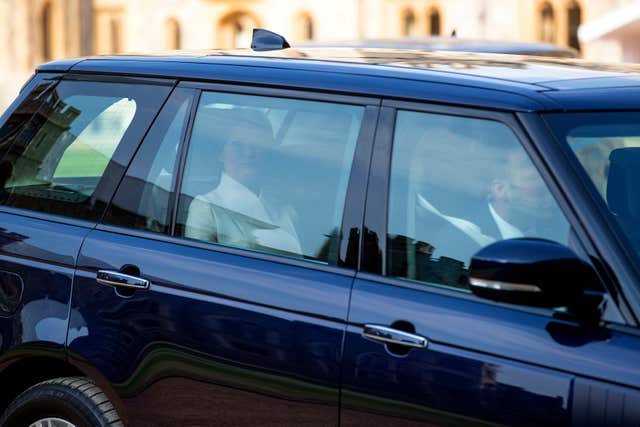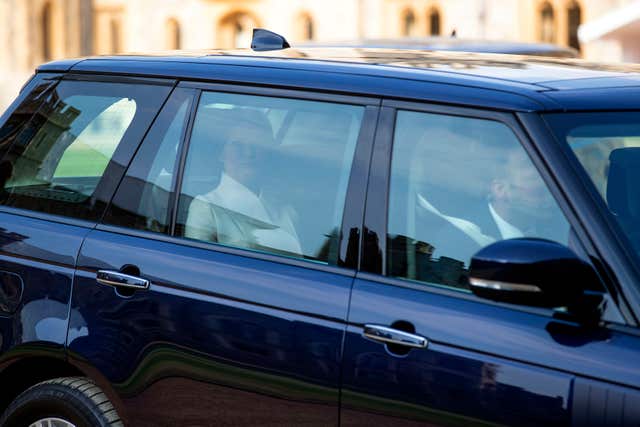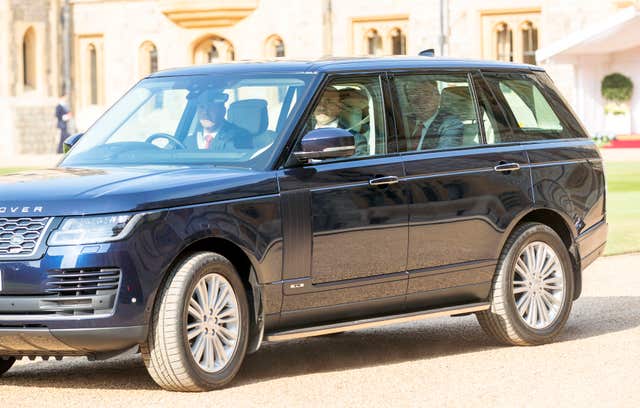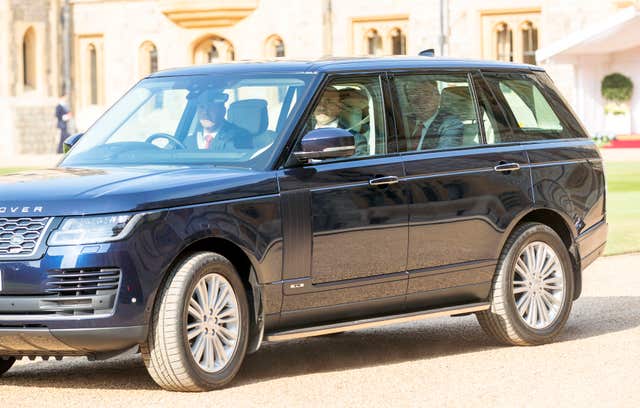 6.59pm
6.55pm
Addressing protesters at the Trafalgar Square rally, journalist and campaigner Owen Jones said: "Donald Trump. You came, you saw, and we told you where to go."
To cheers from the crowd, he added: "This is a historic protest and, I have to say, I will die laughing knowing we managed to organise a protest bigger than the inauguration."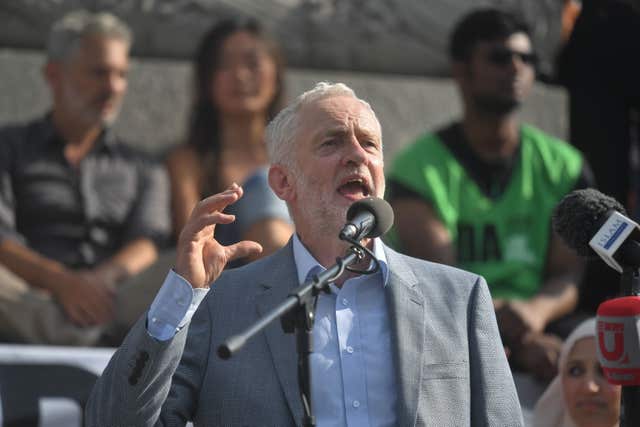 6.48pm

18:40pm
Thousands of people have gathered in Glasgow's George Square to protest against Donald Trump's visit as he prepares to fly to Scotland.
Among the placards were messages against his policies, including "Give the weans Irn Bru not iron cages" while others urged him to go home, with signs saying "Bolt ya rocket and make Scotland great again".
The protest took place before Mr Trump had even touched down in Scotland.
He is due to fly into Prestwick Airport for the private Scottish leg of his UK visit later.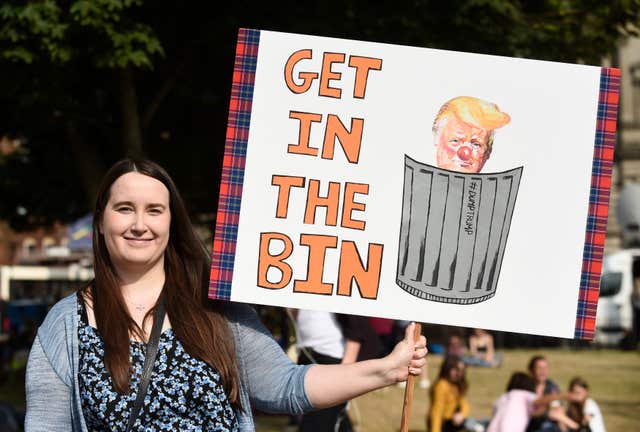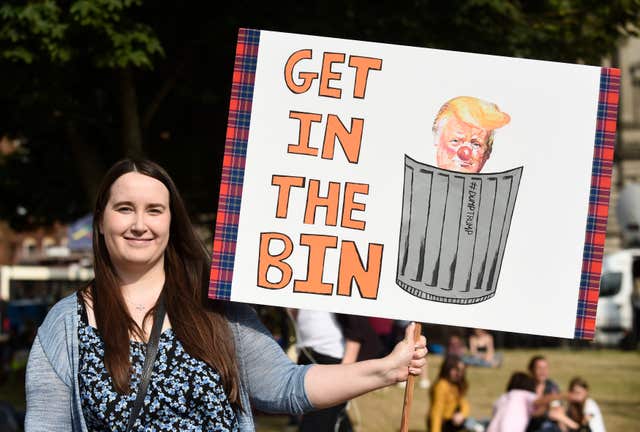 6.22pm
Mr Trump and the First Lady spent a total of 57 minutes with the Queen at the castle, and 47 of those minutes inside the monarch's favourite residence.
The Trumps stayed 17 minutes longer than their expected departure time.
6.07pm
As the two heads of state made their way back to the dais, they appeared deep in conversation and could be heard talking as the military band stopped playing briefly.
The pomp and ceremony continued when the guard of honour formed from the 1st Battalion Coldstream Guards marched off.
Mr Trump and the Queen paused at the entrance of the castle's Sovereign Gate, where a small senior group of the Queen's household were waiting.
First in line was her lady-in-waiting Virginia Ogilvy, Countess of Airlie, and when the Queen introduced her to the president, the monarch told him she was American.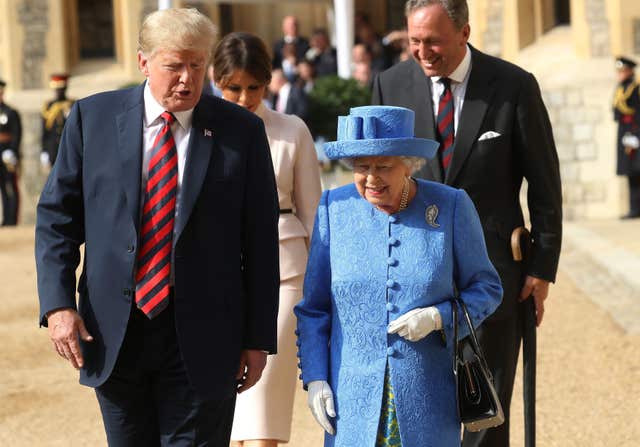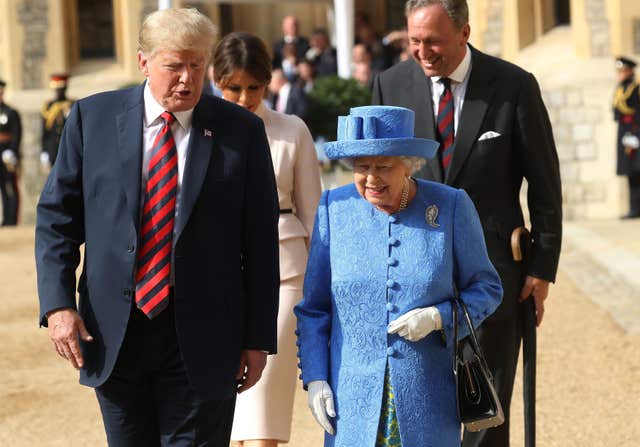 5.51pm
Ahead of the meeting between the heads of state, Mr Trump spoke of his admiration for the Queen in his interview with the Sun, in which he called her a "tremendous woman".
He told the paper: "If you think of it, for so many years she has represented her country, she has really never made a mistake.
"You don't see, like, anything embarrassing. She is just an incredible woman.
"My wife is a tremendous fan of hers. She has got a great and beautiful grace about her."
5.46pm
Mr Trump did not bow as he shook hands briefly with the Queen on the dais, and First Lady Melania Trump did not curtsy as she shook the head of state's white gloved hand.
The monarch smiled broadly and shared a few words with the Trumps before indicating they should stand either side of her for the military band's rendition of the American national anthem.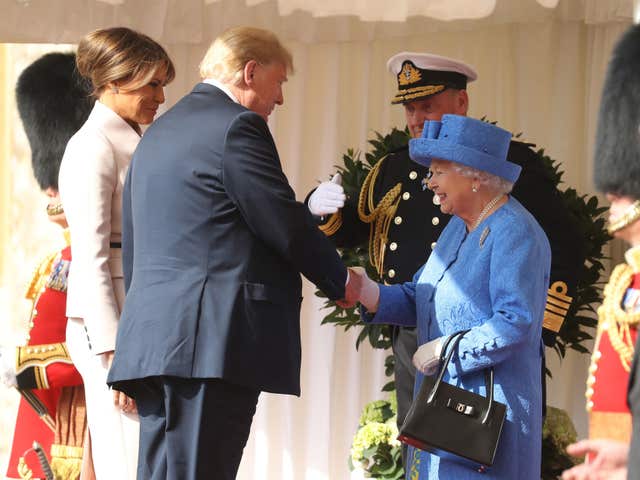 5.44pm
Labour leader Jeremy Corbyn addressed the crowd in Trafalgar Square and was received with enthusiasm.
"We are asserting our right to demonstrate, our right to free speech," he said.
Mr Corbyn said Sadiq Khan deserves support and not condemnation.
"Human rights belong to all of us," he added.
Mr Corbyn said the message of the demonstration was "one of solidarity".
He added: "When we unite together with common objectives, we can all win."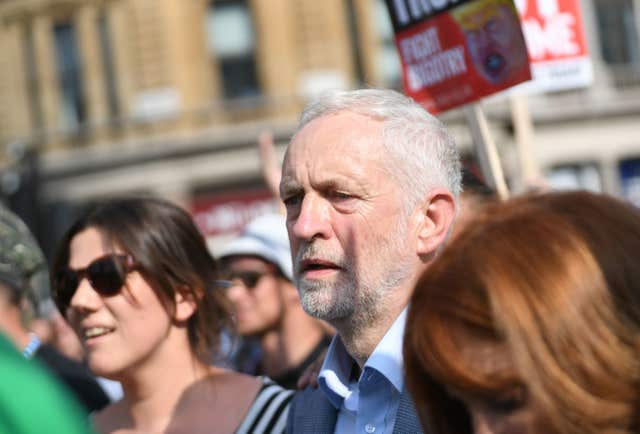 5.35pm
As the Queen and Mr Trump walked across the lawn of the quadrangle to inspect the Guard of Honour, the monarch appeared to gesture and point several times for the president to move closer to the front line of soldiers.
Mr Trump moved slightly closer, but then stood still in front of the Queen, meaning the monarch had to navigate her way around him so they could walk side by side.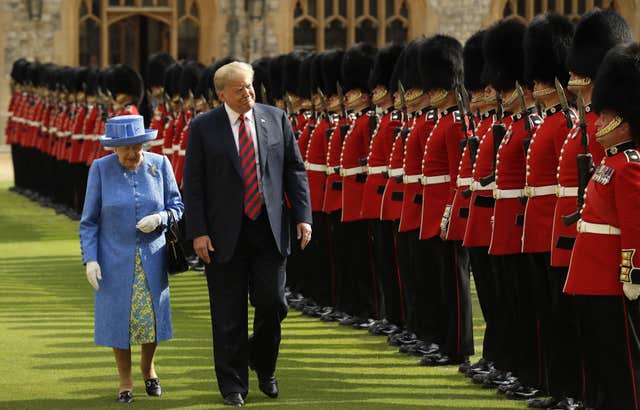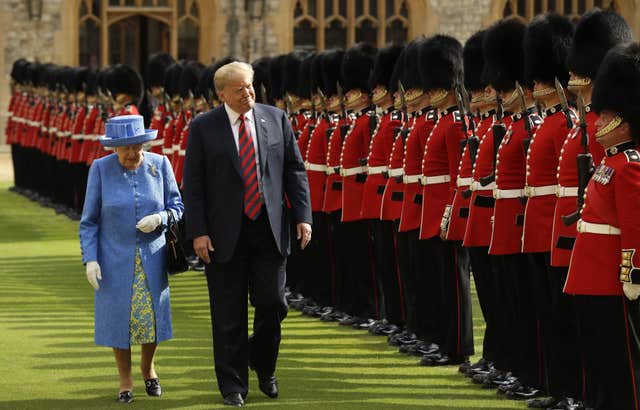 5.25pm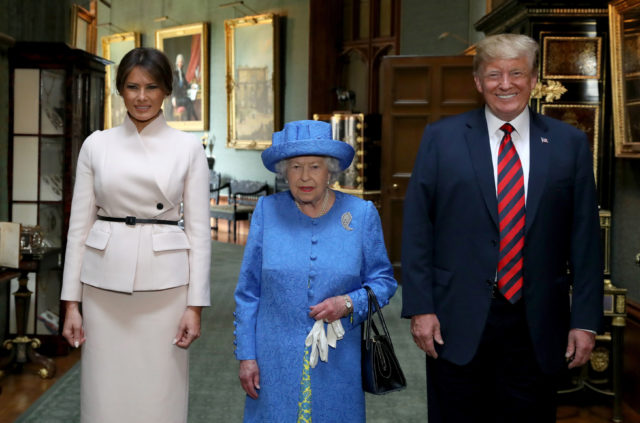 5.17pm
Labour leader Jeremy Corbyn has arrived at the anti-Donald Trump rally in Trafalgar Square.
He was cheered by protesters, who chanted "Oh, Jeremy Corbyn", as he joined marchers on the final leg to the rally.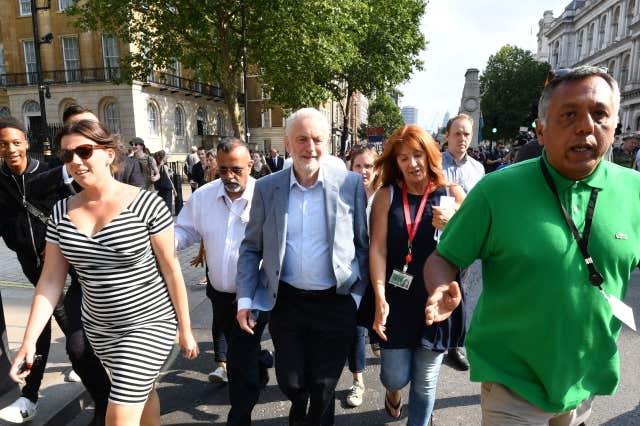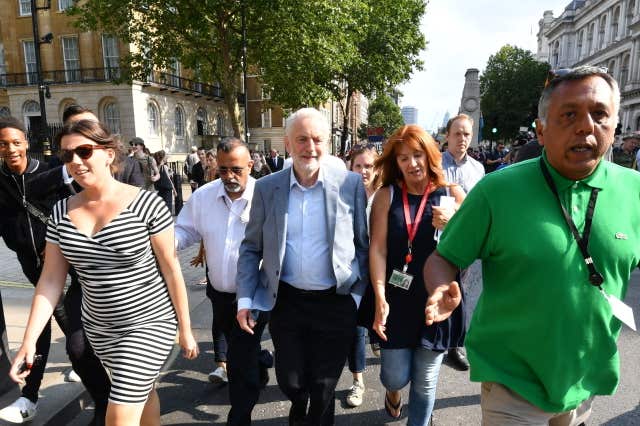 5.10pm
5.07pm
Mr Trump and wife Melania have arrived in Windsor Castle's quadrangle.
The motorcade swept along the gravel drive and stopped at a dais where the Queen greeted the American leader and his wife after they stepped from the vehicle.
5.05pm
The Queen has arrived at a dais in Windsor Castle's quadrangle ahead of the arrival of Donald Trump and First Lady Melania Trump.
The sound of helicopters can be heard from the grounds of Windsor Castle indicating the US president and his wife are landing nearby in Marine One, the United States Marine Corps aircraft that carries the American leader.
The Queen is wearing a blue coat, dress and hat by Angela Kelly – the same outfit she wore for the State Opening of Parliament, although the hat's flowers have been replaced with a bow.
4.56pm
Details have emerged of the gifts given during the president's visit.
Donald Trump was presented with an illustrated ancestral chart capturing his Scottish heritage by Theresa May.
The family tree traces the US president's lineage through his mother, Mary Anne Macleod, who was born in 1912 on the Isle of Lewis in the Hebrides.
Mrs May gave Melania Trump a bottle, engraved with her initials, of bespoke perfume by J Floris.
The scent is called The First Lady and is made up from the sakura cherry blossom prominent in Washington DC, rose heart for the national flower of the United States and England, and bergamot with its "distinctively British scent" of Earl Grey tea, No 10 said.
4.47pm
Thousands of protesters have poured into Trafalgar Square with hundreds of placards held aloft making statements including "Smell ya later Trump" and "Trumps are better out than in".
In front of the National Gallery, many people stood leaning over a wall which had a huge banner across it saying "Build bridges not walls".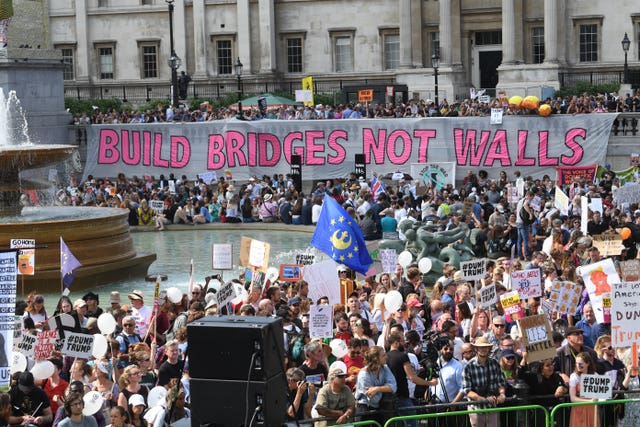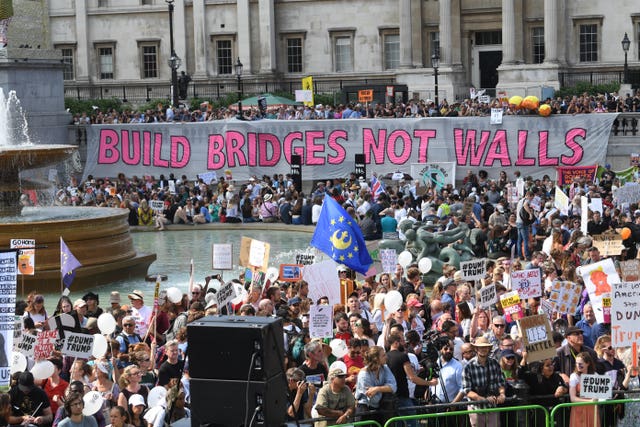 4.40pm
Mr Corbyn said he did not feel Britain should be "rolling out the red carpet" for Mr Trump.

He said: "Whatever the decision the Queen decides to take about whether to invite him to tea or not and what advice the Prime Minister gives on that is between them, I don't know what went on.
"But personally I don't think we should have been rolling out the red carpet for Donald Trump."
He added: "Are we rolling out the red carpet uncritically or saying, hang on, there are issues where we fundamentally disagree?."
On Mr Trump's comments regarding Boris Johnson, Mr Corbyn said: "It's a very strange thing to do, to come on a visit to another country, to meet that country's prime minister, and then announce that you would like to see as her successor a person who's just resigned from her government.
"Well, Johnson resigned for the reasons that he gave, that is Johnson's business, that is Theresa May's business to respond to, it really isn't anything to do with Donald Trump."
4.35pm
Pictures are coming through of anti-Trump demonstrations in central London.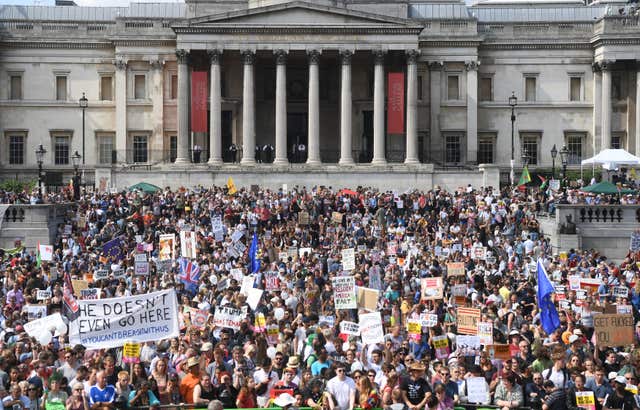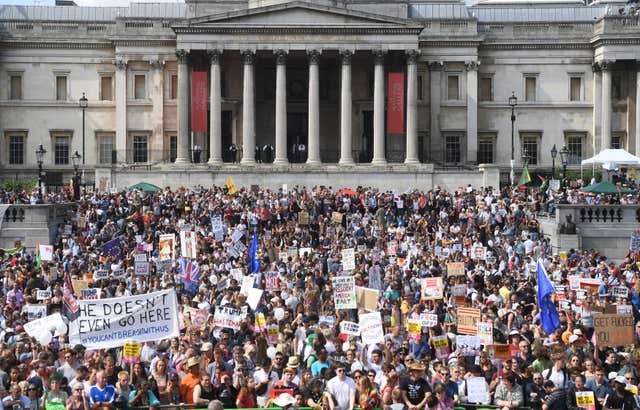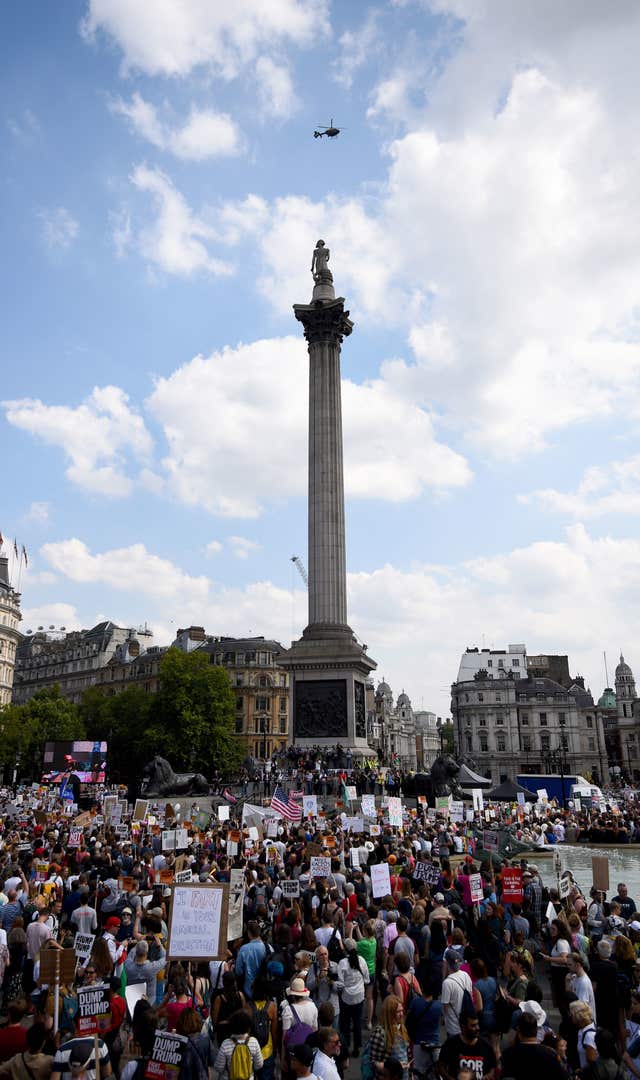 4.25pm
Asked about what he felt was at the core of Mr Trump's "animosity" towards the London mayor, Mr Corbyn said: "It is quite without precedent and quite unreasonable the way Trump treats London and treats Sadiq Khan."
He went on: "When a terrible incident happened… then surely you should recognise that the police and community have a job to do and what Sadiq has sought to do is bring people together in unity to keep London together, just as happened after 7/7 all those years ago.
"The statement by Donald Trump condemning the mayor and then going on with a general condemnation of Muslim migration into the United States is not helpful, in fact is very dangerous to community relations, and I think the statement that Sadiq has made in response is very good."
4.07pm
Jeremy Corbyn said Mr Trump's "apparent endorsement of somebody as a rival to Theresa May" was "not his business".
He also said the president's criticism of Sadiq Khan was "completely unacceptable" and "quite without precedent".
It was the Labour leader's first sit-down interview since the president touched down for his two-day visit.
Of his Sun newspaper interview and subsequent remarks, Mr Corbyn said: "It's very strange behaviour but behind it seems to be something quite serious, and that is the question of trade relations in the future."
3:37pm
Responding to Mr Trump's comments about The Sun, a spokesman for the newspaper said: "We stand by our reporting and the quotes we used – including those where the President was positive about the Prime Minister, in both the paper and in our audio – and we're delighted that the President essentially retracted his original charge against the paper later in the press conference.
"To say the President called us 'fake news' with any serious intent is, well… fake news."
3:20pm
The usually busy traffic-filled streets of London's West End and into Whitehall were closed to cars for the women's march.
MP Dawn Butler was among a host of speakers who greeted the crowd when they arrived at Westminster.
She led them in a burst of the song "We've got the whole world in our hands".
Immigration, the treatment of refugee women, equal rights for women and people of different sexes, religions and races were among the topics raised.
3:15pm
Organisers claimed more than 100,000 protesters made it to the Together Against Trump march by 2.40pm.
One told the crowd gathering in the packed-out Portland Place: "We have been told by the police that there are over 100,000 people here."
Chants of "Say it loud, say it clear: Donald Trump's not welcome here" rang out.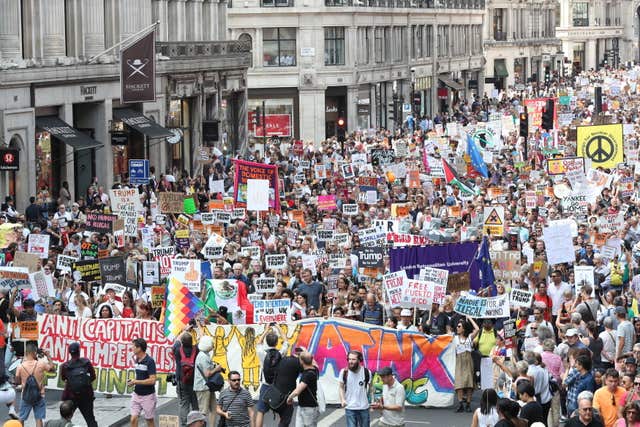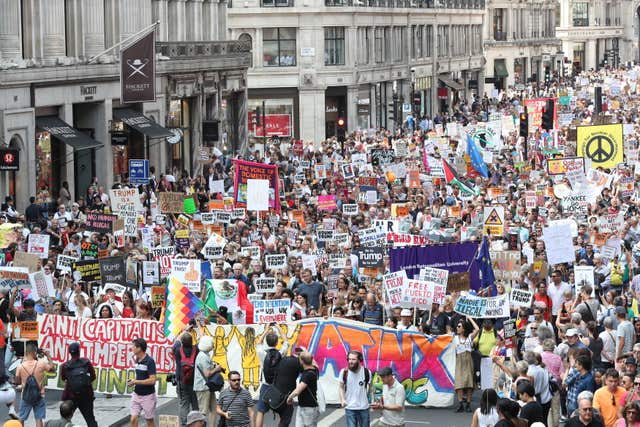 "All in all, your're just another prick with no wall," read one Pink Floyd-inspired placard. Another said: "Super, callous, fragile, racist, sexist, Nazi Potus."
The man clutching the latter, 23-year-old broadcast engineer Tom Hopkins, said what had outraged him most recently was "the kids being locked up in the cages".
3:10pm
3:02pm
A spokesman for the Sun declined to comment on Mr Trump's remarks about the paper's story.
Positive comments made by Mr Trump about Mrs May appear on page two of the paper, including his insistence that he still thinks she is "a very good person".
He is also quoted as saying: "I think she is a nice person. I get along with her very nicely."
2:52pm
Mr Trump said he apologised to Mrs May over the Sun front page story and she replied: "Don't worry it's only the press."
Asked if she felt undermined by Mr Trump's comments on Brexit and Mr Johnson, the PM said: "No. Look, I'm very clear that our Brexit plan will deliver on what the British people voted for and we have had an excellent discussion here.
"We have stood shoulder to shoulder with the United States in so many different ways over the years as the result of our special relationship and we will show that even further through the trade arrangements that we will put in place in the future."
2:47pm
The president said Mrs May will do "very well" in the Brexit negotiations.
"She's a very tough negotiator. I have been watching her over the last couple of days.
"She's a tough negotiator, she's a very, very smart and determined person.
"I can tell you there are a lot of people that are looking up now that are saying 'Gee whiz, she left a lot of people in her wake'.
"She's a very smart, very tough, very capable person and I would much rather have her as my friend than my enemy, that I can tell you."
2:43pm
Mr Trump refused to take a question from the CNN television network.
He told its reporter: "CNN is fake news, I don't take questions from fake news. Let's take a question from a real network."
He then took a question from Fox regarding his upcoming meeting with Vladimir Putin.
2:41pm
Mr Trump said the UK-US relationship was "the highest level of special".
He denied giving Mrs May advice on how to deal with the EU, saying: "I did give her a suggestion. I wouldn't say advice.
"I think she found it maybe too brutal because I could see that – I don't know if you remember what I said. I did give her a certain amount… I gave her a suggestion, not advice, I wouldn't want to give her advice, I'd give her a suggestion.
"I can fully understand why she thought it was a little bit tough and maybe someday she will do that – if they don't make the right deal she might very well do what I suggested that she might want to do."
Mrs May said: "Lots of people give me advice about dealing with the European Union. My job is actually getting out there and doing it."
2:37pm
Mr Trump added: "I also said that this incredible woman right here is doing a fantastic job, a great job.
"I mean that. And I must say, I have gotten to know Theresa May much better over the last two days than I have known her over the last year-and-a-half."
The president said he had breakfast, lunch and dinner with the PM on Thursday.
"I think she's a terrific woman. I think she's doing a terrific job. And, that Brexit is a very tough situation, that's a tough deal."
He added: "She's going to do the best.
"The only thing I ask is that she work it out so that we can have very even trade because we do not have a fair deal with the European Union right now on trade."
2:30pm
Mr Trump said Boris Johnson would be a "great prime minister".
He added: "He's been very nice to me. He's been saying very good things about me as president.
"I think he thinks I'm doing a great job. I am doing a great job, I can tell you, just in case you haven't noticed.
"Boris Johnson, I think, would be a great prime minister."
2:24pm
Mr Trump said he believed it was possible to do a trade deal with the UK after Brexit.
He said: "The only thing I ask of Theresa is that we make sure we can trade and we don't have any restrictions because we want to trade with the UK and the UK wants to trade with us.
"We are by far their biggest trading partner and we have just a tremendous opportunity to double, triple, quadruple that.
"So if they go in a slightly different route – and I know they do want independence, it's going to be independence, it's just your definition – if they are going to go in a certain route I just said that I hope you are going to be able to trade with the United States.
"I read reports where that won't be possible, but I believe after speaking with the Prime Minister's people and representatives and trade experts it will absolutely be possible."
2:21pm
Mrs May said: "There will be no limit to the possibility of us doing trade deals around the rest of the world once we leave the European Union on the basis of the agreement that was made here at Chequers and that I've put forward to the European Union."
The PM said the agreement "delivers on the Brexit vote" in 2016.
Mrs May said the United States is "keen" to do a deal with the UK.
"We will do a trade deal with them and with others around the rest of the world," she added.
2:07pm
Mr Trump said "whatever you do is OK with me" about the UK's plans for Brexit, but added: "Just make sure we can trade together."
The US President added that he "didn't criticise" the Prime Minister, and insisted he had a "lot of respect" for her.
Mr Trump said The Sun story was "generally fine" but missed out his positive comments about Mrs May, adding that the White House records all interviews.
"It's called fake news and we solve a lot of problems with the good old recording instrument," the president said.
2:03pm
After talks at Chequers, the US president said the relationship between the US and UK was "indispensable".
2:00
Theresa May said she discussed plans to pursue an "ambitious" US/UK trade agreement with Donald Trump on the back of the Chequers Brexit plan.
1:56pm
Lining up behind the Together Against Trump banner outside Portland Place, protesters spoke of the president's decisive nature.
At the forefront for many of them was the Trump administration's separation of children from their parents at the US border with Mexico, which recently provoked international uproar.
One man's placard read: "Baby-caging orange fascist not welcome in UK."
Teaching assistant Sarah Lewis, 44, said: "I used to live in the States and I loved it but hate what Trump's done."
Ms Lewis, of Mortimer, Berkshire, added: "He's a homophobe and a racist. And separation of families, I think it's abhorrent, the most immoral thing and he's supposed to be the leader of a free nation."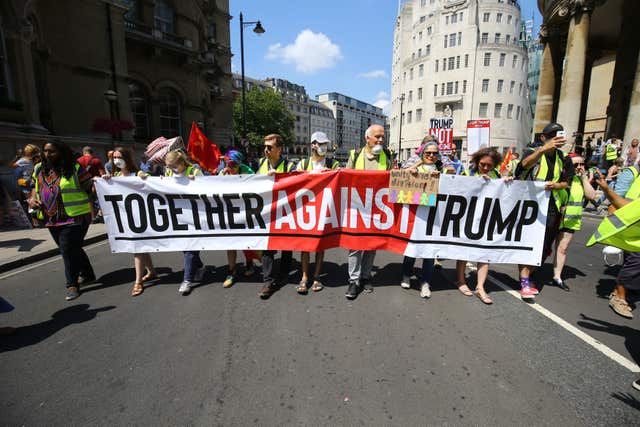 1:40pm
The media is waiting ahead of Mr Trump's Press conference with the Prime Minister.
1:10pm
12:32
Mrs May said Mr Trump had done "a very good job" at Nato in encouraging other member states to up their military spending.
Mr Trump said: "The Prime Minister and I worked very hard together at Nato. It was an incredible two days. It has never been more united, people are paying.
"We are two of the five who are fully paid up but others are coming along rapidly.
"It was a very, very productive two days, and we arrived here last night.
"We had a dinner where I think we probably never developed a better relationship than last night. We spoke for an hour or an hour and a half and it was really something."
12:01
Mr Trump said: "Today we are talking trade, we are talking military. We saw some incredible anti-terrorism things that are being done here in conjunction with the US.
"The relationship is very, very strong, we really have a very good relationship.
"Right now, we're going to be talking about some other things taking place in the Middle East and elsewhere."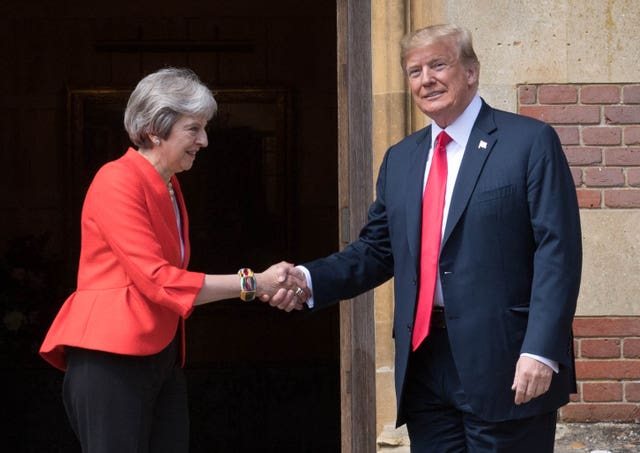 11:50
Donald Trump appeared ready to adopt a more conciliatory tone as he sat down for talks at Chequers with Mrs May.
Seated alongside the Prime Minister before a row of British and American flags, the president said he and Mrs May had "probably never developed a better relationship" than during last night's dinner at Blenheim.
"The relationship is very, very strong, we really have a very good relationship", he said, while making no response to questions about his explosive interview with The Sun.
Mrs May made clear she would not be knocked off track by Mr Trump's suggestion she had "killed" the chance of a trade deal, saying they would be discussing the "real opportunities" for a deal after Brexit.
11:40
Mrs Trump played bowls with Mr May on the bowling green at the Royal Hospital Chelsea, bowling four times in stiletto heels.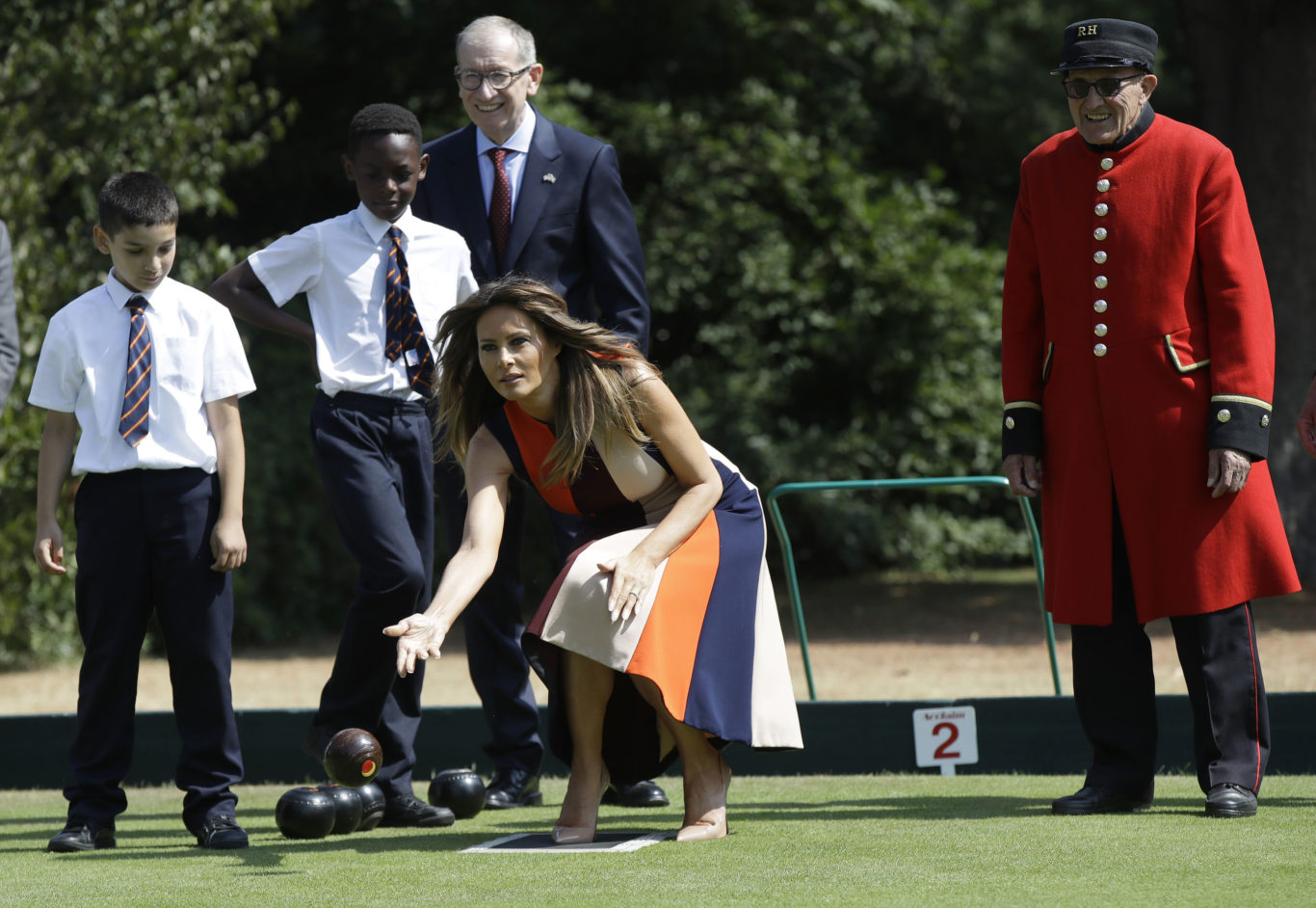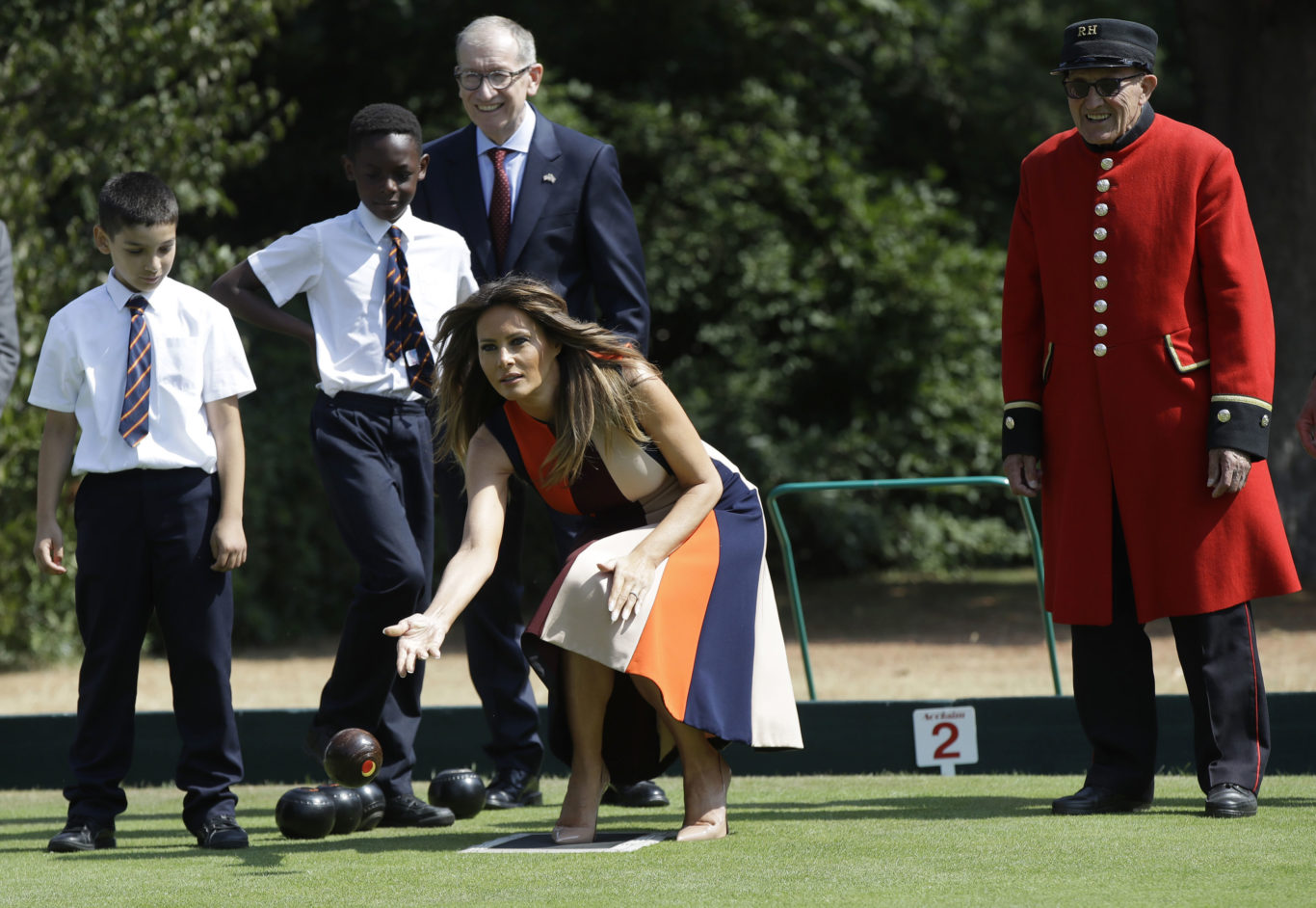 11:29
Theresa May will have a chance to bring Donald Trump "up to speed" on the UK's Brexit planning when they meet for talks, a Downing Street spokeswoman said.
The spokeswoman said she believed the president's Sun interview took place before the white paper was published on Thursday, telling reporters: "She is looking forward to discussing a wide range of issues with him including trade and of course the Prime Minister will have an opportunity to bring him up to speed with our latest Brexit thinking following the white paper publication yesterday."
The spokeswoman added that trade was "one of the top items of discussion", adding: "We are confident we can do a good trade deal with the US."
11:20
Speaking at Chequers, Donald Trump said he and Theresa May had "probably never developed a better relationship" than during last night's dinner at Blenheim Palace.
He added: "The relationship is very, very strong, we really have a very good relationship."
11:15
Theresa May and Donald Trump arrived by helicopter at Chequers for the face-to-face talks which will form the political centrepiece of the president's visit.
The pair shook hands for the cameras on the steps of the Prime Minister's official country residence in Buckinghamshire.
11:10
After the poppy making, Mrs Trump listened to school children talk about values and service.
Mrs Trump sat in front of a poster which said "Be the best you can be".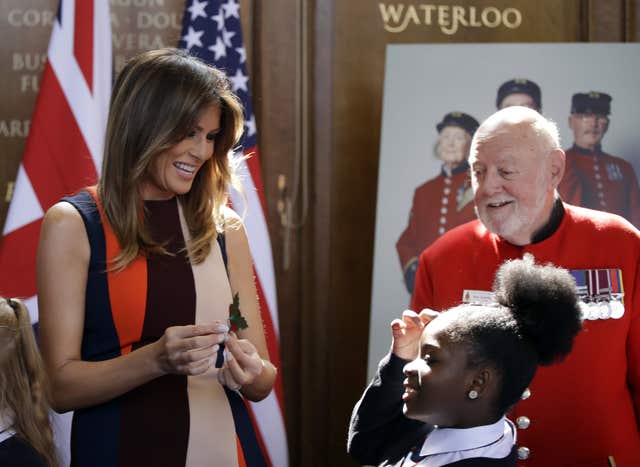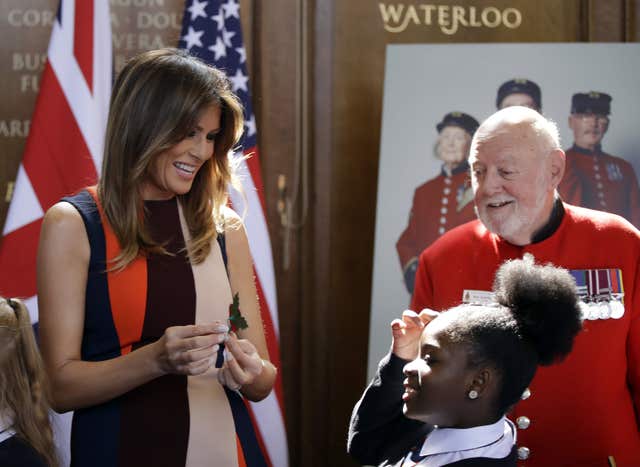 11:03
Mrs Trump was shown around the chapel at the hospital before she joined children from Saint George's Church of England primary school who were making remembrance poppies.
When she arrived into the room, she said "good morning" and asked the children if they would like to show her how to make the poppies.
Mrs Trump had a go at making one, and told the children: "Thank you for helping me."
She showed Mr May her effort and joked: "Very professional."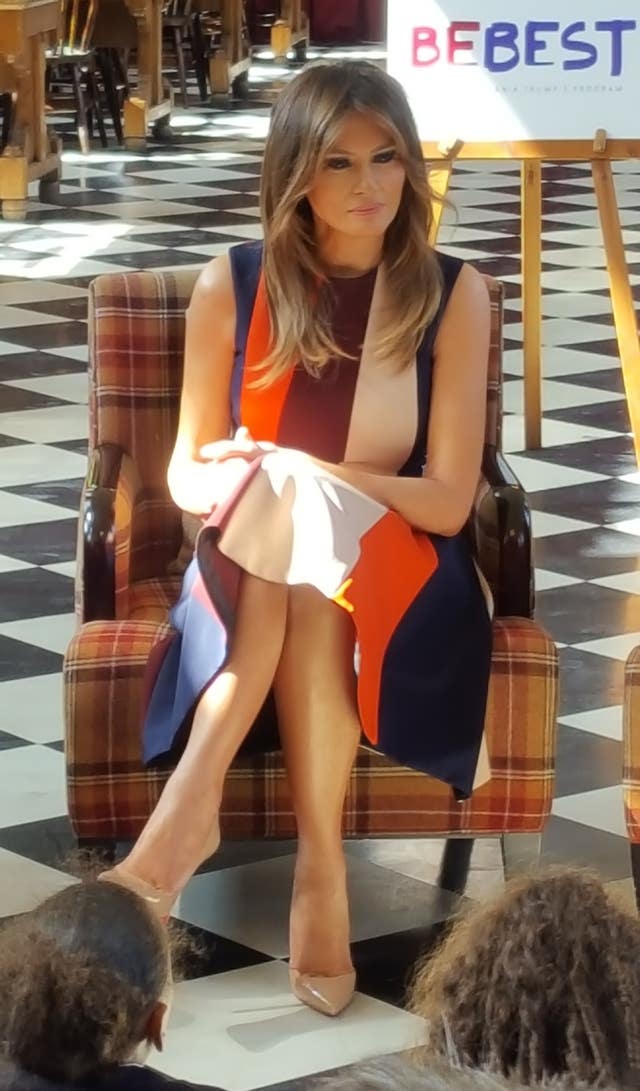 10:53
Mrs Trump was greeted by Mr May when she stepped out of her vehicle.
On arrival she also met Lieutenant Colonel Nicky Mott, hospital CEO Gary Lashko and Chelsea pensioners John Riley, Alan Collins and Marjorie Cole.
10:39
Mrs Trump is wearing a sleeveless dress with wide coloured panels, and towering heels with a red sole which appear to be by Christian Louboutin.
10:32
First Lady Melania Trump has arrived at the Royal Hospital Chelsea where she will meet Chelsea pensioners and local school children.
She is joined at the hospital by the Prime Minister's husband Philip May.
The hospital was founded as a retirement home for soldiers by King Charles II in 1682, and the Chelsea pensioners are famous for their distinctive scarlet coats.
10:07
In Parliament Square, a countdown followed by a loud cheer saw the Trump baby blimp rise up in the air, clutching his mobile in tiny hands.
Brett Kirchner, 25, from North Carolina, said: "As an American, I think it's great. It's a peaceful way of protesting and there are a lot of people who agree with it.
"Back home in the States, there will be some who are very upset about this protest and who think it's insulting. I have been asked to send photos back though, not everyone likes Trump."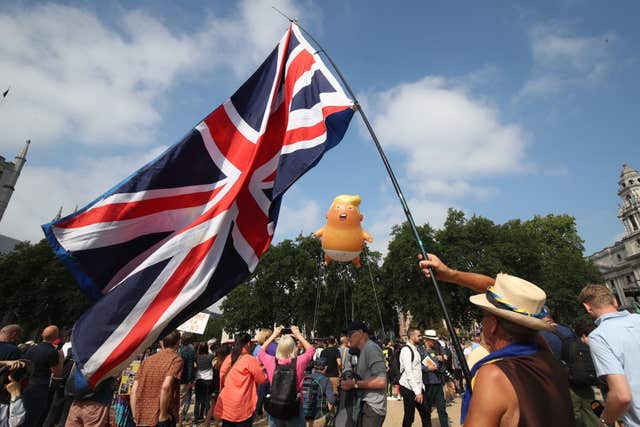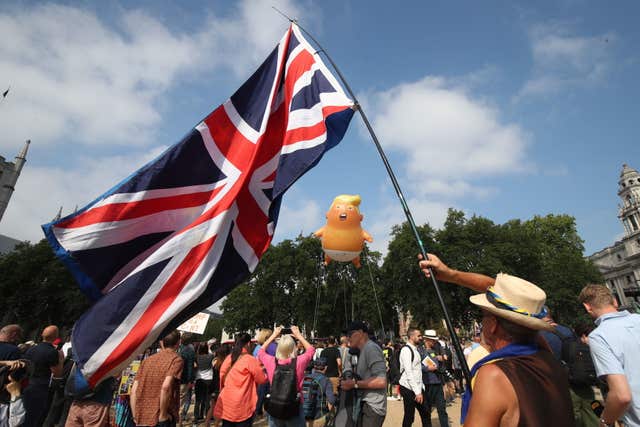 9:44am
Mr Trump has arrived at the Royal Military Academy Sandhurst.
The president flew into the British Army's official training centre on Marine One, preceded by two accompanying helicopters.
Woody Johnson, the US ambassador to Britain, was onboard with Mr Trump.
Also attending Sandhurst are several of the president's aides, including John Kelly, John Bolton and Stephen Miller.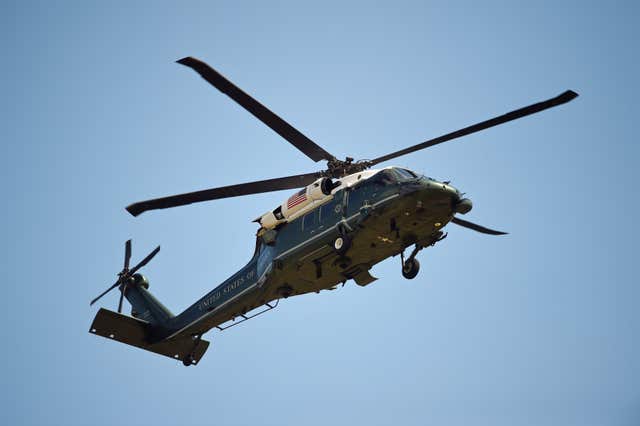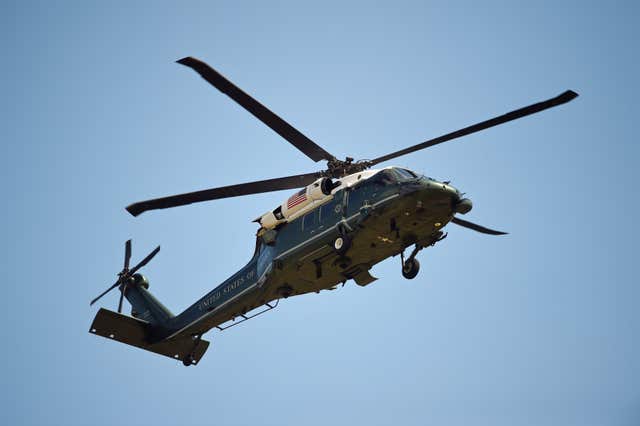 9:37am
Mr Trump left Winfield House, the US Ambassador's residence, shortly after 9am, doing a fist pump before boarding Marine One.
He is expected to view a joint US-UK special forces military demonstration at the Royal Military Academy Sandhurst.
A lone sign near a security checkpoint read: "Anyone can be president, but should they be?"
9:30am
A huge baby blimp depicting US president Donald Trump is being flown over Parliament Square – as protests against the presidential visit continue.
The six-metre high blow-up caricature depicting Mr Trump as a baby wearing a nappy and clutching a mobile phone was given the green light by the Greater London Authority to fly near Parliament.
The group that crowd-sourced the inflatable said, while Mr Trump will not see the blimp in person as his visit does not take in the historic Palace of Westminster, they hoped it would come to the Twitter-loving president's attention online.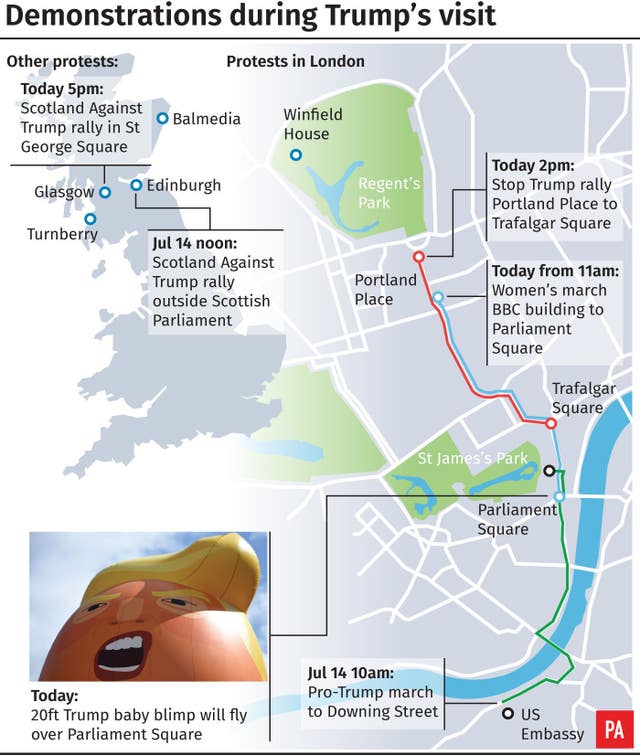 Several anti-Trump protest groups are expected to meet at Portland Place as the president has a working lunch with Theresa May at her country residence Chequers.
And with Mr Trump set to travel to Scotland on Friday evening after meeting the Queen at Windsor Castle, a rally is planned for Glasgow's George Square.