A specialist unit will spearhead efforts to stop drones dropping drugs and mobile phones into prisons.
The new team has been assembled to combat the problem of the remote-controlled flying devices being used to fly contraband into jail grounds.
Prisons have recorded a sharp increase in incidents involving drones in recent years.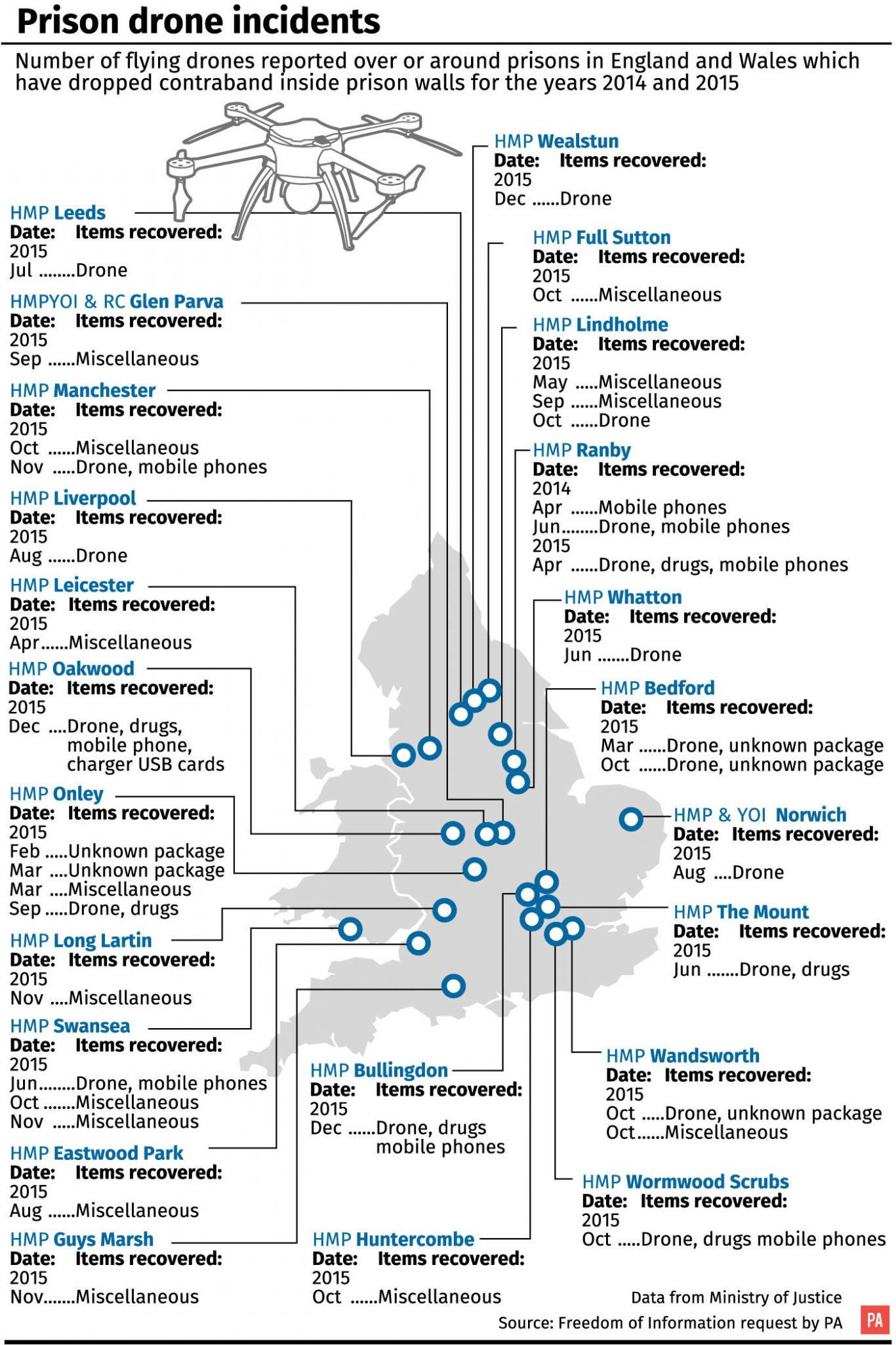 Figures show there were 33 incidents of the gadgets being detected in or around jails in England and Wales in 2015, up from just two the year before and none in 2013.
And in November the Ministry of Justice said there had been a "big increase" in the number of reported drone incidents over the last year.
The new squad of prison and police officers will work with law enforcement agencies and HM Prison and Probation Service to inspect drones recovered from jails in a bid to identify and track down those involved in attempts to smuggle in contraband.
Investigators will draw together intelligence from across prisons and the police to identify lines of inquiry, which will then be passed to local forces and organised crime officers.
The crackdown aims to help disrupt the flow of drugs and mobile phones into prisons as the Government attempts to tackle surging levels of violence and self-harm behind bars.
In one recent case drones were used as part of attempts to flood prisons with contraband worth around £48,000.
Mike Rolfe, national chairman of the Prison Officers Association, branded the move a "publicity stunt", telling BBC Radio 4's Today programme: "This is a red herring because there are lots of problems in prisons and this seems like a very small publicity stunt to try and detract from the real issue and that's that our jails are in complete chaos."
John Podmore, former head of the prison service's anti-corruption unit, claimed staff smuggling drugs into jails was a "major" problem while drone incidents totalled around 33 a year.
"In terms of contraband coming into prisons one of the main routes is staff corruption," he told the programme.