George W Bush has said Bill Clinton is a "brother with a different mother" in a conversation which revealed the depth of the ex-presidents' friendship.
In a wide-ranging conversation in front of the 2017 class of the Presidential Leadership Scholars programme, the pair spoke about what it's really like to be US president, their friendship and life after the office.
Both men talked about humility being an important quality in a leader, with Bush mentioning that Clinton was "humble in victory" over his father, George H W Bush, in 1992.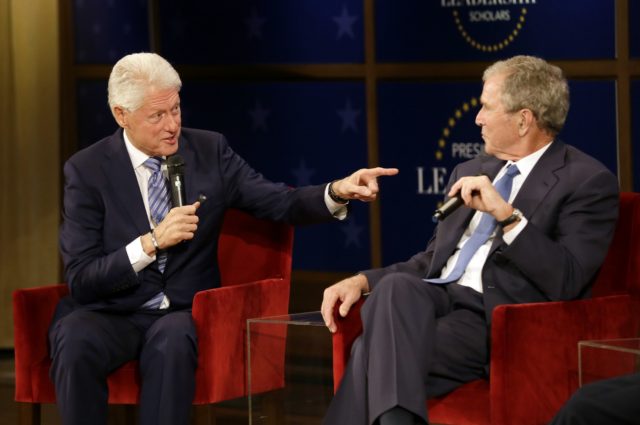 Clinton also issued advice for would-be leaders of the future.
"If you want to be president, realise it's about the people, not about you," he said.
"When it's over – and that's what a lot of these people who are real arrogant in office, they forget, time passes, and it passes more quickly than you know – you want to be able to say 'people were better off when I quit, kids had a better future, things were coming together.' You don't want to say, 'God, look at all the people I beat'."
Aside from the serious stuff, Bush and Clinton poked fun at each other over a variety of issues, showing how at ease they are in each other's company.
The two elder statesmen of the United States agreed that the best thing to happen to those in politics is to be consistently underestimated.
After Clinton made this point, Bush quipped: "I was pretty good at that."
Viewers also found out that Clinton is known as Pop Pop and Bush as El Jefe (The Boss in Spanish) to their respective grandchildren.
The two former leaders established the Presidential Leadership Scholars programme together to help participants from a variety of sectors learn about leadership from people who have really done it – including policy leaders and ex-presidents.
From the reaction online, the purpose of inspiring young minds was certainly fulfilled by their chat.