Donald Trump apologised to Theresa May over an incendiary interview criticising her premiership, and hailed UK-US relations as the "highest level of special".
After intensive talks at Chequers, an emollient US president showered praise on the "incredible" Prime Minister and said she was "doing a fantastic job".
The meeting took place in the wake of an explosive newspaper interview in which he said the Prime Minister's Brexit plans would kill off a trade deal with America and Boris Johnson would be a "great prime minister".
At a press conference later in the grounds of the PM's country residence, Mr Trump insisted he "didn't criticise" the Prime Minister and hit out at "fake news".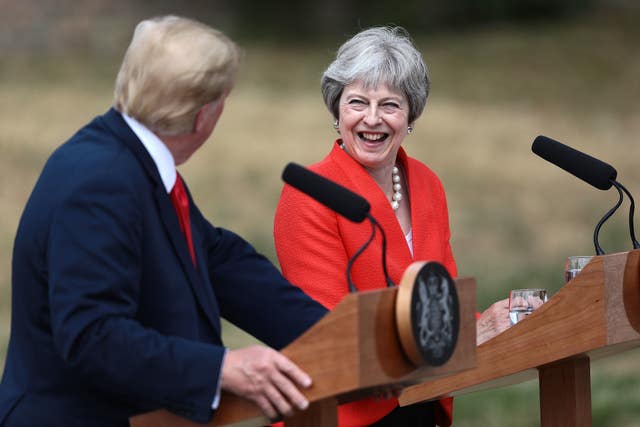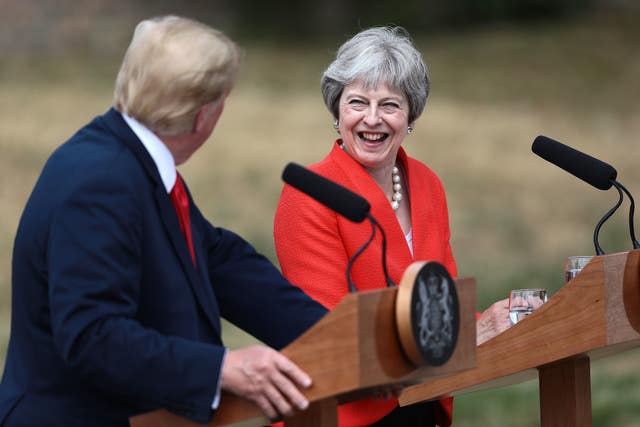 The US president told Mrs May "whatever you do is OK with me" on Brexit, but urged her to "make sure we can trade together".
Following their talks, Mr Trump and his wife Melania flew by helicopter for tea with the Queen at Windsor Castle where they were greeted with a guard of honour from 1st Battalion Coldstream Guards.
The president and Mrs Trump then headed to Scotland where he is expected to spend the weekend on a private visit to his golf resort at Turnberry in Ayrshire.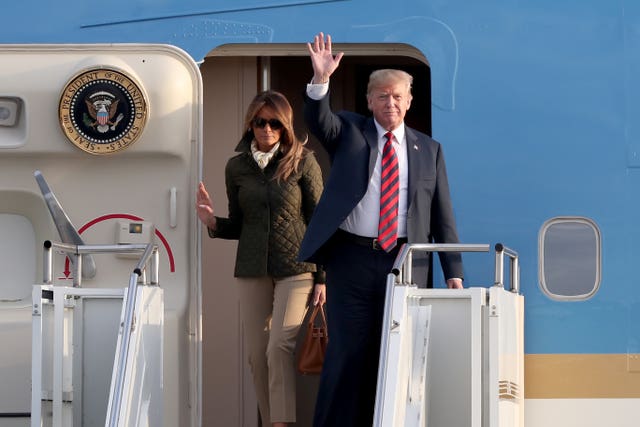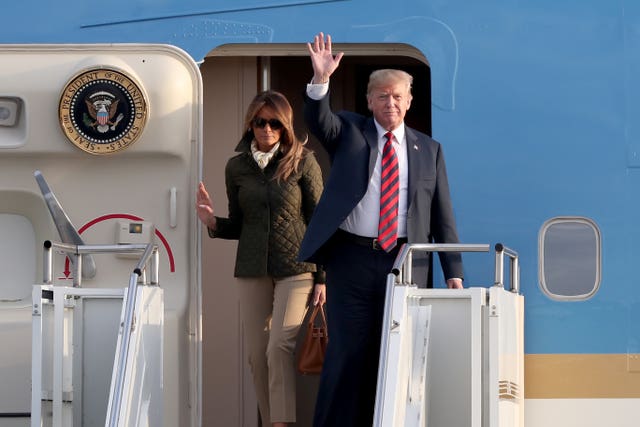 His departure for Scotland was delayed while he was interviewed aboard Air Force One by Piers Morgan for ITV.
Earlier tens of thousands of protesters gathered in central London to denounce the visit for stoking "division along fault lines of fear and hatred".
But well away from the noisy demonstrations, Mr Trump and Mrs May took questions from reporters.
The president said Mrs May "can't walk away" from exit talks with the European Union, though suggested she could use other methods to secure a good deal.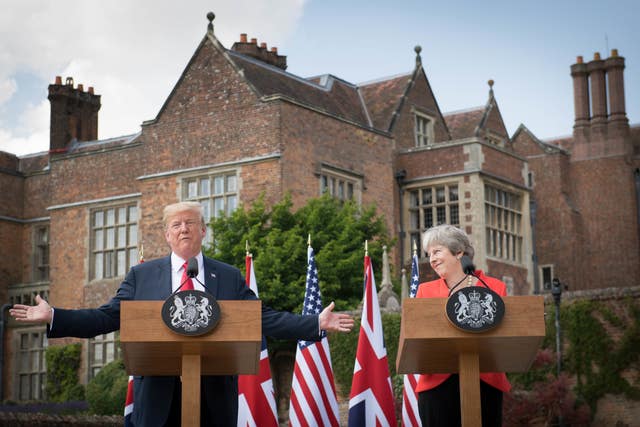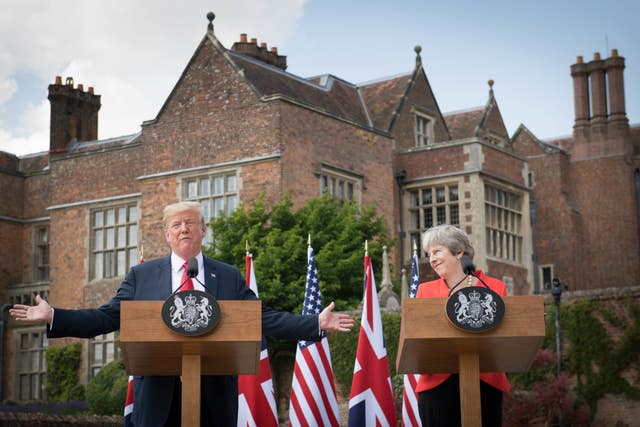 Mr Trump said he had given the PM a suggestion about how to come out on top in the talks but "she found it maybe too brutal".
But he praised Mrs May as a "very tough negotiator" and described her as an "incredible woman" who is "doing a fantastic job".
"She's a very smart, very tough, very capable person and I would much rather have her as my friend than my enemy, that I can tell you," he added.
The US president left Mrs May badly wounded when he criticised her negotiating style, lavished praise on Boris Johnson and attacked her Brexit plan in an interview with the Sun.
In an interview with the Sun, Mr Trump said he would have carried out the Brexit negotiations "much differently" and claimed the Prime Minister did not listen to his advice.
He said: "If they do a deal like that, we would be dealing with the European Union instead of dealing with the UK, so it will probably kill the deal.
"If they do that, then their trade deal with the US will probably not be made."
He went on to say Mr Johnson, who quit as foreign secretary over the Chequers' plan, was "a great representative for your country".
Mr Trump said he apologised to Mrs May over the Sun front page story, and she replied: "Don't worry it's only the press."
But he repeated his praise of Mr Johnson, saying: "Boris Johnson, I think, would be a great prime minister."
Mrs May said it was "all of our responsibility to ensure that transatlantic unity endures".
The PM said the United States is "keen" to do a deal with the UK.
"We will do a trade deal with them and with others around the rest of the world," she added.
Labour leader Jeremy Corbyn said he did not feel Britain should be "rolling out the red carpet" to Mr Trump.
"Whatever the decision the Queen decides to take about whether to invite him to tea or not, and what advice the Prime Minister gives on that, is between them, I don't know what went on.
"But personally, I don't think we should have been rolling out the red carpet for Donald Trump."
Meanwhile, First Lady Melania Trump played bowls with the Prime Minister's husband.
Mrs Trump, 48, joined Philip May, 60, at the Royal Hospital Chelsea in London where she met Chelsea pensioners and local children.