Theresa May's minority Government has survived its first test of the new Parliament by defeating a Labour amendment to the Queen's Speech.
Labour called for an end to the public sector pay cap, the recruitment of extra police and firefighters and expressed regret over the failure of the Government's two-year programme of laws to end cuts to the two services.
But the Conservatives, reliant on support from the DUP following a controversial £1 billion funding deal, saw off the Labour proposal by 323 votes to 309, majority 14.
The Commons vote was the first in Parliament since the general election, which saw Prime Minister Mrs May lose her majority following gains by Jeremy Corbyn's Labour.
It followed a day of confusion over the Government's approach to the public sector pay cap, with a senior Downing Street source initially signalling ministers were ready to review the 1% limit on pay rises. But Mrs May's official spokesman later played down the suggestions, insisting the "policy has not changed".
As the Queen's Speech debate entered day five, senior Tories voiced their desire for change. Sarah Wollaston, who chaired the Health Select Committee in the last parliament, warned the pay cap has had a "significant impact on morale" in the health service and said it is time to "think again".
Tory former minister Andrew Murrison added: "It is absolutely right we should now be looking at removing that cap on pay for public sector workers and in particular we think about those working in our health services."
Health Secretary Jeremy Hunt, concluding the debate for the day, said: "Whichever party is in power, you have to do the right thing for the economy.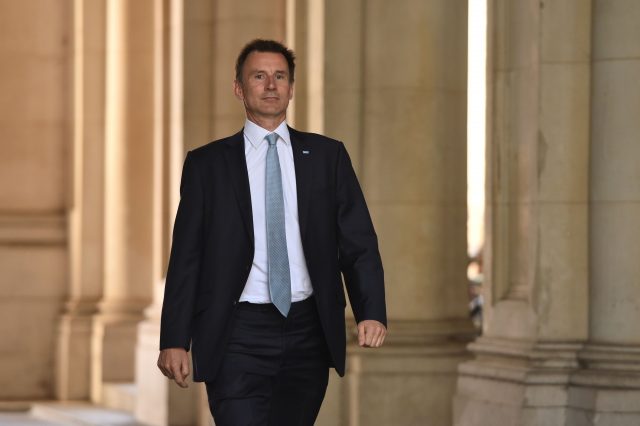 "People will recognise that in the very difficult period we've just had, it would not have been possible to increase the number of doctors by nearly 12,000 and the number of nurses in our wards by nearly 13,000 if we hadn't taken difficult decisions on pay.
"But what I can say is that we will not make our decision on public sector pay until the pay review body has reported, and we will listen to what they say and we will listen to what people in this House have said before making a final decision."
Shadow health secretary Jon Ashworth had challenged Tories that had spoken out over public sector pay to back Labour's amendment.
He said: "A U-turn on the U-turn – they can't even competently do a U-turn, what a shambles. You could say it's weak, unstable and it's chaotic, and public sector workers deserve a lot better."
A division list analysis shows all 10 DUP MPs joined with 313 Conservatives to help defeat the amendment.
Independent Lady Hermon, who represents the Northern Ireland constituency of North Down, voted in favour of Labour's amendment.
There were 256 Labour MPs who backed the amendment along with all 35 SNP MPs, 12 Lib Dems, four Plaid Cymru and Green Party MP Caroline Lucas in an early indicator of the so-called "progressive alliance" in action.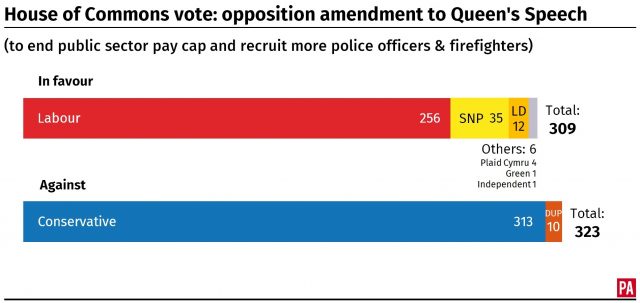 The tellers for the noes during the vote were Tory MPs Andrew Griffiths and Heather Wheeler.
Labour MPs Nic Dakin and Jeff Smith acted as tellers for the ayes.