Weather warnings of wind stayed in place across the country as Storm Diana brought strong gusts and heavy rain, causing transport delays and power outages.
Winds of up to 72mph were measured in Plymouth on Thursday as the Met Office said the yellow warning is due to stay in place until 5pm due to a low pressure weather system.
Hundreds of homes have seen power cuts due to adverse winds and rain, with Western Power Distribution showing outages across the South West, Midlands and Wales during lunchtime and early afternoon.
Forecasters said delays to road, rail, air and ferry transport are likely and some coastal routes, sea fronts and coastal communities are potentially affected by spray from waves.
They warned there was a small chance of injuries from large waves and beach material being thrown on to sea fronts, coastal roads and properties.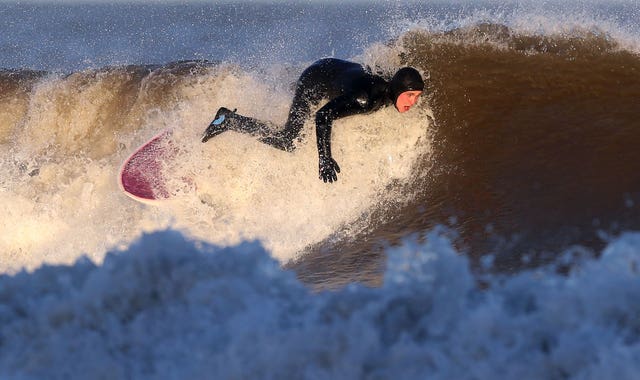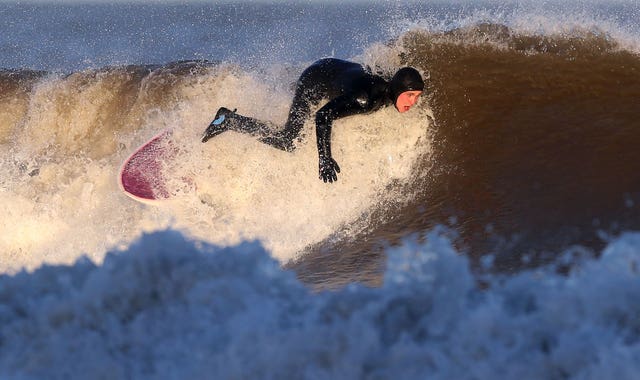 Warnings were extended on Thursday morning into north-east Scotland and further east across England, with winds due to start easing by mid afternoon across northern England and south-east Scotland, and by late afternoon across north-east Scotland.
Forecasters said heavy rain is also likely to affect southern and western England as well as Wales, but a yellow weather warning of rain that was in place on Thursday morning has been lifted.
Due to high winds, an emergency speed restriction was put on trains travelling between London and Crewe, which Network Rail said was due to strong winds increasing the likelihood of trees falling on to the tracks.
Virgin Trains said the restrictions have now been lifted but services are still subject to delays into the afternoon.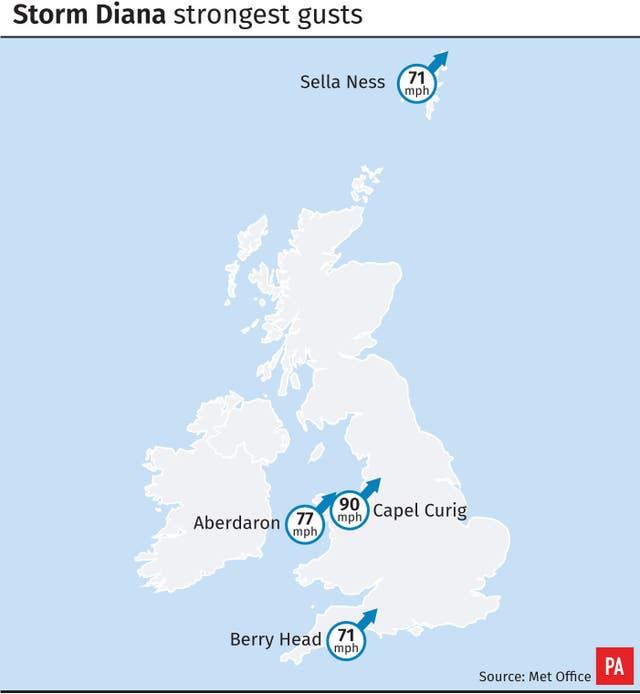 The strongest winds on Thursday were of up to 82mph, measured at Needles Old Battery on the Isle of Wight, whilst St Mary's Airport on the Isles of Scilly saw gales of up to 74mph.
Forecasters said there had been an improvement across England and Wales since Thursday morning but members of the public are still taking to social media to share their pictures of bad weather.
Rich Walters spotted a trampoline under a bridge in Hotwells, Bristol, that had been moved due to strong winds in the area. He tweeted: "If anyone in the Bristol or anywhere in the south west has lost this… I can give you the location to collect."
During the adverse weather, the Environment Agency and National Fire Chiefs Council (NFCC) are urging the public to avoid life-endangering risks such as taking "storm selfies" and deliberately driving through flood water.
On average, around 170 people a year are rescued from inside or on top of a vehicle surrounded by water.
Driving through flood water is the number one cause of death during flooding, with storm selfies and wave watching also recorded as causes of death.
Dawn Whittaker, NFCC Water Safety and Drowning Prevention Lead said: "Unfortunately fire and rescue services are often called to incidents where people have just underestimated the risks posed by flood water.
"Floods can quickly turn into life-threatening situations so NFCC ask that people listen to advice and avoid entering flood water whether on foot or in a vehicle."
The Met Office said that weather conditions had improved for much of the UK, and sunshine, blustery showers and colder weather can be expected across the UK on Friday, with temperatures of 8 to 10C anticipated in England and Wales.