The European Parliament's chief Brexit negotiator has hit out at the "uncertainty" over Theresa May's approach to leaving the EU.
Guy Verhofstadt said the European Union was "impatiently" waiting for the UK to set out its position ahead of talks expected to start next week.
His comments came as Leave campaigner and newly restored Cabinet minister Michael Gove indicated the Government could be ready to pursue a softer approach to Brexit.
With Mrs May short of a majority in Parliament, Mr Gove suggested the Government was prepared to work with Labour to get Brexit measures through the Commons.
The newly-appointed Environment Secretary said the EU referendum result must be honoured but it is "really important" that the exit package is "in the interests of the whole country".
Pressed on reports of secret talks between Cabinet ministers and Labour MPs, Mr Gove said the two parties had a "similar" position on Brexit and the reality of the hung parliament meant the Government would have to "work with everyone".
He told Sky News: "I think the right thing to do is honour the vote that the British public made just a year ago.
"We voted then to take back control of our borders and our laws and to take back control of our money and trade deals.
"But it's also really important we make sure the Brexit deal we secure is one that's in the interests of the whole country and that means that we need to ensure that those who voted Remain are part of the conversation about what the best deal for Britain is in the future."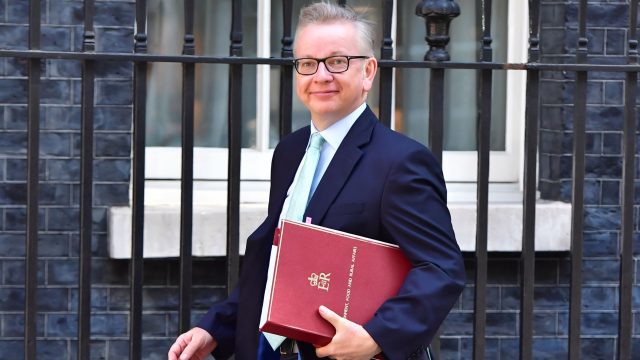 Mr Gove said: "Labour argued that we should leave the European Union and end free movement, in effect be outside the single market.
"Their position on this was very similar to the Conservative position according to their manifesto."
Asked if that meant the Government would work with Labour, Mr Gove replied: "Well the parliamentary arithmetic is such that we are going to have to work with everyone."
Mr Gove told BBC Radio 4's Today programme the Tory failure to win a majority meant Brexit must proceed with the "maximum possible consensus".
Former Belgian prime minister Mr Verhofstadt said on Twitter that Brexit "isn't just about the Tories leaving the EU, it's about the whole UK" adding: "Everyone's voice should be heard."
But with the two-year countdown to Brexit already under way after Article 50 was triggered in March, he said: "We are impatiently waiting for the negotiating position of the UK gov. The current uncertainty cannot continue."
Liberal Democrat leader Tim Farron called for a cross-party committee to be set up to handle the Brexit negotiations.
In a letter to the Prime Minister, he said: "The election has left our country yet more divided, right at the time when we most need unity.
"Combined with the fact Article 50 was triggered on an arbitrary date, starting the clock on Brexit without a proper plan, it is clear that bold measures are needed to ensure we negotiate the best possible Brexit deal."