No one else was involved in the death of teenager Gaia Pope, according to police.
The 19-year-old's body was found on Saturday afternoon by specialist search teams on land south of Swanage – close to where clothing positively identified as belonging to the teenager was found on Thursday.
Dorset Police said a post-mortem examination had not identified any injuries to suggest third party involvement and Miss Pope's death was being treated as "unexplained".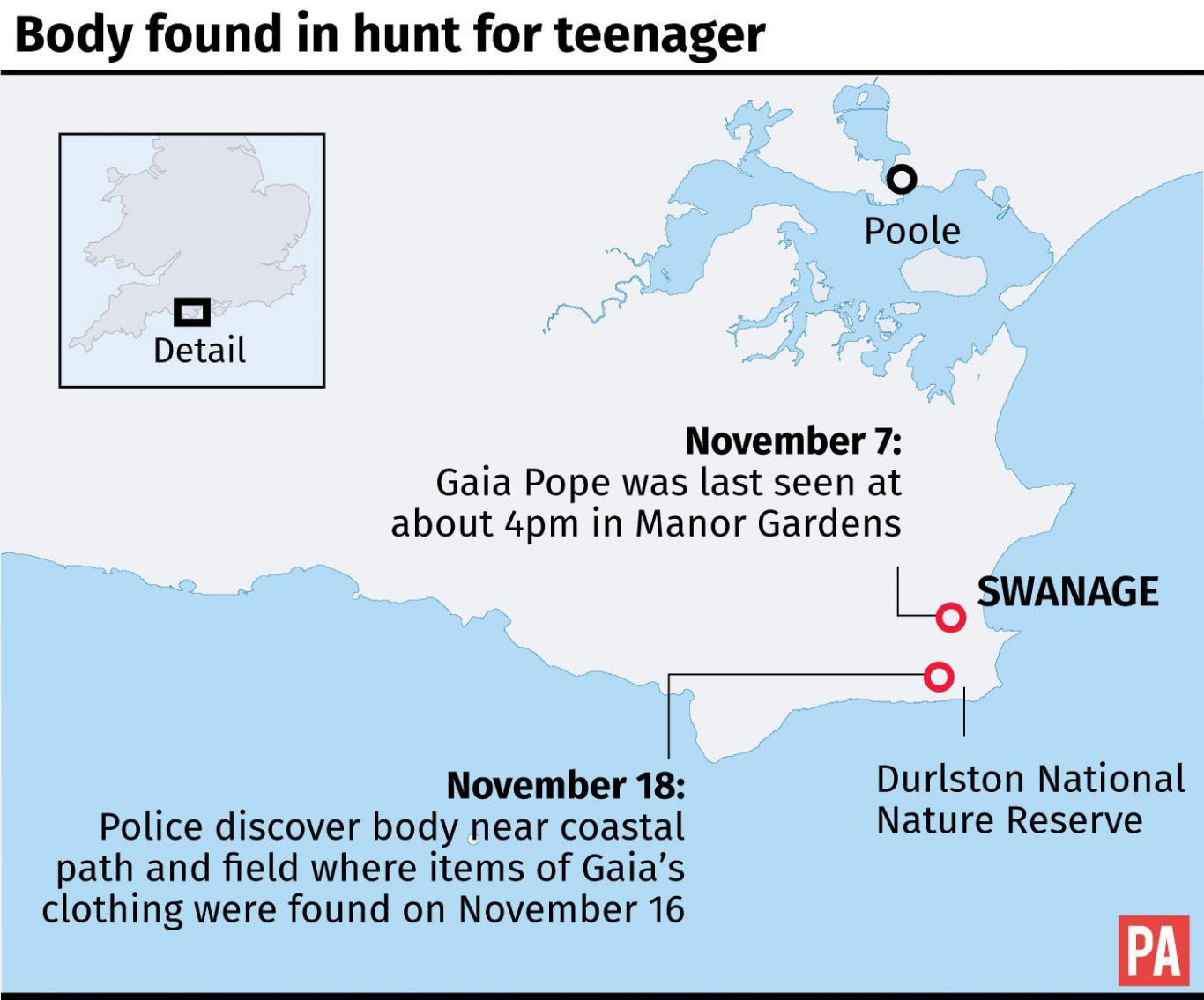 Miss Pope, who suffered from severe epilepsy, had not been seen for 11 days and her disappearance prompted a massive campaign from family and friends to find her.
Detective Superintendent Paul Kessell, of Dorset Police's major crime investigation team, said: "The post-mortem examination has not identified any injuries to suggest any other person was involved in her death. The cause of death is undetermined pending toxicology.
"The coroner is involved in the oversight of these examinations but at this time this remains an investigation into an unexplained death.
"We would like to take this further opportunity to pass our thoughts to Gaia's family who we continue to support and who ask for respect of their privacy at this incredibly stressful time.
"Once again I would like to pass our thanks to the public volunteers and partner organisations who have supported this inquiry throughout and have been material in locating Gaia.
"The area where the body was located is likely to remain cordoned off for some time while forensic examinations and searches are concluded.
"Please can I ask that the public no longer attend to assist with searches and that they remain a safe distance from the location.
"I reiterate this area is steep and slippery in an exposed area close to sea cliffs. The area is covered in dense undergrowth and gorse and can present a hazard.
"Only specially-trained search and forensic teams are entering the area, assisted by Dorset and Wiltshire Fire and Rescue Service recovery teams."
Miss Pope's twin sister, Maya, spoke of her heartbreak and vowed to "make her so proud".
Paying tribute to the teenager, Miss Pope-Sutherland, wrote on Facebook: "Can't find any words right now. Gaia is my everything and I am heartbroken. I thank everyone who was involved in searching for my beautiful twin. Going to make her so proud."
The twins' cousin, Marienna Pope-Weidemann, also paid tribute, saying: "My beautiful baby girl, so sunny and kind but tough as f***.
"We hold you in our hearts forever. Know you are with Nan & Pops now but miss you beyond words. You will have justice. Fly on. #JusticeForGaia"
Last night, elder sister Clara Pope described the teenager as the "absolute light of my life" and said she was "so beautiful, so emotionally wise and intelligent and so passionate and artistic and creative and understanding".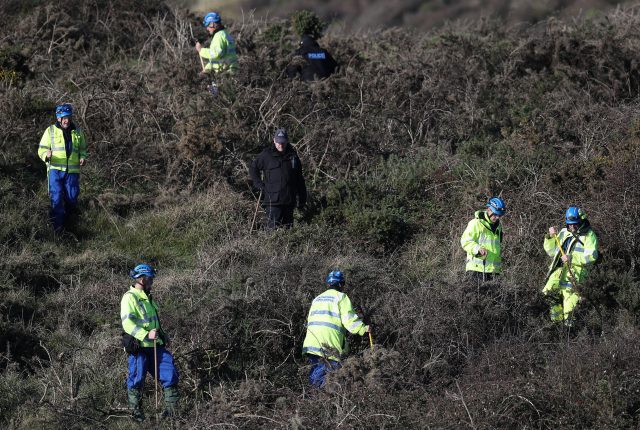 Family friend Sheri Carr, who organised the Find Gaia social media campaign, spoke of her devastation at the loss of Miss Pope.
"We are absolutely devastated, and unable to put into words our feeling of loss. We thank you for everything you have done," she wrote on Facebook.
"If there is one ray of light in this nightmare, it is the compassion, humanity and community spirit you've shown over the last 10 days."
Floral tributes have begun to be left on the Alfred Monument, next to the sea front.
The news of the discovery of Miss Pope's body on Saturday night came hours after hundreds of people joined searches around Swanage looking for the teenager, who suffered from severe epilepsy.
Miss Pope's father, Richard Sutherland, was among them and personally thanked members of the public who had gathered at Durlston Country Park.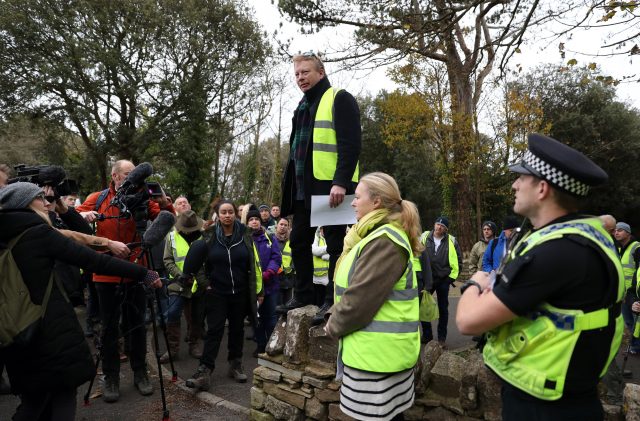 On Friday, Miss Pope's mother, Natasha, said she had not given up hope her daughter would be found alive – saying: "I believe miracles can happen."
Earlier, Mr Sutherland said he feared his daughter's epilepsy may have played a part in her disappearance as she had been warned by doctors that she was at risk of sudden death from the condition.
Detectives have arrested and released under investigation three people, a 71-year-old woman, a 19-year-old man and a 49-year-old man, named locally as Paul Elsey.
Miss Pope had not been seen since about 4pm on November 7 in Manor Gardens, Swanage.
An hour earlier she was captured on CCTV buying an ice cream inside St Michael's Garage in the town, having been driven there by a relative.
She was said to be wearing a red checked shirt with white buttons, grey and white woven leggings and white trainers. The black jacket she had on was recovered from an address in Manor Gardens.
Forensic investigations have concluded at two properties in Manor Gardens, which are believed to be linked to the people arrested.