Theresa May's new ministerial team is more diverse and will "better reflect the country which it serves", Downing Street said.
The Prime Minister sacked a number of middle-ranking white, male ministers – including an MP at the centre of a sex toy storm – and promoted younger colleagues to the Government.
Downing Street said that as a result of the reshuffle there are now more women attending Cabinet, more female ministers and more members of the Government from a black and minority ethnic background than before.
But analysis by the Sutton Trust social mobility think tank found that the Cabinet now had a greater share of ministers who went to private schools than before the reshuffle.
One of the more eye-catching appointments was Suella Fernandes – leader of the influential pro-Brexit European Research Group – to the department responsible for the UK's departure from the EU.
The Fareham MP was elected in 2015 and is the daughter of immigrants from Kenya and Mauritius.
Mrs May said: "This Government is about building a country fit for the future – one that truly works for everyone with a stronger economy and a fairer society.
"This reshuffle helps us do just that by bringing fresh talent into Government, boosting delivery in key policy areas like housing, health and social care, and ensuring the Government looks more like the country it serves.
"It also allows a new generation of gifted ministers to step up and make life better for people across the whole UK."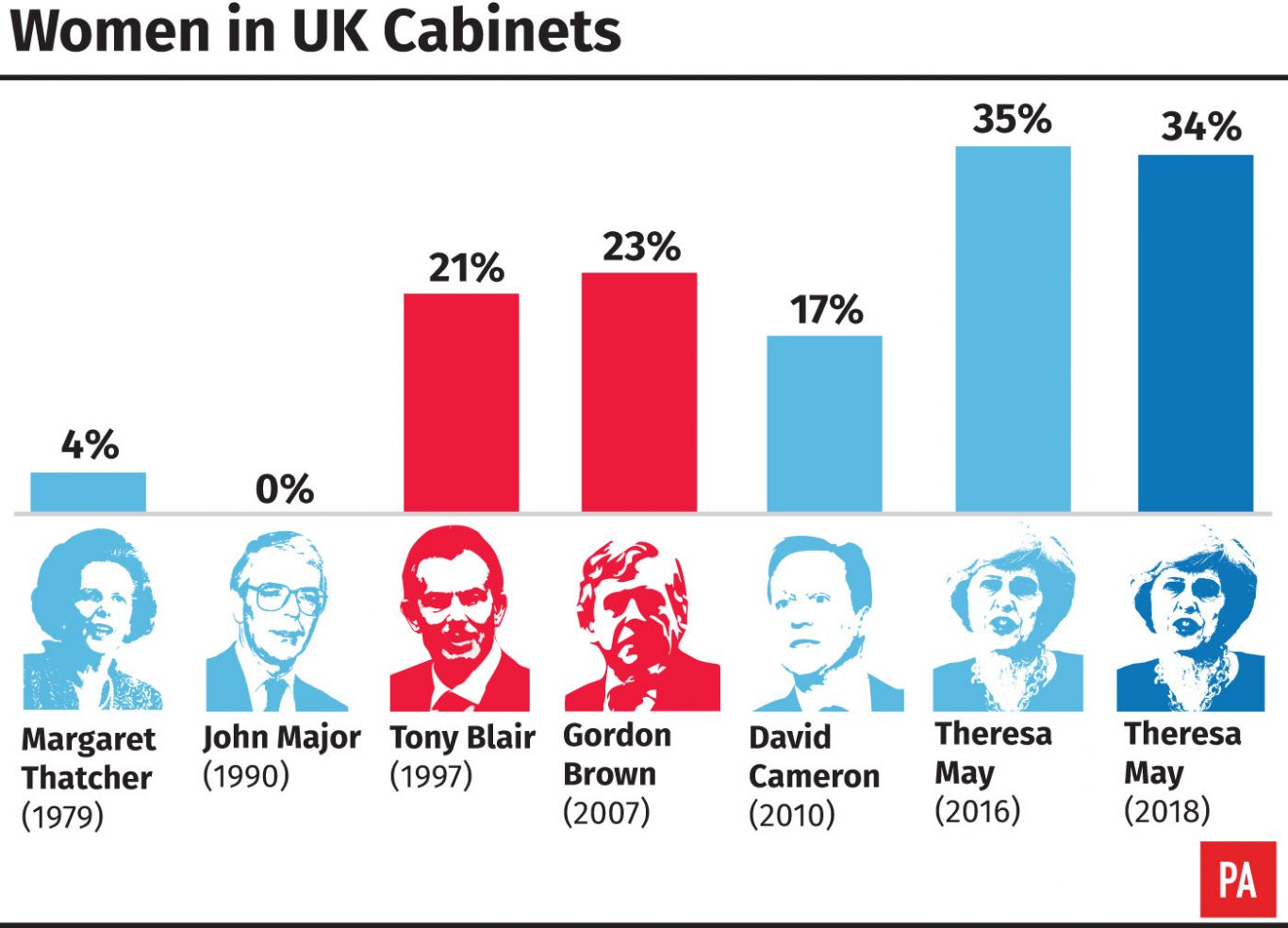 Political casualties included Mark Garnier, who lost his job as trade minister just weeks after being cleared by an investigation into allegations of inappropriate behaviour towards a female member of staff, including asking her to buy a sex toy.
No 10 sources insisted the incident had nothing to do with his departure.
Others returning to the backbenches included Scarborough and Whitby MP Robert Goodwill, who loses his job as minister for children and families, Philip Dunne (Ludlow), who is removed as health minister, and John Hayes (South Holland and The Deepings), who is leaving the Department for Transport.
Tory backbencher Philip Davies, who sits on the Commons Women and Equalities Committee, said the reshuffle had created "a legitimate concern that some people may feel they have been hoofed out or not promoted simply because they are a white male".
He told The Daily Telegraph: "It certainly does not do anyone any favours to promote people who are not ready for promotion just because of their gender or race."
But the Prime Minister's official spokesman said: "It is about getting the right Government in place to deliver for the British public. That also includes delivering a Government that better reflects the country which it serves."
Mrs May's Cabinet met for the first time since a misfired reshuffle of top jobs on Monday, which saw Justine Greening walk out as education secretary rather than accept a move to work and pensions, while Jeremy Hunt turned down the PM's offer of the business brief, insisting instead on an expanded health and social care role.
One Tory former minister told the Press Association: "She ended the year in not a bad place, to the point where she was making a virtue of her ability to walk through fires.
"The ability to come out the other side of a burning building, which is I think the way she looked at the end of last year, isn't enhanced by an ability to walk into a burning building deliberately."