The Prince of Wales has celebrated the enduring humanity of Holocaust survivors as his own efforts promoting tolerance and understanding were recognised with an international award.
Following in the footsteps of world figures like Pope Francis and German chancellor Angela Merkel, Charles was presented with the honour from the International Auschwitz Committee (IAC).
The Prince had gathered more than a dozen Holocaust survivors and their families for afternoon tea at St James's Palace in his role as patron of the Holocaust Memorial Day Trust and at the end received the statue.
With far-right politicians gaining in popularity in Europe, Marian Turski, vice-president of the IAC and himself a survivor of Auschwitz, said before he presented the award: "Today we have this message – we the survivors – you never should give up fighting xenophobia, prejudices, racism, anti-Semitism.
"You should never give up fighting the humiliation of people – in order to save their dignity."
The IAC has been awarding the statue since 2010 to public figures who speak out worldwide for human rights and stand up against intolerance and anti-Semitism.
It is an upside down letter B, a reference to the same letter from the infamous motto above the gates of Auschwitz concentration camp – Arbeit Macht Frei, work sets you free.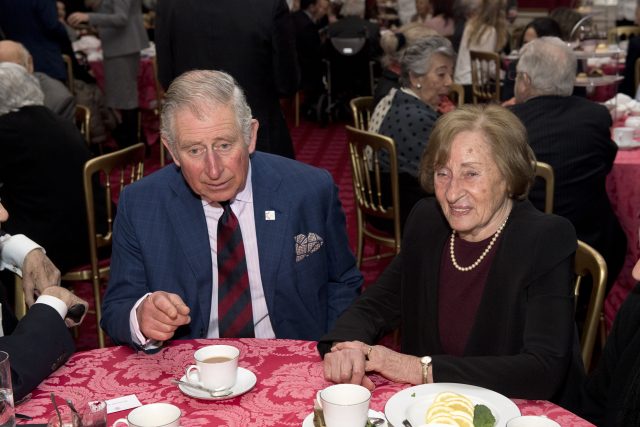 When prisoners were forced to build the sign they chose to invert the letter in a spontaneous act of courage and defiance.
Mr Turski added: "The people marching every day through the gate they were inspired by it, their spirits were raised."
As Charles moved among the tables chatting to Holocaust survivors he sat down next to Susan Pollack, 86, who had received an MBE from the Prince last year for her work giving testimonies about her experiences to schoolchildren.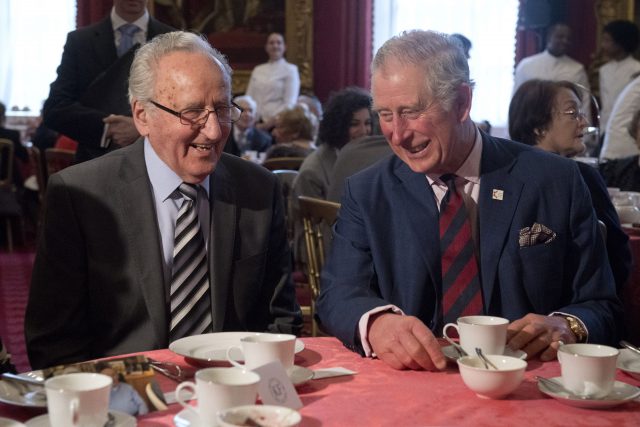 Born in Hungary in 1930, she was deported to Auschwitz-Birkenau in May 1944. Her mother was later murdered and her brother had to work in the gas chambers.
Mrs Pollack worked as a slave labourer before narrowly escaping death at Bergen-Belsen.
Among those who perished at the concentration camp were Anne Frank and her sister Margot who died a few months before British troops walked through the gates and liberated those interned on April 15 1945.
After chatting to Charles she described the importance of survivors being recognised by national figures: "We're getting such wonderful support from Prince Charles, from our Queen, and that gives us so much confidence, for me personally, and a feeling of security, feeling that you're living in a safe country, where tolerance and support is a permanent feature."