The warmest March day for five years is being enjoyed by sun-lovers in some parts of the UK.
The mercury soared to 21.8C (71.2F) in Gravesend, Kent, on Wednesday afternoon, making it the hottest day of 2017 so far, the Met Office said.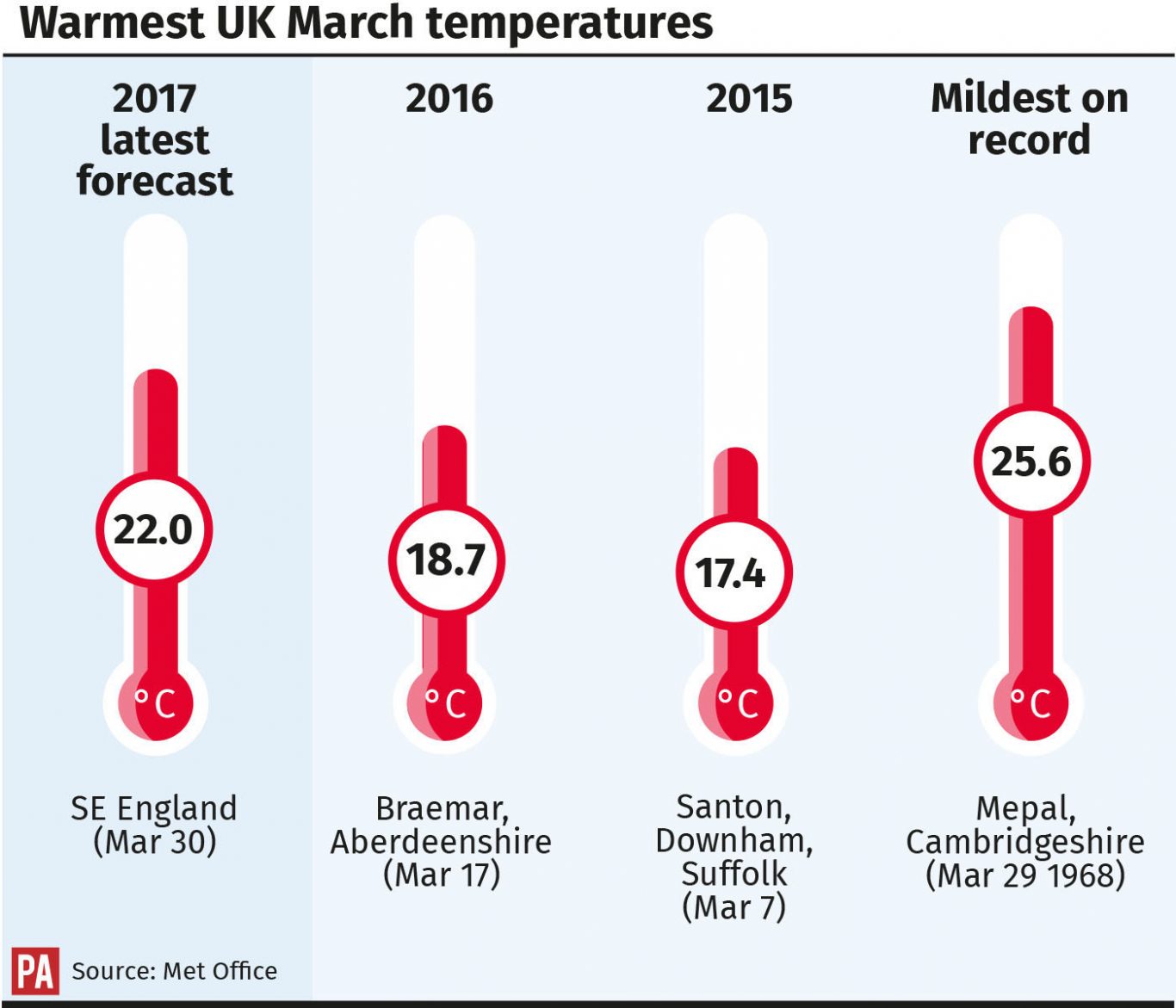 This is hotter than the highest temperatures estimated for popular holiday hotspots including the Balearics island Ibiza, Barcelona in Spain (both 19C/ 66.2F) and Nice in France (18C/ 64.4F), and Istanbul in Turkey (17C/ 52.6F).
The warmest spots were all around London, with temperatures of just over 21C (69.8F) recorded in Heathrow, High Beach, in Epping Forest, and St James's Park in the centre of the capital in the afternoon.
But the highs are unlikely to beat the record for the warmest-ever March which was set in 1968, when a high of 25.6C (78F) was recorded in Mepal, Cambridgeshire.
Temperatures so far this month have peaked at 19.9C (67.8F), measured at Aviemore in the Scottish Highlands on Sunday.
This is already higher than the maximum temperature reported by the Met Office for March last year (18.7C/65.7F) and March 2015 (17.4C/63.3F).
Met Office spokeswoman Nicola Maxey said: "We've got some warm air coming in from the continent, which is clipping the south-east corner of the UK, so we're seeing some temperatures certainly in the high teens away from that corner, but it's only London and parts of East Anglia reaching these higher temperatures over 20C (68F)."
Not everywhere in the UK is soaking up the sun, however, with heavy showers in parts of North Wales and Northern England, and thunder in Londonderry, Northern Ireland.
Overnight will stay mild, with much of the country including Northern England seeing temperatures staying in double figures as the sun dips.
Friday will be cooler, dropping to high-mid teens, but still reaching above-average temperatures for most of the country. The end of March typically feels a good deal chillier at just 13C (55.4), which is likely to be the case in Glasgow, Scotland.
While there will be sunny spells on Friday, bands of rain in Northern Ireland and Scotland are expected to move north-eastwards across the country, with possible showers in the south-west in the afternoon.
But April, known for its showers, could get off to a rockier-than-usual start, with heavy patches of rain, which could include thunder and hail, expected to fall over much of the country on Saturday.