Theresa May has said she will maintain Britain's commitment to spending 0.7% of national income on foreign aid if the Conservatives win the general election.
The Prime Minister said the pledge "remains and will remain" and that she is proud of the work the UK is doing abroad, for example in helping to tackle the Ebola crisis in Africa or supporting Syrian refugees.
She stressed the need to ensure the money is spent "in the most effective way" but her comments end speculation that she was prepared to drop the commitment from the Tory election manifesto.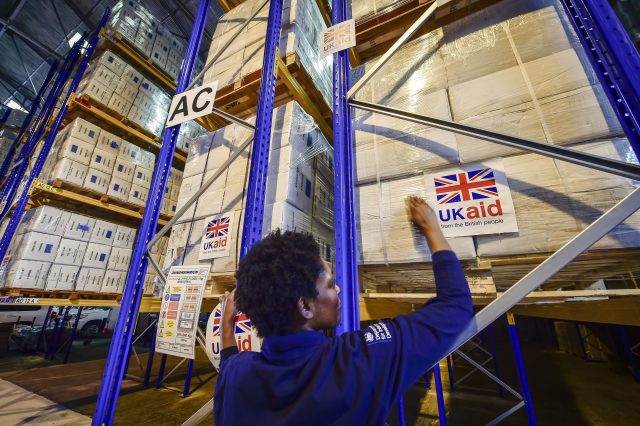 Answering questions from reporters during a visit to a toothpaste factory in her Maidenhead constituency, the PM said: "Let's be clear, the 0.7% commitment remains and will remain.
"What we need to do though is to look at how that money is spent and make sure that we are able to spend that money in the most effective way.
"I am very proud of the record that we have, of the children around the world who are being educated as a result of what the British Government, the British taxpayer is doing in terms of its international aid.
"The ability that we had to be able to help in the Ebola crisis, the work that we've been doing supporting Syrian refugees – I was in Jordan a couple of weeks ago in a school meeting some youngsters who are being given a good quality education – that's one of the things the United Kingdom is providing.
"So I'm very proud of the record that we have, we maintain that commitment but we have to make sure we're spending that money as effectively as possible."
The PM had been under pressure from some Tories to abandon the commitment, enshrined in law with the backing of her predecessor David Cameron, when she produces her election manifesto.
But after pressure from Microsoft co-founder and philanthropist Bill Gates, a group of charities including Save the Children, Unicef and Oxfam, and the former Archbishop of Canterbury Rowan Williams, Mrs May pledged to stick to the commitment.
Dr Williams, now chair of Christian Aid, said that the UK's aid budget was "a badge of honour", and that the decision on its future would play an important part in determining whether the country was viewed as "Little Britain" or "Global Britain" after Brexit.
Liberal Democrat former international development minister Baroness Featherstone said Mrs May must now commit to the OECD's definition of the 0.7% target and what constitutes "official development assistance".
"Theresa May has bowed to Lib Dem pressure, but we must ensure that the Tories are committed to current OECD guidelines on aid, and don't erode the commitment by the back door," she said.
"It was the Liberal Democrats in coalition that successfully made the case for a ring-fenced aid budget, ensuring that the UK acted with charity and compassion towards the poorest people in the world.
"We will continue to support this commitment and fight for a Britain which is open, tolerant and united."