New homes in South Yorkshire will be demolished after the Government confirmed the route of HS2.
Properties on the Shimmer housing estate in Mexborough will be bulldozed to make way for the high-speed railway, the Department for Transport (DfT) said.
Residents will lose their homes because ministers decided the line should serve the existing Sheffield city centre station after proposals to run trains to Meadowhall shopping centre were shelved.
Labour's Rotherham MP Sarah Champion said she was "furious" because South Yorkshire "won't get a proper stop".
The DfT said 16 properties on the Shimmer estate will be demolished.
Some respondents to a Government consultation had argued that the plans should take into account all 216 homes originally planned at the site.
Transport Secretary Chris Grayling's decision on the route from Crewe to Manchester and Birmingham to the East Midlands and Leeds confirms six of the seven changes included in the November consultation.
Mr Grayling decided not to proceed with a proposal to move the line to the east of Measham, Leicestershire.
The railway will run to the west of the village with a viaduct extended to mitigate the impact on commercial properties.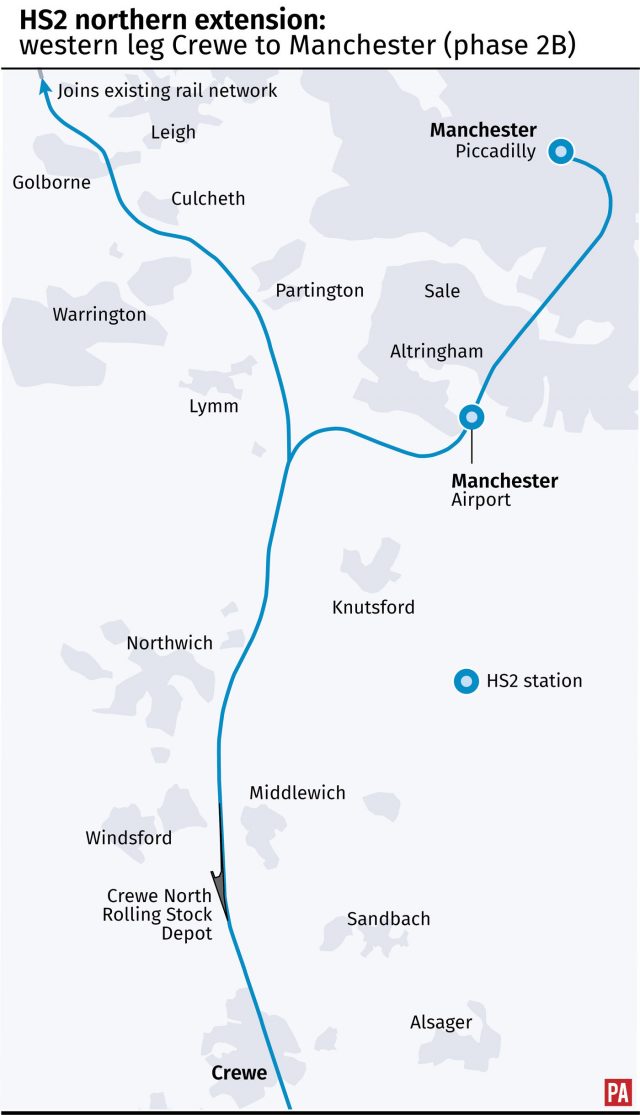 The route decision means no new stations will be built in South Yorkshire.
HS2 trains will serve Sheffield by running along a spur on existing track into the city's main station and then out again to eventually rejoin the high-speed line.
Former Labour leader Ed Miliband accused Mr Grayling of a "gross discourtesy" as the route announcement was confirmed in a written policy paper when he had been expected to come to the despatch box and make a statement to Parliament.
Troubled construction giant Carillion is among the firms awarded contracts for building the first phase of the railway.
The deals are worth £6.6 billion in total and will see tunnels, embankments and viaducts constructed between London and Birmingham.
A number of foreign firms were successful in bidding for the work, including Swedish-based Skanska, French company Bouygues Travaux and Austria's Strabag.
The contracts are estimated to support 16,000 jobs.
A partnership featuring Carillion has been commissioned for two of the projects.
The firm suffered a dramatic collapse in its share price last week after announcing a profit warning which saw almost £600 million wiped from its value.
Mr Grayling said: "Britain's new railway line will bring huge economic benefits across the country and help ensure this Government delivers on its promise to spread wealth beyond London and the South East.
"But as well as creating skilled jobs, apprenticeships and business opportunities, it will also mean real day-to-day improvements for people across the country.
"By building a whole new railway line for high-speed intercity connections, we will free up local services, meaning more comfort, more seats and more trains for passengers across the North and the Midlands.
"We will now press ahead with building the line, while continuing to ensure affected communities get appropriate support and are treated with fairness, compassion and respect."