US President Donald Trump looked like "a delighted child" as he was pictured alongside the Queen inside Windsor Castle, a body language expert has said.
Judi James said the American leader appeared to be unable to contain his excitement at meeting the monarch in her historic royal residence.
Mr Trump was pictured grinning broadly, next to the head of state in the castle's Grand Corridor, outside the Oak Room, with first lady Melania Trump on the other side of the royal host.
The president, whose visit to Windsor Castle lasted 57 minutes – 17 more than expected – kept his jacket unbuttoned.
Ms James said: "He does actually look like a Madame Tussauds model with his arms down and the grin on his face.
"He's not trying to be cool at all. He's obviously showing that he's utterly delighted to be there with the Queen.
"He looks like a delighted child."
The body language expert said the American president also appeared to be trying to feign confidence when he inspected the guard of honour with the Queen.
"He had this slightly swaggering walk with his jacket open," Ms James said.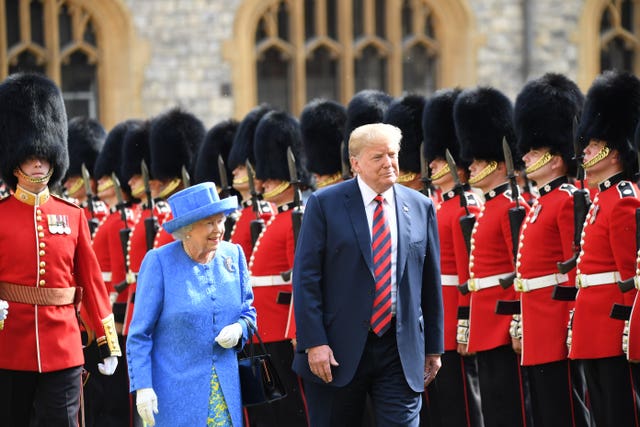 "It was a little bit like someone who is trying to feign confidence in a situation where they're probably not actually feeling any."
As the Queen and Mr Trump walked across the lawn of the quadrangle to view the soldiers, the monarch appeared to gesture and point several times for the president to move closer to the front line of red-tuniced soldiers.
Mr Trump moved slightly closer, but then stood still in front of the Queen, meaning the monarch had to navigate her way around him so they could walk side by side.
"It was quite amusing. She almost had to dance around him," Ms James said.
"He did literally eclipse her, but I don't think that was deliberate.
"I think he just didn't quite know what he was supposed to be doing and probably wondered where she had got to at that moment."
Mr Trump also displayed hand movements of "suppressed dominance" as he tried to steer the Queen.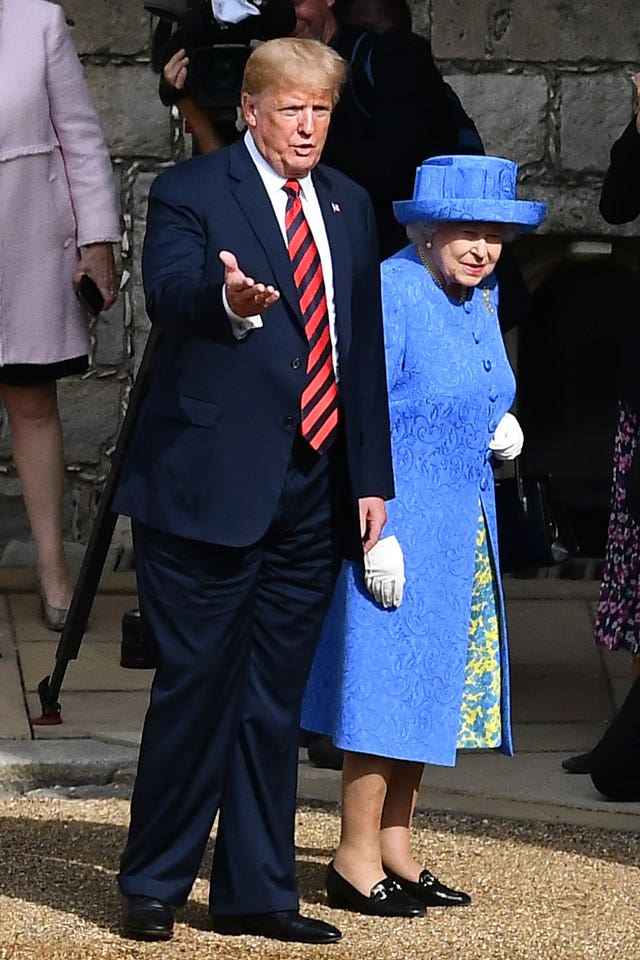 Ms James said: "He kept using steering gestures, which is where you put your hand out, palm up, almost as though he felt that he should take control and show her where she should go.
"I suppose this was him trying to be charming.
"You could see that suppressed dominance where he felt that he had to still motion to her.
"He did that with Theresa May at Chequers, motioning her through her own door first."
The Queen escaped any extended hand-holding, faced in the past by world leaders such as the Prime Minister and French President Emmanuel Macron.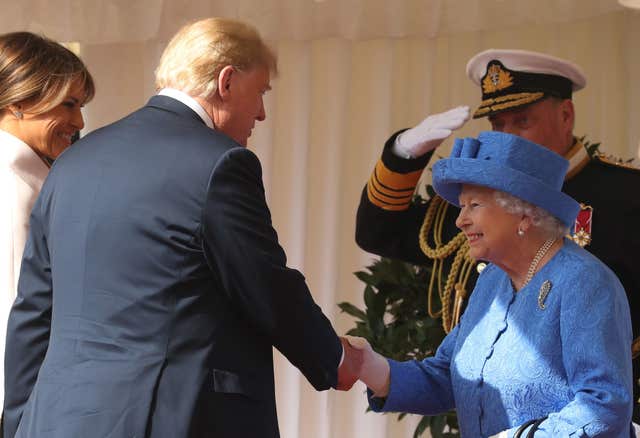 Mr Trump, who is known for clasping visitors' hands and pulling them towards him, shook the monarch's hand briefly, and did not bow at the same time.
The Queen, who has entertained all manner of world leaders during her 66-year reign, was described as the "perfect host".
Ms James said: "She looked very polite. I've seen her recently chuckling and chortling quite a lot and she didn't particularly go into that mode."
She added: "She was the perfect host as always.
"The Queen's body language – she's done it so many times before – it's all there in the muscle memory so any personal feelings never, ever emerge."