The Westminster terror attack has claimed its fourth innocent victim, as police confirmed that a 75-year-old man has died in hospital.
A Scotland Yard spokesman said: "The man had been receiving medical treatment in hospital following the attack and life support was withdrawn this evening.
"Next of kin have been informed and are receiving support from specially trained family liaison officers."
The attacker who brought terror to the streets of the capital has been named as Khalid Masood and detectives investigating Wednesday's attacks on Westminster Bridge and at the Houses of Parliament said they had arrested three women and five men on suspicion of preparing terrorist acts.
The suspects were held in raids in London and Birmingham as neighbours of Masood, a 52-year-old with a string of criminal convictions including possession of a knife, spoke of their shock.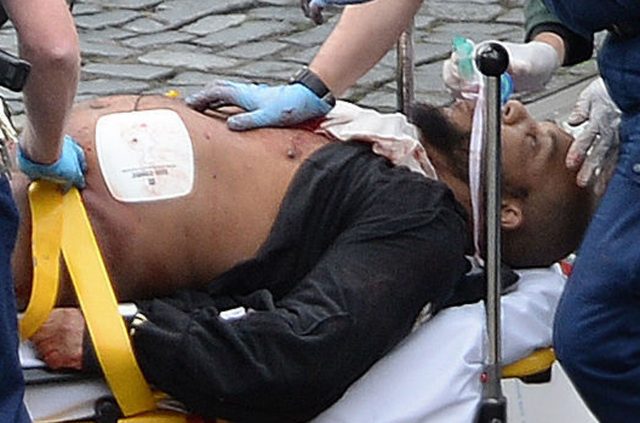 Three people were killed when the knife-wielding attacker ploughed a car through pedestrians on Westminster Bridge, before storming the Parliamentary estate. He was shot dead.
Unarmed Pc Keith Palmer died after being stabbed at the Houses of Parliament.
The Westminster Bridge victims include a US tourist from Utah who was celebrating his wedding anniversary and a "highly regarded and loved" member of college staff.
Kurt Cochran and his wife, Melissa, on the last day of a trip celebrating their 25th anniversary, were visiting her parents, who are serving as Mormon missionaries in London. Mrs Cochran was badly injured.
Aysha Frade, who worked in administration at independent sixth-form school DLD College London, in Westminster, is understood to have been 43 and married with two daughters.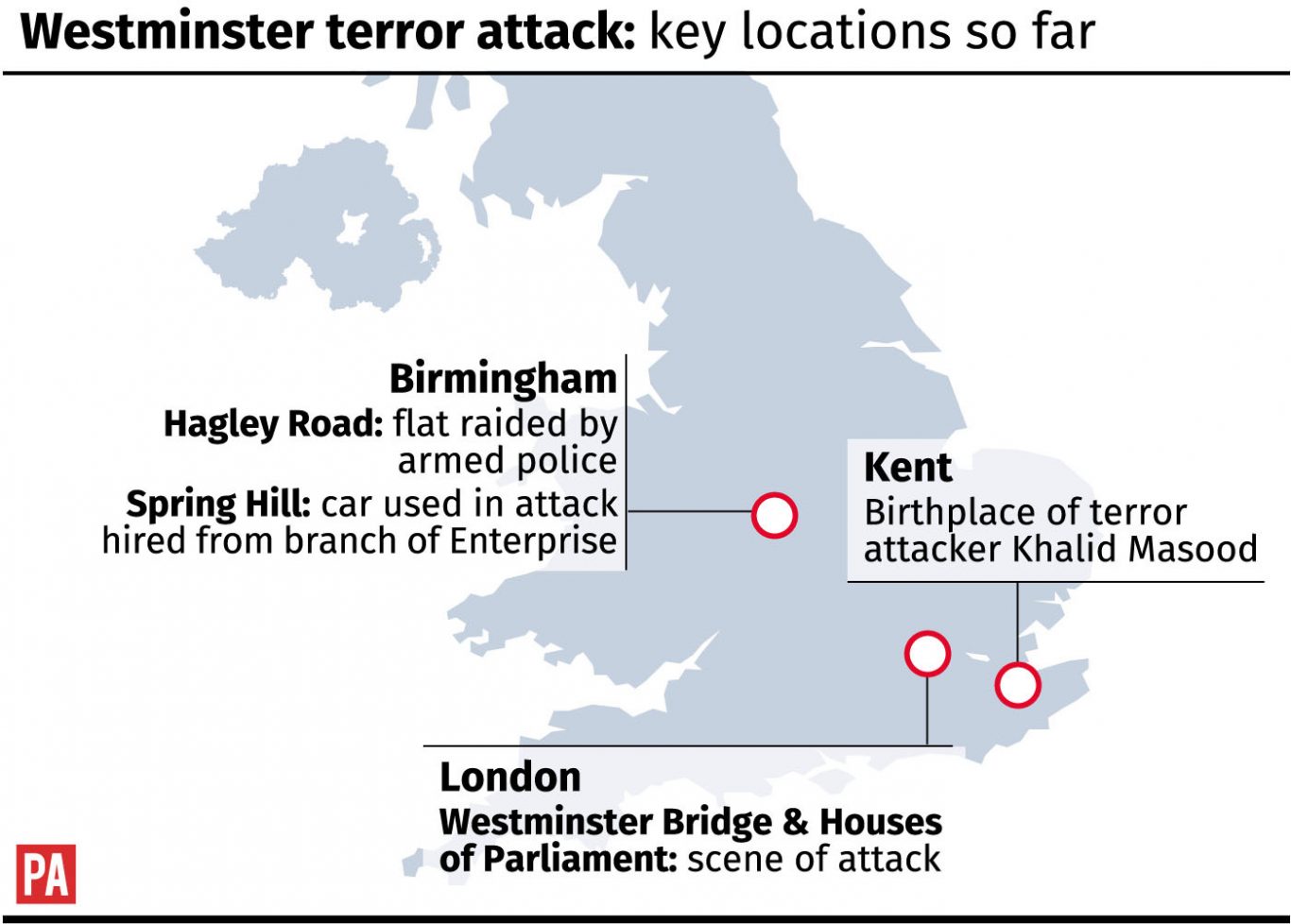 Scotland Yard said Masood was not the subject of any current investigations before Wednesday's outrage and there was "no prior intelligence about his intent to mount a terrorist attack".
However, he was known to police and MI5 and had convictions for assaults, including GBH, possession of offensive weapons and public order offences.
Masood was born in Kent on Christmas Day in 1964 and detectives believe he was most recently living in the West Midlands. He was also known by a number of aliases.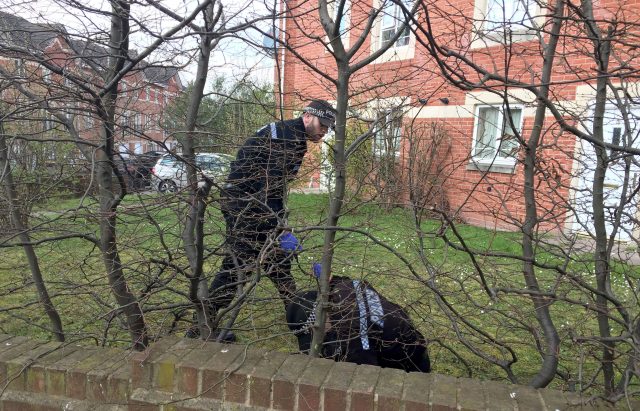 One former neighbour, Iwona Romek, speaking in Winson Green, Birmingham, said she could not believe her eyes when she realised the man who had lived near her was the man responsible for the attack.
She said: "Now I'm scared that someone like that was living close to me."
In Trafalgar Square, crowds gathered for a candlelit vigil in memory of the victims on Thursday evening.
They had responded to a personal invitation by London mayor Sadiq Khan to come together in solidarity and sympathy.
In praise of the bravery of the emergency services responding to the attack, the mayor said: "When Londoners face adversity we always pull together. We stand up for our values and we show the world we are the greatest city in the world."
Earlier Prime Minister Theresa May disclosed the terrorist was British-born and was once investigated in relation to concerns about violent extremism some years ago, but was a "peripheral figure".
Home Secretary Amber Rudd defended the security and intelligence agencies, saying: "The fact that he was known to them doesn't mean that somebody has 24-hour cover."
She disclosed Masood had spent time in jail, but said it was not for terrorist-related offences.
The Prime Minister addressed MPs as they gathered at the usual time inside the Palace of Westminster.
In a defiant message to a packed House of Commons, Mrs May said: "We will never waver in the face of terrorism."
Paying tribute to Pc Palmer, she said: "He was every inch a hero and his actions will never be forgotten."
The officer's family described him as "brave and courageous", saying his friends and relatives are "shocked and devastated".
Meanwhile, Islamic State made its first public pronouncement since the atrocity, claiming in a statement: "The attacker yesterday in front of the British Parliament in London was a soldier of the Islamic State executing the operation in response to calls to target citizens of coalition nations."
Commentators pointed out the terror group has a record of opportunistically claiming attacks and said it was significant the statement did not appear to claim it had directed the strike.