A child has been found alive under the rubble of a collapsed Mexico City school following a 7.1 magnitude earthquake which killed 225 people across Mexico.
The girl was found by rescuers in the debris at the Enrique Rebsamen school in a southern area of the capital.
Foro TV reported that rescuers spotted the child and shouted to her to move her hand if she could hear them, which she did. A search dog subsequently entered the wreckage and confirmed she was alive.
The chief of Mexico's national civil defence agency said 225 people are known to be dead following the tremor on Tuesday.
Luis Felipe Puente said in a tweet that 94 are confirmed dead in Mexico City, 71 in Morelos state, 43 in Puebla, 12 in the State of Mexico, four in Guerrero and one in Oaxaca.
Tuesday's quake struck on the 32nd anniversary of a 1985 tremor that killed thousands. Just hours before it hit, people around Mexico had held earthquake drills to mark the date.
At the Rebsamen school, a wing of the three-storey building collapsed.
Journalists saw rescuers pull at least two small bodies from the rubble, covered in sheets.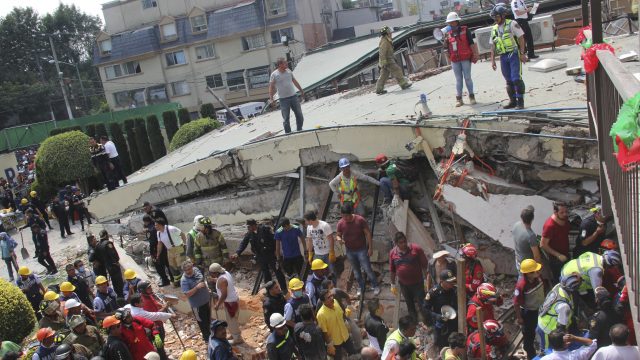 Volunteer Dr Pedro Serrano managed to crawl into the pile of rubble. He made it into a classroom, but found all of its occupants dead.
He said: "We saw some chairs and wooden tables. The next thing we saw was a leg, and then we started to move rubble and we found a girl and two adults – a woman and a man.
"We can hear small noises, but we don't know if they're coming from above or below, from the walls above (crumbling), or someone below calling for help."
The federal Education Department reported late Tuesday that 25 bodies had been recovered from the school's wreckage, all but four of them children.
It is not clear whether those deaths were included in the overall death toll of 225 reported by the federal civil defence agency.
Mexican president Enrique Pena Nieto had earlier reported 22 bodies found and said 30 children and eight adults were reported missing.
Mr Pena Nieto urged people to be calm and said authorities were moving to provide help as 40% of Mexico City and 60 percent of nearby Morelos state were without power.
But, he said, "the priority at this moment is to keep rescuing people who are still trapped and to give medical attention to the injured people".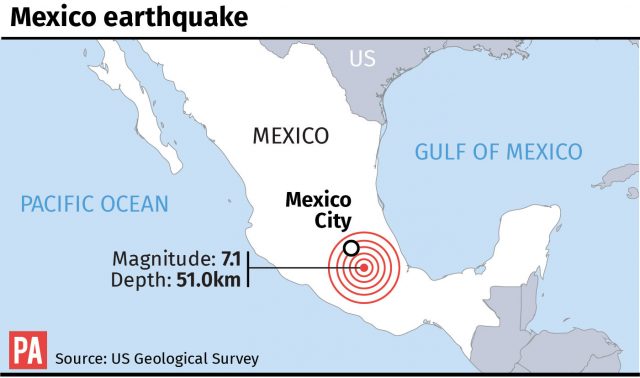 People across central Mexico already had rallied to help their neighbours as dozens of buildings tumbled into mounds of broken concrete.
Mexico City mayor Miguel Angel Mancera said buildings fell at 44 sites in the capital alone as high-rises across the city swayed and twisted and hundreds of thousands of panicked people ran into the streets.
The huge volunteer effort included people from all walks of life in Mexico City, where social classes seldom mix. Doctors, dentists and lawyers lined up alongside with construction workers and street sweepers, handing buckets of debris or chunks of concrete hand-to-hand down the line.
Mr Mancera said 50 to 60 people were rescued by citizens and emergency workers in the capital.
The official Twitter feed of civil defence agency head Luis Felipe Puente said 94 dead had been counted in Mexico City and 71 in Morelos state, which is just south of the capital.
It said 43 were known dead in Puebla state, where the quake was centred. Twelve deaths were listed in the State of Mexico, which borders Mexico City on three sides, four in Guerrero state and one in Oaxaca.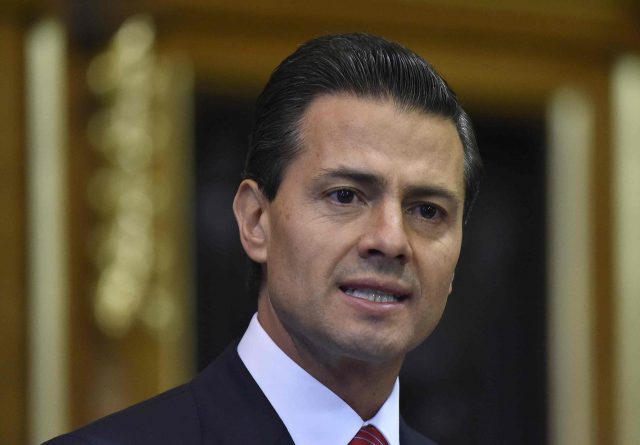 At the site of a collapsed apartment building in Mexico City, rescuers worked atop a three-story pile of rubble, forming a human chain that passed pieces of rubble across four city blocks to a site where they were dumped.
Throughout the day, rescuers pulled dust-covered people, some barely conscious, some seriously injured, from about three dozen collapsed buildings. At one site, shopping trolleys commandeered from a nearby supermarket were used to carry water to the rescue site and take rubble away.
As night fell, huge floodlights illuminated the recovery sites, but workers and volunteers begged for headlamps.
Buildings also collapsed in Morelos state, including the town hall and local church in Jojutla near the quake's epicentre. A dozen people died in Jojutla.
The town's Instituto Morelos secondary school partly collapsed, but school director Adelina Anzures said the earthquake drill held in the morning came in handy.
"I told them that it was not a game, that we should be prepared," Ms Anzures said of the drill.
When the quake came, she said, children and teachers rapidly filed out and nobody was hurt.
The US Geological Survey said the magnitude 7.1 quake hit was centred near the Puebla state town of Raboso, 76 miles south-east of Mexico City.
Much of Mexico City is built on former lakebed, and the soil can amplify the effects of earthquakes centred hundreds of miles away.
The quake appeared to be unrelated to the magnitude 8.1 quake that struck on September 7 off Mexico's southern coast and also was felt strongly in the capital.
US Geological Survey seismologist Paul Earle noted the epicentres of the two quakes were 400 miles apart, and said most aftershocks are within 60 miles.