CES, the largest consumer technology show in the world, has been taking place in Las Vegas this week.
At the annual event, the biggest names in tech exhibit upcoming products for the next year, while other companies - from established brands to start-ups, show off exciting prototypes of new robots and gadgets.
We've worked the floor and gathered together some of the more out-there and crazy devices that have hit CES 2018.
[Read more: The electronic glove prototype that restores hand function]
A Scrabble-playing robot
First they took over the smart home, now the robots are after Scrabble #CES2018 pic.twitter.com/uPXuf04Rmj

— Martyn Landi (@MartynLandi) January 10, 2018
The Industrial Technology Research Institute (ITRI) showed off a novel use of their companion robot range – as a Scrabble opponent.
The robot can distinguish between different letters and words and can also perceive distances between the special cube-shaped Scrabble tiles.
"Companion robots can offer more you think," the research and development company claims, and says they integrate artificial intelligence, 3D vision and eye-hand coordination.
[Read more: Could you outwit this Scrabble-playing robot?]
A desk and exercise bike combo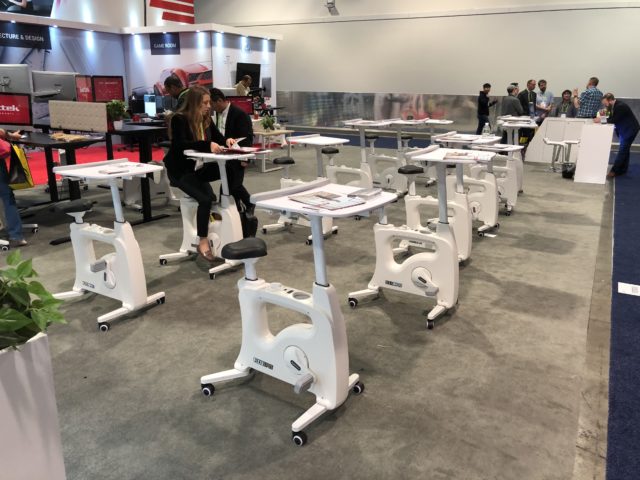 Ever feel sluggish after spending a day slouched over your computer? Then Deskise Pro V9 is offering an alternative to sitting down all day with this combination of worktop and exercise bike.
The desk, which takes the place of regular handlebars, is large enough to hold a laptop, is portable, and incorporates a small display so you can keep track of your exercise and see how well you're doing as you pedal.
[Read more: Four incredible pieces of technology for 2018]
Sony's adorable robotic dog
Aibo has already won CES pic.twitter.com/OThjnOCyrp

— Martyn Landi (@MartynLandi) January 9, 2018
A hit at CES was Sony's particularly cute robotic dog, Aibo. It's not the first time Aibo has made an appearance, as it was originally launched in 1999, but this edition certainly made an impression.
There's no word on whether the new Aibo will make it to the UK, but the company has opened pre-orders for the dog in Japan.
[Read more: Watch Sony's adorable robotic dog, Aibo]
Drones that act as fireworks
At an iconic spot in the heart of the city's famour Strip, fleets of light-wielding mini-drones set up a display that looked just like fireworks.
Intel's Shooting Stars carry coloured LED lights and use special location technology to stay in formation to form a beautiful display over the Bellagio fountain.
[Read more: Fleets of drones could replace fireworks]
A mirror that offers health advice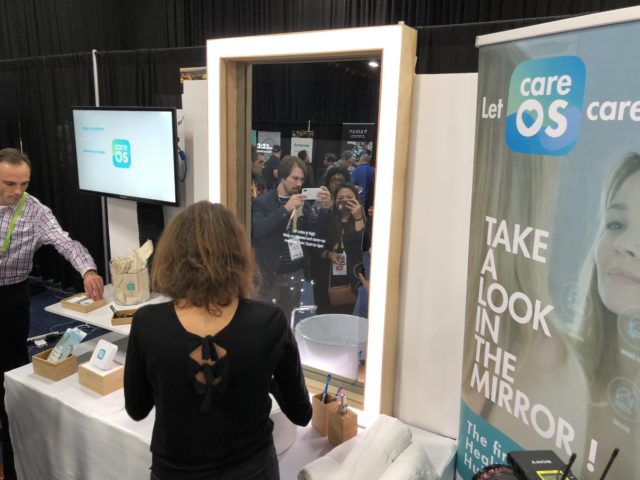 The Care OS Smart Mirror uses facial recognition and gesture controls to offer health tips for skin as well as act as a smart device to take selfies and play music.
While it's still in development, the company is hoping to incorporate the mirror into the "smart bathroom of the future".
[Read more: 5 robot inventions to watch out for in 2018]
A robot to fold your laundry
FoldiMate, a California-based start-up company, has built a robot whose main purpose is to fold your freshly laundered items of clothing. Sounds like the ideal solution to a boring household chore.
After demonstrating the device at the International Consumer Electronics Show (CES) in Las Vegas last year, FoldiMate is now taking pre-orders on the latest model. The first shipment is due in late 2019, with the target price of $980 (£724).
Great news for households everywhere.
[Read more: Hate folding your laundry? There's a robot who'll do it for you]