"Fake news" has been named Collins Dictionary's official Word of the Year for 2017 on Thursday (1 November), with its usage having risen by 365% since 2016.
Facebook is one of the tech companies that has been introducing tools this year to help its users spot fake news stories posted to the social networking site.
[Read more: How to find Facebook's explore feed]
In April, a new prompt appeared at the top of the app's News Feed entitled "How to spot false news", which will offer users tips and advice on how to recognise fake news stories and prevent them from spreading.
Facebook says it has worked in consultation with news literacy and fact-checking organisations, including Full Fact in the UK, to create the new guidance.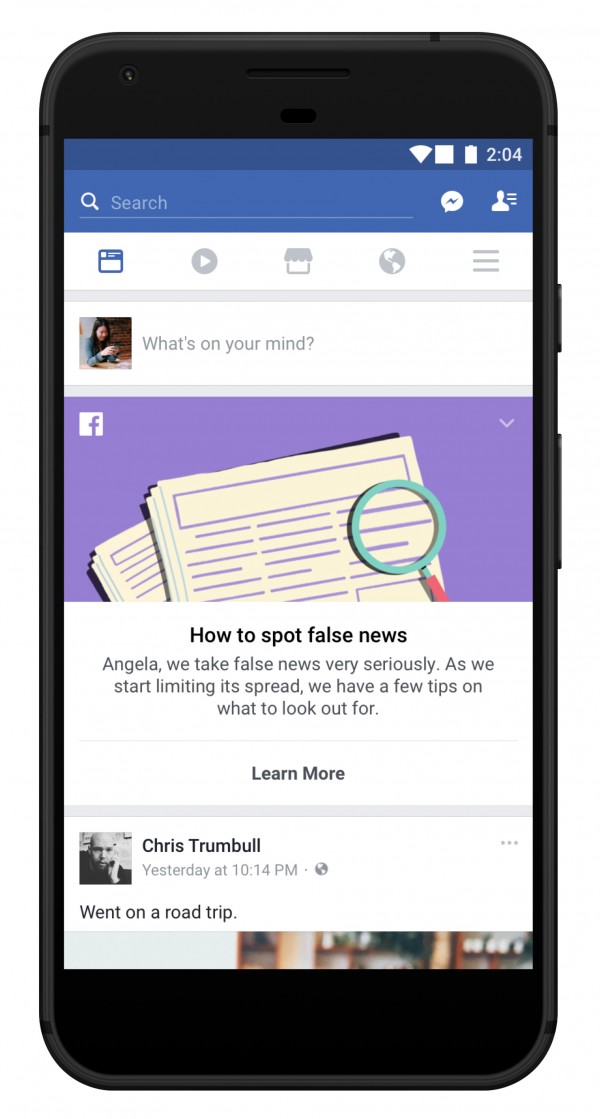 Users will be told to check the web address of a site posting a story, investigating the source and to look for other reports on the same topic as part of the new list of tips, which you can check out below.
Adam Mosseri, the social network's News Feed boss, said: "We know people want to see accurate information on Facebook – and so do we.
"False news is harmful to our community, it makes the world less informed, and it erodes trust. It's not a new phenomenon, and all of us – tech companies, media companies, newsrooms, teachers – have a responsibility to do our part in addressing it."
Facebook founder Mark Zuckerberg defended the platform following the US election in November when it was claimed by some that the presence of fake news stories surrounding Hillary Clinton and Donald Trump could have influenced some voters.
"Of all the content on Facebook, more than 99% of what people see is authentic. Only a very small amount is fake news and hoaxes," he said.
"That said, we don't want any hoaxes on Facebook. Our goal is to show people the content they will find most meaningful, and people want accurate news. We have already launched work enabling our community to flag hoaxes and fake news, and there is more we can do here."
[Read more: 7 reasons why fake news goes viral, according to experts]
Facebook's tips for spotting fake news
Be sceptical of headlines: False news stories often have catch headlines in all caps with exclamation points. If shocking claims in the headlines sound unbelievable they probably are.
Look closely at the URL: A phony or look-alike URL may be a warning sound of false news. Many false news sites mimic authentic news stories by making small changes the URL. You can go to the site to compare the URL to established sources.
Investigate the source: Ensure that the story is written by a source you trust with a reputation for accuracy. If the story comes from an unfamiliar organisation, check their 'About' section to learn more.
Watch for unusual formatting: Many false news sites have misspellings or awkward layouts. Read carefully if you see these signs.
Consider the photos: False news stories often contain manipulated images or videos. Sometimes the photos may be authentic, but taken out of context. You can search for the photo or image to verify where it came from.
Inspect the dates: False news stories may contain timelines that make no sense, or event dates that have been altered.
Check the evidence: Check the author's sources to confirm they are accurate. Lack of evidence or reliance on unnamed experts may indicate it is a false news story.
Look at other reports: If no other news source is reporting the same story, it may indicate that the story is false. If the story is reported by multiple outlooks you trust, it's more likely to be true.
Is the story a joke? Sometimes false news stories can be hard to distinguish from humour or satire. Check whether the source is known for parody and whether the story's details and tone suggest it may just be for fun.
Some stories are intentionally false: Think critically about the stories you read and only share news you know to be credible.
[Read more: Fake news? You'll never believe what Collins has chosen as Word of the Year]