Facebook is promoting paid-for hoaxes about Lord Sugar, Professor Stephen Hawking and the Queen to their users despite recent promises to crack down on fake news, a Press Association investigation has found.
The world's biggest social network was found to be taking money from hoaxers who place the misleading adverts in the right column of newsfeed, where it is less clear to users how to block or report them.
When made aware of the hoax adverts, a Facebook spokesman said the company works "constantly to reduce any type of misinformation".
One such advert claims Apprentice star Lord Sugar was "out of control" and featured an apparently manipulated picture of the Amstrad founder with bruises on his face.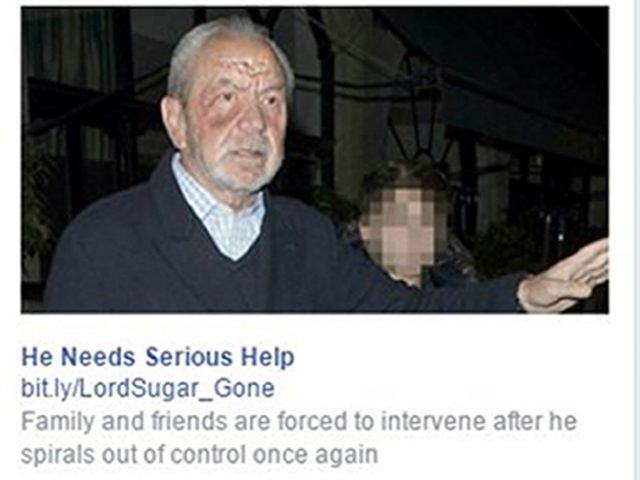 Facebook users who clicked the advert were taken to a page made to look like The Sun newspaper website, in which Lord Sugar is quoted as supporting a money-making scheme.
"The claims made in these advertisements are baseless and entirely false," said Andrew Bloch, Lord Sugar's spokesman, adding that the business magnate is aware of the adverts and is working on "legal remedies".
The advertised scheme promises earnings of 50,000 dollars to 200,000 dollars (£39,950 to £159,900) per week and uses stock footage of a high-flying lifestyle and actors in its promotional material. It has been widely derided as a scam by internet users.
The discovery of the adverts comes as the social network makes high-profile efforts to tackle misinformation on the platform.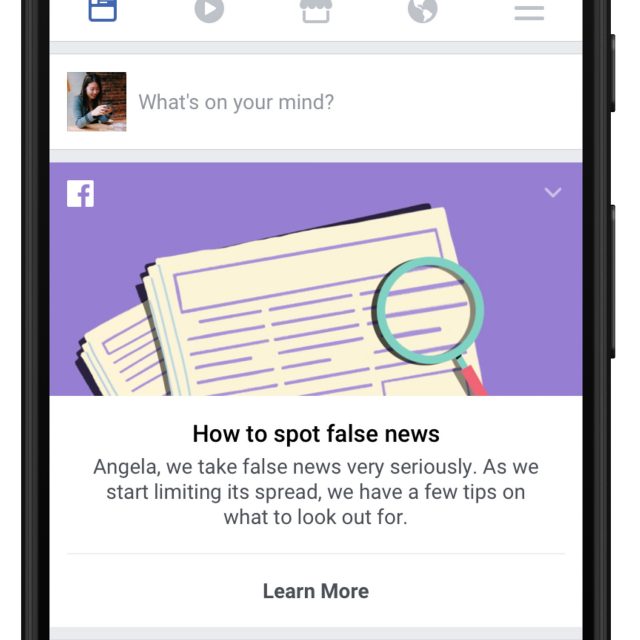 Last week the network unveiled another new initiative in a "multi-pronged strategy" to tackle the issue – offering users advice for spotting hoaxes that appear in their newsfeeds.
The site has relied heavily on reporting from users, and allows them to flag up stories they believe to be false by clicking a button on the post. However, this functionality is not mirrored on the "sponsored" section of the site, where users have to hover over the post to be given the opportunity to remove them.
The issue of "fake news" has dogged Facebook in recent years and the 2016 US election, which spurred a cottage industry of hoax websites and articles, brought the issue of online misinformation to the world's attention.
At the time, a Facebook spokesman reiterated the network's promise to stop hoaxers promoting false information using the platform's advertising network, which places adverts on external websites. But anyone can pay Facebook through an automated system, select a target demographic from Facebook's 1.9 billion users and promote any content they wish at a low cost.
Another hoax advertisement recently promoted in Facebook's "sponsored" section claims "The Queen Has Died".
The accompanying web address takes users to a page made to look like Facebook, and text which urges users to call a phone number or risk having their computer infected with a virus. The phone number and page have been flagged as a scam in numerous online forums.
Thomas Barton, a retired associate professor of nursing from Swansea, said he has seen multiple versions of the celebrity death hoax advertisement, featuring Prof Stephen Hawking and the actor Hugh Laurie.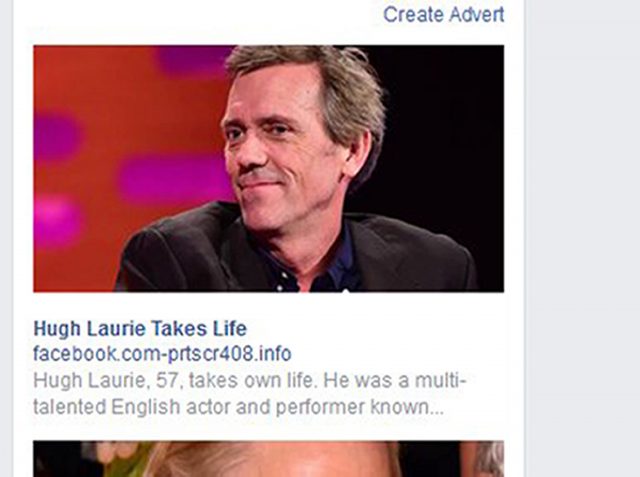 He told the Press Association: "Facebook is such a lot of fun and it's such a nice social media tool. But every time, there you are, you've got all these pictures of famous people who have allegedly died who patently haven't. I just think, surely, if they can manage to remove pictures of breast-feeding women, can't they get rid of these?"
Responding to the Press Association, Facebook said it has now removed the adverts and disabled the accounts of the uploaders.
"People want to see accurate, authentic information on Facebook, and we want that too," a spokesman for Facebook told the Press Association. "Misinformation and hoaxes of any kind harm our community. We take immediate action when we discover advertisers attempting to serve misleading links to people."