An amazing ring that connects to instruments and allows musicians to control sound effects with hand gestures has passed its fundraising target on Kickstarter.
The ring, called Neova, is designed to be worn on the index finger of the musician's right hand. The musician then uses specific movements which trigger sound effects while performing, such as vibrato and pitch bends.
[Read more: 3D audio - discover the immersive technololgy that will change the way you experience sound]
Neova uses nine motion sensors which have gesture recognition algorithms. The sensors can detect five different gestures that control the music being played, two of which are performed without even touching the instrument. Check out the video below to find out more.
Damien Le Boulaire, Enhancia's co-founder and CEO, said: "As a musician, I believe that emotion is the purpose of each melody. In musical performance, subtlety is a key. Every intention, every micro-gesture should be captured to reflect the intensity of your feeling as truthfully as possible.
"We imagined Neova with the simple idea of creating the shortest path between your musical intention and music creation.
"We imagined an interface that would not replace an instrument, but will rather complete an instrument, an interface that interprets each micro gesture to give them meaning, Neova."
Neova comes with a hub that connects via USB to a computer or Musical Instrument Digital Interface (MIDI) with instruments that support it.
[Read more: Streaming video and music - what is it and how does it work?]
The movements a musician makes are sent from the ring to the hub, which works with every major digital audio workstation to create sound effects.
This means as long as an instrument supports MIDI, the musician can wear the ring and control synths, keyboards or even guitar pedals.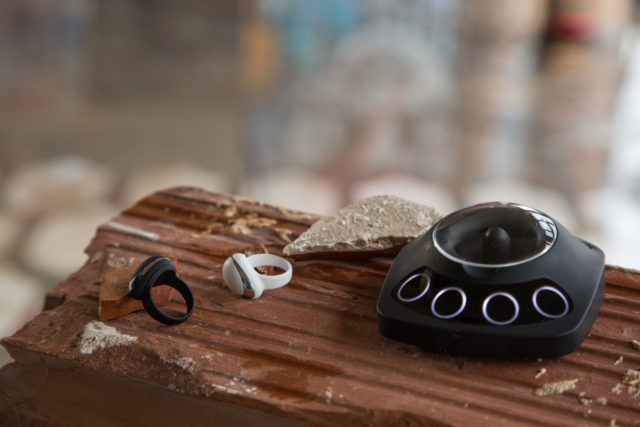 Fully funded in just six hours, the company has smashed its €50,000 (around £43,000) goal by more than €16,000 (around £14,000).
Le Boulaire said: "We're overwhelmed with the support we received."
The company is currently offering discounts on its product for Kickstarter backers, with the cheapest option at €210 (around £185). Delivery is expected in March 2019.
Read more: Make your music mobile with these downloading and streaming services