A space exploration collection is set to go on sale at auction – including Apollo space craft parts.
Space expert Phill Parker has decided to part with his entire lifelong collection, which includes nearly 200 lots of memorabilia.
[Read more: Pretend to be an astronaut with Nasa's new selfie app]
Among the items going up for sale at Derbyshire's Hansons Auctioneers are an Apollo space craft power sub assembly, space shuttle cables, an Apollo on board grapefruit and pineapple drink tube and a MIR international space suit.
The collection also boasts autographs from American and Russian astronauts including the first man on the Moon Neil Armstrong and fellow moon-walker Buzz Aldrin – as well as a bottle of space white wine autographed by Russian cosmonauts.
Award-winning spaceflight writer Mr Parker said: "As I approach my 72nd birthday, I believe it's time to ensure my collection of historic spaceflight hardware items and paper documents will continue to be utilised to record the first golden age of space exploration by auctioning to interested parties.
"My interest in spaceflight began around 1952 when I started borrowing library science books. I read about guided missiles and ICBM rockets being developed for the Cold War and fictional stories of human adventures at futuristic Moon or Mars bases, which excited me.
"I've written dozens of major spaceflight articles for magazines and journals including covering the historic Apollo Man-on-the-Moon project in the mid-1960s to early 1970s and the early space station programmes.
"I've interviewed most of the Apollo Moon astronauts including Neil Armstrong, Buzz Aldrin, Gene Cernan, Charlie Duke and many others."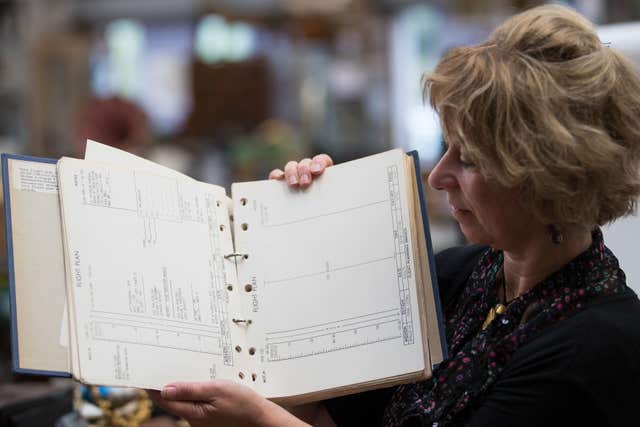 The 71-year-old from Newcastle-under-Lyme, Staffordshire, continued: "The space memorabilia I've amassed has come from many sources. For instance, Apollo computer hardware designer Eldon Hall, together with several engineers in Houston, was rebuilding an Apollo computer from spare parts in the late 1990s.
"They offered me Apollo computer spare parts, like the rope and logic modules in this auction. Also, when I was researching the Apollo computer article, I contacted dozens of NASA and MIT software engineers and amassed documents about the computer. Some are in the sale.
"I am still promoting spaceflight and the exploration and the utilisation of space for the benefit for humanity.
He added: "I hope to live long enough to witness a return of human beings to the Moon's surface and I have my fingers crossed for a manned landing on Mars."
Owner of Hansons Auctioneers Charles Hanson said: "Space fans will be over the Moon about this – a rare, if not unique, opportunity to buy extraordinary items connected to space exploration.
"The world is fascinated by all things celestial and, thanks to Mr Parker's passion for his subject and privileged position as a member of the press, his collection is astonishing."
"This man is held in such high esteem by the space fraternity, his articles are used by NASA on their Apollo History Project websites including one on the Apollo computers."
He added: "In fact, Neil Armstrong wrote in a letter to Phill that he'd 'learn a lot more about his [Apollo] computer after reading Phill's article. Praise indeed."
The Phill Parker Collection of Space Exploration Memorabilia will be sold at Hansons Auctioneers, Heage Lane, Etwall, Derbyshire, on September 3.
[Read more: The moon may once have supported life, say scientists]