Mashed potatoes are a much-loved cooking staple. But you could have been cooking them wrong all this time.
American chef Tyler Florence has his own ideas about how mashed potatoes should really be done, and you're going to want to take notes.
[Read more: Why am I always hungry? 6 reasons you're feeling starving]
The good thing about mashed potatoes is that they're pretty easy to pull off – you stick your spuds in a pan of boiling water, wait until soft, add butter and mash. Unlike roast potatoes, there's no fretting about whether they will be crunchy enough on the outside but still fluffy on the inside.
However, Tyler's method could revolutionise the boil-and-wait process… he advises cooking your spuds in cream and butter, rather than water.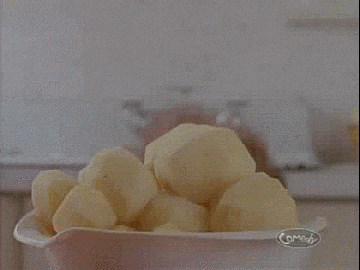 Yep, let that colossal news sink in for a minute. He told Popsugar: "Potatoes have a really delicate, beautiful minerality to their flavour profile, and when you cook potatoes in water and you pour that water down the drain, you've extracted all the flavor of the potato."
[Read more: 8 cooking skills your teenager needs to learn]
So instead, Tyler suggests cooking peeled and chopped potatoes in cream, butter and olive oil, alongside the likes of garlic, sage, rosemary and thyme, and when the potatoes are tender drain, but reserve that creamy cooking liquid.
Why? Waste not, want not. "I'll put the potatoes back into the pot and take the potato-infused garlic cream and fold that back into the potatoes, and it's the most incredible flavor profile," said Tyler. "It's the best mashed potato you'll ever taste in your entire life."
We don't know about you, but we're sold, so excuse us while we go whip up a dinner of mash.
[Read more: The 6 worst fruit and vegetables for your waistline and 4 to eat instead]