As royal wedding fever hots up before Prince Harry and Meghan Markle's big day in May, the exact plans are still a closely-guarded secret.
But Harry and Meghan's nuptials aren't the only royal wedding surrounded by secrets or surprising facts.
[See all of Kate Middleton's wedding guest outfits]
Indeed – these big days are often the event of the year, if not the decade for some, so it stands to reason there's going to be a bit of mystery in the mix. Here are 15 more royal wedding facts you probably weren't aware of – from as far back as the wedding of Queen Victoria, Harry's great-great-great-great-grandmother:
1. When Queen Victoria married her cousin Albert on February 11, 1840, she wore a white satin wedding dress – and in doing so kick-started the custom of wearing a white gown, which has since been followed by millions of brides.
2. Queen Victoria carried myrtle – known as the herb of love – in her bouquet. After the wedding, Victoria planted a myrtle shrub in her garden at Osborne House on the Isle of Wight, and every royal bride since has carried a sprig from the shrub in her wedding bouquet.
3. Victoria and Albert's white iced two-tier wedding cake, which was 9ft in diameter and weighed 300 lbs, was decorated with figures of the bride and groom, heralding the tradition of such cake-toppers on modern wedding cakes.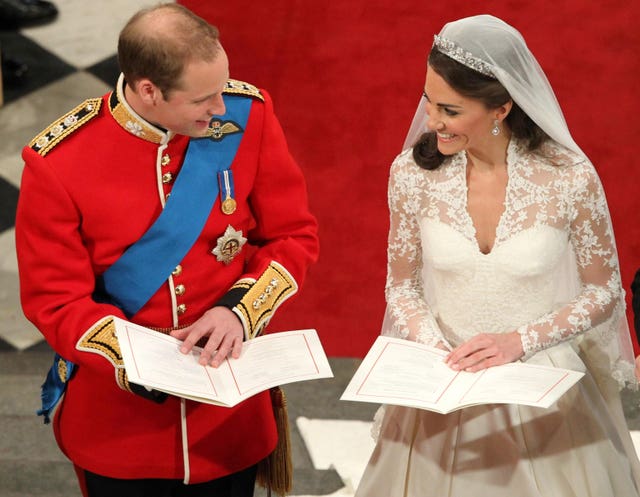 4. The current Queen Elizabeth's dress for her wedding to Philip Mountbatten, the Duke of Edinburgh, on 20 November, 1947, was designed by Norman Hartnell, and the then Princess Elizabeth used clothing ration coupons to buy the fabric.
5. The first royal wedding to be televised was Queen Elizabeth's sister Princess Margaret's, when she tied the knot with photographer Antony Armstrong-Jones (who became Lord Snowdon) on May 6, 1960. The ceremony was broadcast by the BBC to a global audience of 300 million.
6. Before Lady Diana Spencer's marriage to Prince Charles on July 29, 1981, the obsessive media attention surrounding Diana's dress prompted its designers, Elizabeth and David Emanuel, to regularly throw out decoy scraps of different white fabrics to mislead the press about the material they were using. It turned out to be ivory silk and taffeta lace, with a 25ft train, the longest ever worn by a royal bride. But just in case something unforeseen happened to the dress before the big day, the Emanuels also created a second dress, which was half-finished and could have been ready in 24 hours if necessary.
7. Diana was the first royal bride to omit 'obey' from her wedding vows, promising to 'love, honour, comfort, and keep' Prince Charles instead. Kate Middleton promised the same when she wed Prince William.
8. Wedding day nerves led to Diana mistakenly calling Charles by the wrong name during the ceremony. She vowed to love 'Philip Charles Arthur George', getting the names Philip and Charles in the wrong order.
9. Diana's £28,000 sapphire and diamond engagement ring wasn't custom-made, but was from a Garrard's catalogue. The ring is now worn by her daughter-in-law, the Duchess of Cambridge.
10. At the blessing of their marriage by the Archbishop of Canterbury following their civil wedding on April 9, 2005, Prince Charles and Camilla Parker-Bowles were made to acknowledge their 'manifold sins and wickedness'.
11. At their wedding on April 29, 2011, Prince William and Kate Middleton had two wedding cakes – a traditional multi-tiered fruit cake covered in white fondant icing, and an unbaked chocolate biscuit cake which is a childhood favourite of the Prince's.
[Read more: Royal wedding menus of the past: What the royals ate on their wedding day]
12. The Duchess of Cambridge booked an ice cream van and burger stalls at Buckingham Palace for her evening wedding reception.
13. Kate did her own make-up on her wedding day.
14. Prince William chose not to wear a wedding ring.
15. David Beckham was wearing his OBE medal on the wrong lapel (the right side) when he arrived at the William and Kate's wedding at Westminster Abbey, but when he emerged after the ceremony, it had been moved to the correct left side.