If all your possessions bring unadulterated pleasure, you are not only blessed but unusual. Most of us are apparently struggling with too much stuff – and half of it we don't even like.
Every so often, we may have an ineffectual cull. But then we gradually become ever more dispirited as a tide of belongings inevitably creeps back.
But there's a way to revolutionise our spaces, and our lives, according to Marie Kondo. She's a self-styled expert in de-cluttering, and her method is followed by an ever-increasing band of converts worldwide.
Letting go of things with emotional attachments
Part of Kondo's success lies in tackling our emotional attachment to belongings.
"It's very natural to me to say, 'Thank you' to the goods which support us, but if they are no longer bringing joy, I touch them and bid them a fond farewell," says the Japanese author of the bestselling The Life-Changing Magic of Tidying.
Many of us cling to items even when they're well past their sell-by-date, purely because we attach them to memories and feelings. But, Kondo says, "if things are gifts which you really no longer want or don't suit your taste, don't feel guilty for giving or throwing them away.
"Presents are only a means of conveying someone's feelings and the person who gave it wouldn't want you to use it out of obligation or for you to feel guilty every time you see it. Send it on its way, for the sake of the giver too."
First things first
If that feels emotionally challenging, you could get savvy with storage instead – a path recommended by interiors expert Rebecca Winward, who has tips for streamlining possessions and inspiring ideas for kitting out rooms.
"Ideally, organise your storage solutions to keep possessions in a way that suits the way you live," says Winward, author of Everything in its Place: Storage for Stylish Homes.
"Identify problem areas in your home and tackle those first, to have a more immediate, positive impact on your experience of everyday life.
Then, moving on to sort out the storage in the rest of your property will not only seem more achievable, but more rewarding, too."
So stand by your clutter and choose your method: KonMarie, as Kondo dubs her approach, or Winward's EIIP (Everything In Its Place). You have nothing to lose but a mess!
Tackle decluttering by subject
KonMarie is a swift, decisive approach that aims to transform a home in one major revamp. It also claims to be unusually speedy, because instead of de-cluttering room by room, Kondo advises tackling belongings by subject, starting with what's easiest to part with – so, clothes, then books, paperwork, miscellaneous items and then the trickiest category: photos and memorabilia.
"I always tell people, which amazes them, that tidying is a special event - don't do it every day! It should be done once and then your house will be in order. Any attempt to tidy on a daily basis will always be doomed to failure," warns Kondo.
"Once that's achieved, all you need to stick to is returning an item to its designated place after use. You will then have a lifestyle you aspire to and be able to enjoy a clean and uncluttered space of your choosing."
'Tidying must start with discarding'
Define your vision before you start – and don't be too general or just aspire to be tidier. Instead, visualise exactly how you'd like rooms to look.
Tidy a space completely to transform the scenery around you – the key is to make the change so sudden, you experience a complete change of heart.
Storage alone will not solve the problem of getting rid of clutter, says Kondo, it will merely conceal it for a time.
"Tidying must start with discarding," she insists – but advises focusing on what you want to keep, rather than deciding what to get rid of.
Stylish storage solutions
A wall of units or a beautifully kitted out dressing room could hold or display your honed-down belongings. Barbara Genda Bespoke Furniture starts from £1,000-£1,500 per linear metre.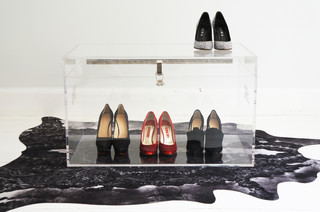 There's no hiding place in a Transparent Treasure Trunk, £580 from The French Bedroom Company. Nordic House's super slim Mirrored Key Cabinet, £105 (available from September 30) would pair well with a colourful Umbra Subway Multi-hook, £30 in Red Candy.
A place for everything
If you walk the Winward way, you'll take a more measured approach to the clutter crisis. "Remember you don't need to go from chaos to perfection in one hit," she says. "You can take your time to achieve the order you're looking for."
[Related story: 4 ways to declutter your life and get rid of baggage]
She advises working room-by-room so you can narrow down what should be kept in a particular space. Break the tasks into smaller chunks, and minimise the mayhem by confining the process to one specific area at any one time.
For living rooms, invest in storage that keeps TVs, games consoles, media players and CD collections out of sight. A specialist unit or fitted cupboard might be wise. If your look's contemporary, a wall of storage with doors is a sleek approach.
Chuck your clothes and bag your books
It's said we wear 20% of our clothes 80% of the time, so Winward advises conducting a clothing audit – removing, storing or disposing of items that haven't been worn in a year.
Tackle an overload of books in an imaginative way, she suggests, by displaying a selection in a redundant fireplace, or using a block of volumes to support a sheet of Perspex to make an unusual coffee table.
A chest of drawers is an essential in most homes and Tesco's Portobello Six-Drawer Chest in antique oak effect is a bargain at £299.
Nordic House comes to the rescue again with smart but affordable solutions. A medium cotton covered Storage Box, £24; a set of three Storage Trunks, £125; a white wooden Storage Box, £129.95 (the latter available September 30); and another great supermarket buy is Sainsbury's set of two fabric Storage Baskets, £22.
Get cracking and good luck!
Are you guilty of hoarding and never decluttering? Does it cause arguments in your house? Or are you feeling fabulous after a recent declutter? Let us know in the Comments below.