A pensioner who took a dip in the Atlantic as the eye of Storm Ophelia approached Ireland's west coast has claimed the secret to survival is to stay calm.
Towelling himself off in the relative shelter of a changing hut on the Salthill promenade near Galway city, 72-year-old Timmy Flaherty said he expected a backlash for his exploits.
"I'd go along with them alright, but it's up to each individual. Whatever turns you on," he said.
"I'll never panic no matter what. It's super."
The Blackrock diving boards in Salthill are a hugely popular swimming spot with local enthusiasts taking to the sea everyday of the year.
Mr Flaherty, from the nearby Claddagh area of Galway city, also never misses a day. He was in the water for about a minute.
He walked in off a flight of steps on the Blackrock diving boards and was almost immediately pushed towards the rocky shoreline and another set of steps where he steadily climbed out.
While he took a dip, dozens of baffled onlookers and amateur photographers tried to capture the scene.
Local gardai sounded sirens from patrol cars and urged the public off the promenade.
The eye of Ophelia hit further west in Co Galway a short while after Mr Flaherty swam with another bather who extolled the benefits of getting into the north Atlantic.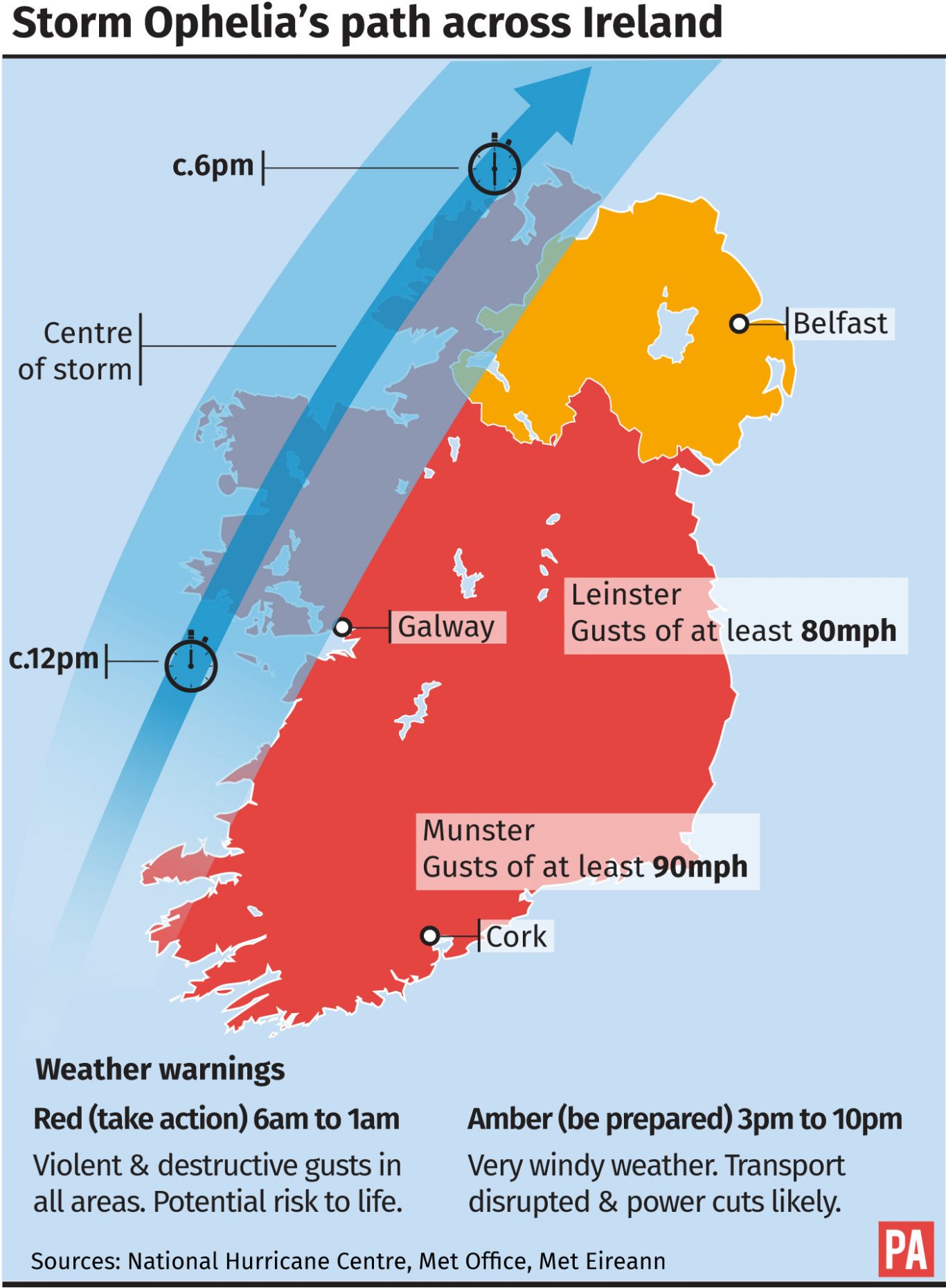 Emer Cannon, from Kiltullagh, Co Galway, took the relatively safer option of walking in about waist high from the adjoining beach.
"I like to play in the ocean," she said.
"I didn't really swim in the water I was just on the beach and just rolling with the wind."
Ms Cannon said being in the sea is known to benefit mental health.
But there had been repeated warnings from emergency services, including the Irish Coast Guard, ahead of Ophelia for people to stay away from exposed shorelines.
There was spot flooding along the promenade as the storm coincided with high tides.
Mr Flaherty accepted a significant risk of being injured trying to climb the steps out of the water.
"There's nothing wrong with the water. It's getting back into the tower, that's the trouble," he said.
"You're safe enough in the water – if you don't panic. The secret of the whole thing is not to panic. But I stay calm in the water.
"Once I'm able to do that, I don't care. I'm in my mid-70s now."
The pensioner said he had experience of swimming in rough and stormy seas before.
"As I said when you are in the water, don't panic, stay calm," he said.
"If you are the kind of a person who panics don't go in.
"If you panic in the water you are in trouble, deep trouble. You are finished. You could be a great swimmer, the best swimmer in the world and that's not going to save you if you panic.
"The secret is to stay calm in the water."